"I have faith in them. I firmly believe that this is the band that's going to do it."
- producer Ken Scott on Missing Persons

Missing Persons seems poised for the success they have worked so hard for over the last couple of years.
It was only last year when I was backstage at the Country Club as the band was being paid for opening for The Suburban Lawns show. $120 was their total take.

Missing Persons took the hard road up through the LA clubs, pressed their own record (the best selling E.P. ever) and now the record and the band are a hit. Drummer Terry Bozzio, wife and lead singer Dale Bozzio, guitarist Warren Cuccurullo and synth-master Chuck Wild, aka Missing Persons, have a fresh new deal with Capitol Records and a single ("Words") moving rapidly up the national charts.
Terry, Dale and Warren are well-known for their cutting work with Frank Zappa, early audiences were made up mostly of Zappa-ites. Moon Zappa, a friend of producer Ken Scott's daughter, can sometimes be seen at their gigs.

Missing Persons and producer Ken Scott are right now ensconced in the Le Chateau Studios in North Hollywood recording their first L.P. entitled 'Spring Session M', (an anagram of the words 'Missing Persons').
Terry Bozzio took time from his busy recording schedule to talk to me about how the band got to where they are now. As we walked by the studio's pool on a sunny LA spring afternoon, I told him what a pleasure it had been to see the band in the small clubs, to see professionals of his caliber up close.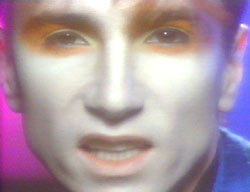 "I never considered us a local band" Terry answered, "It was very frightening at first to play the clubs because I was so unsure what the reaction would be. We realized how easy we had it being with established bands."
The road wasn't easy for Missing Persons. At the end of last year the band still hadn't signed a record deal, two years after forming and a year after releasing the hot selling EP. Meanwhile, LA based bands like the Go-Gos soared up the charts.
Indeed, it must have been hard to turn down some of the small-time record company offers coming in while Missing Persons struggled in the local clubs.
"We want to be successful, but I stand behind every note we play. We are just as convicted as any 'Art-rock' band." Terry turned down jobs with The Becker Brothers and Jethro Tull to stick with the plan, guitar master Warren Cuccurullo almost left to go back to working with Frank Zappa.

It was, in fact, Warren who coined the name Missing Persons - a reference to the fact that they were all 'missing' from other bands.
The album, like the E.P., is being produced by Ken Scott who also best albums from David Bowie and Tubes to name a few. Fellow Zappa alumni Patrick O'Hearn was added on bass at the end of last year, as soon it became apparent band indeed going click, freeing Chuck Wild concentrate solely keyboards. results can be heard vinyl in August.
As the band became more and more popular, the audience changed. It grew larger of course, but in the beginning the crowd was mostly made up of fans of Terry and Warren. Now the audience is there to see Dale and the entire band, thanks to extensive airplay on KROQ. I asked Terry about the new audience he's found with Missing Persons.

"We wanted to do something modern, but we really didn't aim at the KROQ audience. We were surprised by that."
Happily surprised, no doubt. The single 'Mental Hopscotch' was the number one requested song on KROQ last year, which helped the band quickly sell all 6,000 copies of their self-released EP. Capitol Records has re-released the EP, adding the 'Words" track that is right now climbing the charts.
Terry told me, "It's not that we are trying to be commercial, but we do try to write songs that people can relate to. I don't care to be downbeat, doom and destruction makes good copy but it's not the type of music we do."
I asked Ken Scott, who was devouring an enormous slice of Pizza, if he had anything to add. "Well, I should say it's time we got some positive press."
BONUS: LISTEN TO A TELEPHONE
INTERVIEW BETWEEN BILLY EYE
AND KEN SCOTT FROM 1982