Missing Persons is a band not to be missed. They have been rehearsing together for three quarters of a year before surfacing. Now Ken Scott is producing their music and it's already getting airplay on such prime stations as KFRC in San Francisco and KNEW in New York. They are high potential hitmakers.
Where do these mysteriosos come from?
And who are they??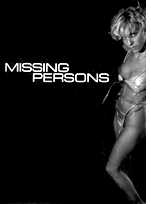 The lead singer Dale Bozzio, originally from Boston, has previously worked on some infamous Zappa pieces. From the 'Mary from Canoga Park" bit in 'Wet T-shirt Contest' to 'I Don't Wanna Get Drafted'. Terry Bozzio (yes, they're married) has San Franciscan roots- he is molecules in motion on the drum set and worked with Zappa 'Live at the Hammersmith Odeon', 'Baby Snakes' and the acclaimed 'Joe's Garage'.
Warren Cuccurullo- another Zappa sideman, great guitarist that he is, hails from Brooklyn. . . and played in the New York production of 'The Rocky Horror Picture Show'.
Chuck Wild, the final member to join the group (Dale called him on his birthday and Chuck, thinking that there must be some good luck in this, went out to meet & play with them. . . and ended up being treated to a marvelous birthday dinner by his new co-horts) puts his energy into that OBX synth, and out pops the magic genie of Missing Persons.
This was an occasion!
Dillon's was having Missing Persons play the club's (re)opening night, the first Friday in June, 1981. It is the eve of a new era for the club's existence. They are no longer a disco- heretofore Dillon's will be presenting new live rock!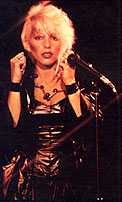 So the band, rumored to be signing with IRS records, did a harried soundcheck less than an hour before the show. Dillon's stage is so small that the squeezing of equipment and room for four musicians was a bitch: also the electrical connections were not all compatible, so the synth somehow was miked into the amp. All the necessary adaptations completed, they were soon rarin' to go.
Dale Bozzio, singing at center microphone, is skinny as can be, dressed in a petit ballet style suit. DNA structure around the vocal cords in necklace form, chromed in black. Her hair is white blond fluff, with a yards long thin braid falling down her back, swinging as she moves. She's tuff, and sings well, always on the beat, accurate on those 16th notes. But she seems to act out a contrived innocence, a night punk.
These original Data-Boy Music columns have been collected in a book with LOTS of new material and photos - it's the story of Data-Boy magazine and the LA Punk / Post-Punk scene. The story presented is a lot more complete!