In search of punk life?
December 1, 1980 / / / / / / / by billy eye
"Man who have Jack
sure to draw Queens."
- Confucius

Hollywood Boulevard. First stop on the way up, and last stop on the way down. I honestly don't know which direction I'm going (East I think) but I'm out to find out if what I've heard is true - that punk life is alive on the Boulevard of (Wet) Dreams.
Drive down Hollywood Boulevard and punk rockers can be seen in scattered pockets huddled in front of the storefronts - in blaring blue or purple mohawks, well-worn black leather boots, black ripped jeans held together with safety pins. But what's under the surface? What's the scene down there, man? Your intrepid reporter hung out for a night on Hollywood Boulevard to find out what goes on in the other Hollywood - where 'punk' has a whole different meaning, as Eye would soon learn.
I met up with this guy with a flaming reddish-purple mohawk named 'Juicy,' and his skanky girlfriend 'Trick.' They showed me what the nightlife was like for them. For instance, everyone down here has a nickname, so they dubbed me 'Loner'. Which I thought was lame beyond belief, but it's their world, so...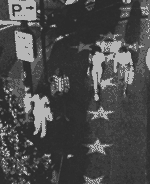 Hollywood Boulevard - 1980
The first stop on the Boulevard is The Gold Cup, a notoriously sleazy dump of a coffee shop on the corner of Hollywood and Selma, across from the White Castle. This place is relatively scumy, with people just hanging around in the place, smoking cigarettes, drinking bottomless cups of coffee, making deals and wandering back and forth from the White Castle to eat 25 cent hamburgers.
The Gold Cup is where you find out what the word is on the street, where the action is, and (foremost on everyone's mind) where the drugs are. Hookers talk about the freaks they were with an hour ago, heroin addicts doze off in the corner, while dealers walk in and out with just-out-of-bed hair and smelly entourages. We hooked up with our new friends 'Snake' and 'Charles', picked up some wicked hash outside of the Egyptian Theater, then went around the side of the place to smoke it. At least until the movie let out and a crowd formed around us in an instant.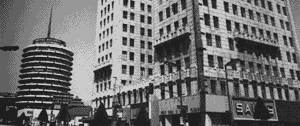 The view from Hollywood Blvd. and Ivar - 1980
Adventuresome music isn't a big part of the lives of these 'punkers.' They may look punk, but Van Halen is king with these guys; Rush and The Plasmatics are favorites as well. 'Juicy' and company are content to pretty much just hang around all night and half the day, looking for ways to make little bits of money. Business in America being what it is, if you want to make duckets, you need something to sell. What does a person with no possessions sell?
Everyone sort of scattered when 'Juicy' got in some old man's car, and we all agreed to meet up later back at The Gold Cup. It seems the term 'punk' (on the boulevard) refers to someone who sells his dick, so these guys and gals were 'punk' only by that definition. And by the fact that they had shaved heads or purple mohawks, of course.
Rather than make the 'scene' again at the Gold Cup, 'Loner' disappeared forever and wandered instead over to Al's Bar downtown.
Got there just in time to see a really cool band band, but I can't remember the name. That hash was really good! This was last Saturday night, so if you played Al's that night, excellent job. I remember the lead singer was dressed in a torn-to-shreds bride's dress dyed black with red paint spattered across it, black lipstick, and he played guitar.
Now it's my sworn duty to now turn you over to Judy Zee.
All Judy Zee has to say is: thank you for each of your letters. And to those who haven't written yet - I am waiting!!! I'll have more to say next issue.
Rock on!!
---
NOTE: Judy Zee devoted her next piece to the death of Darby Crash on December 7, 1980, but the Billy Eye / Judy Zee article for mid-December has not been found.
---
Wild 1970s - 1980s Punk / Gay T-Shirts:
See more Flight of the Conchords style T-Shirts!