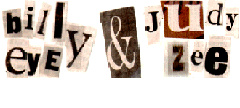 IN THE CLUBS
May 7, 1982 / by Billy Eye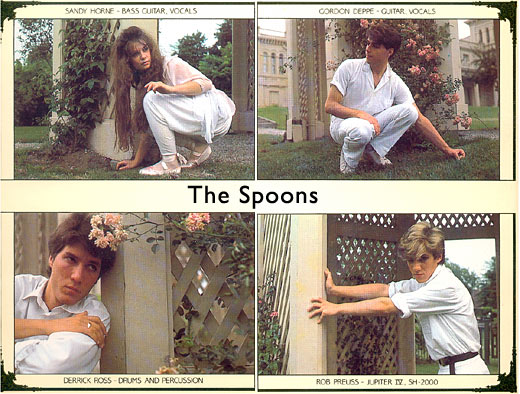 I had a bet with my former writing partner Judy Zee (we still work together). I've been listening to The Spoons new album Arias and Symphonies and love it. I told Judy if she bought it and didn't like it I would buy it back from her. She didn't like it. Granted, my taste tends to run more to pop music than hers, The Spoons are nothing if not pop / new wave. I don't know anything about the band except they are from Austria (I think) and I forget how I even came to buy the album. Heard it on KXLU, maybe.
Now, in addition to the LP, I have a copy on cassette thanks to the Judy Zee repudiation effect. It's great driving music. I'm also crazy about listening to Patti Smith while cruising at night to the clubs in my puke-mobile.
Speaking of the clubs, there have been some truly inspiring shows lately...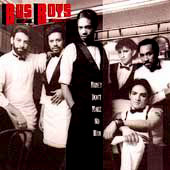 The Busboys rocked The Music Machine in West LA recently, a club that used to be a cheesy country music venue - now it's a cheesy new wave and heavy metal venue. Lately they've been booking popular local bands like The Plugz and Great Buildings in an attempt to lure a new crowd.
Coupled with Madame Wong's West and Club 88, both of which frequently have good nights, West LA is now brewing.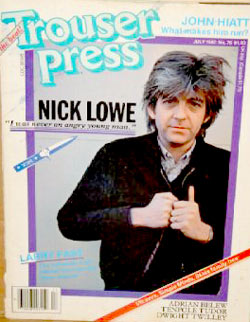 Nick Lowe and his Noise To Go blew the doors off of the Country Club in Reseda. More and more, the Country Club is becoming one of those venues I find myself in a lot. It's a comfortable layout for a club that holds more than a thousand people, the sound system is crystal clear and the drinks are strong, as they should be.
Nick Lowe's on tour with former Squeeze keyboardist Paul Carrack heading the band. They closed the set with a witty cover of Elvis Costello's '(What's so funny about) Peace, Love and Understanding.'
The Valley generally supports new music - you can see a wide range of local bands opening for bigger acts at The Country Club; on weekday nights, locals are booked on a triple bill. Also in concert over the last couple of weeks: Sparks, The Motels, 45 Grave - and Eeka Mouse turned in a hot set at the ON Club in Silverlake.
Pearl, the Janis Joplin look/sound alike, was back playing The Rawhide in North Hollywood. This Northern California female impersonator claims to have been picked up hitchhiking in San Francisco by Janis herself near the end of her life- and it was he that recorded most of the songs on the album 'Pearl' after Janis OD'd - because his voice is, supposedly, identical to hers. I'm not buying it, but then I never saw the guy. Judge for yourself.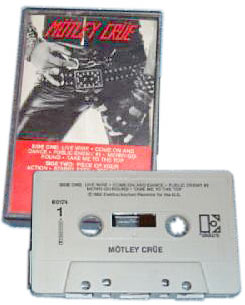 After just one year playing clubs like The Starwood and The Whisky, the relentless metal heads of Motley Crue have sold out the Santa Monica Civic. Selling out the Civic is often a big, important step for a band on the way up. TV's Elvira introduced Crue to a raptured crowd built by hitting the Hollwood, O.C. and Valley clubs. And where does the band come when they need flyers and posters? Right here to Data-Boy.
Following in the steps of Van Halen, Motley Crue has really exploded in popularity, selling out Perkin's Palace in Pasadena and leading the assault for other up-and-coming heavy metal bands like Sarge and August Redmoon. Sarge takes an army brat approach to their metal munchings, judging from their well-attended performance at The Whisky a few weeks ago. August Redmoon folds a middle-eastern influence into their garage guitar barrage. One common theme of these shows are the spandex fashion victims waiting in line, leaning against the walls outside the clubs. Not really my favorite music - in fact, I despise it. So the less said the better.
The Cabaret in West Hollywood, which had recently begun to book some decent bands, closed last month apparently over a conflict concerning paying said bands. Getting paid can be tough at times for local musicians. I've seen managers and groups get stiffed by clubs, it happens all the time. Just last week at Madame Wong's (the one in West LA) a band manager lost it when he was paid $10 for the gig he was promised $100 for. Trouble was - his meltdown was a lot more entertaining than the band's set.
A new album from X with producer Ray Manzarek of The Doors is in the works. Right down the hall from X at the same recording studio was Beach Boy Carl Wilson recording a solo album. Clash of cultures? Wanna bet which album will be better?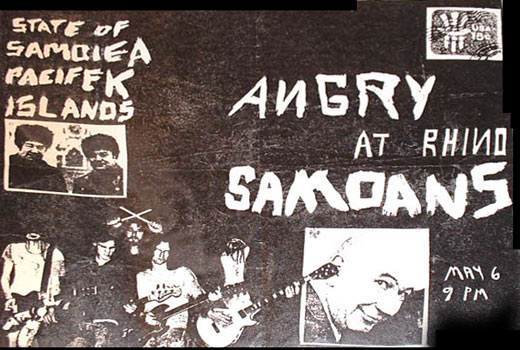 Also fresh out of the studio right here in Hollywood are The Angry Samoans and Circle Jerks; both promise to be seminal recordings.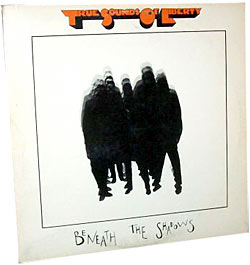 The Roller Works in Chatsworth hosted a hardcore show on Saturday, April 16th with T.S.O.L., Red Cross, and some out of town bands like Code of Honor from the Bay Area.
T.S.O.L. played a bunch of out of town gigs in January including The Ritz in New York and points between. (The Ritz has booked a number of So Cal bands lately.) T.S.O.L. then led a powerhouse bill at the Hollywood Palladium with Adolescence, Wasted Youth, Social Distortion and Youth Brigade on February 11th before blasting into The Roller Works.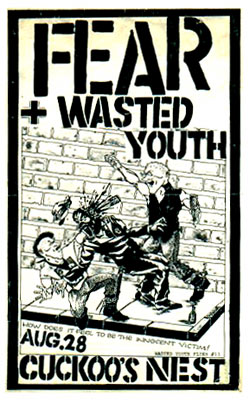 The new Dream Syndicate four-song EP is stunningly good at times and Fear's LP 'The Record' is on everyone's turntable right now. Fear captures on vinyl what they pump out in the clubs - hard driving, satiric hardcore, a controlled energy they brought to the Whisky on April 24th. That show was sold out, as you would expect (Fear just returned from an extended period on the road).
Suddenly KNAC is coming in better on my car radio. At 105.5. You should check it out, there's lots of cool music coming from that direction, this station is out of the South Bay. It's more hard core than KROQ.
I'll have an interview with Missing Persons' drummer Terry Bozzio in my next column, so keep your eyes safe until then.