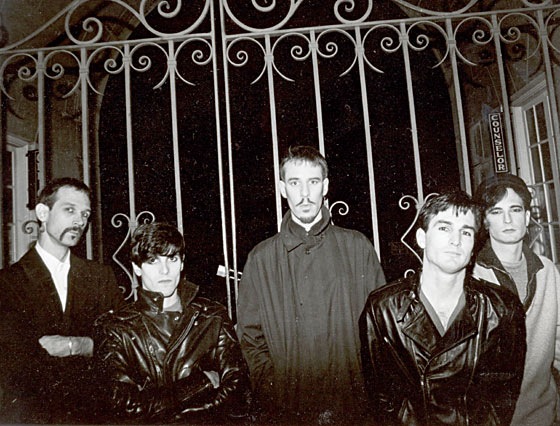 Red Wedding
Picture if you will a small dark bar crowded with punkers, gothic romantics and assorted downtown derelicts listening to and cheering- an opera tenor?!? In Diva make-up no less.
Adore O'Hare is an original amidst a crowd of derivatives- a logical extension of the underground music/performance movement. Closely cropped green hair, dressed in layers of scarves and multi-colored paraphernalia over the traditional jacket and tie, this large and imposing figure captivated an audience that most performers would think twice before facing - the weekend crowd at the Brave Dog.
This man is both bizarre and intriguing- presenting a variety of arias from Verde to Bizet- from Rossini to Mozart, his falsetto voice piercing the air, waving scarves and throwing beer into an audience obviously enjoying the novelty of it all. For whatever reason, a fair amount of talent perhaps, this guy struck a cord this night and walked offstage to the cheers of the audience ringing in his ears. Not so when he played the Cathay De Grande a few nights later; they were not as impressed and booed him offstage.
Still, what is novelty today may yet blossom into a whole new wave of performers- a movement back to the real roots of modern music. Time will tell if Adore O'Hara is what Lillian Hellman would call a 'kid of the moment' or a pioneer into a new phase of the artist in performance. Adore O'Hara himself told me, "I would like to be a catalyst, but not a martyr!"
HEAR ADORE O'HARA
- rare audio from his single-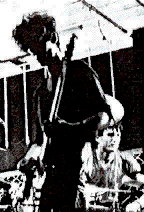 Red Wedding
There are several groups that have a firm grip on a new music form, 'romantic', 'art-rock' or whatever you want to call it, groups that are imminently entertaining- particularly Wall of Voodoo, The Originals, Wild Kingdom, Strong Silent Types, among others. Red Wedding, who recently shed the name 'Hey Taxi!' and added a new drummer (Brian Ford), fits this category as well. The band made their glam debut on June 13 at the Brave Dog and it was an enveloping experience. It was also the second time this year that they have played the Brave Dog on Friday the thirteenth, whatever that must mean.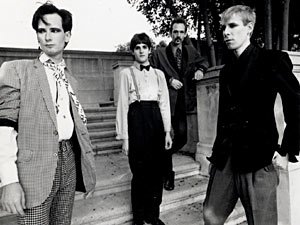 Red Wedding plays music for the mind and guitarist Jim 'Spider' Taylor is one of the most incredible musicians you can hope to see anywhere for five bucks.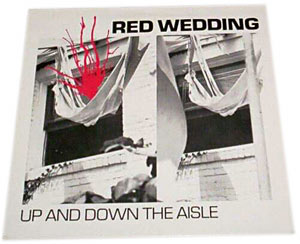 HEAR RED WEDDING:
- rare audio from the LP 'Up And Down The Aisle' -
"All Dressed Up", an LA underground classic.
In Real Audio format.

Another fine group, Wild Kingdom, plays mesmerising power-punk-pop that soaks in influences from all over the world, I saw them recently at Al's Bar. What they do best is juxtapose varient musical styles with bright vocals and the result is fun, fun, fun. Wild Kingdom always brings you an eclectic presentation, and they are also one of the most influentual bands on the scene.
Wild Kingdom pushes the boundaries of musical expression, and they do it with enthusiasm and strong individual performances. They've been playing the clubs a lot lately, they even have bookings on the Westside, so catch them.
If you want to see some of what I'm talking about, how about a show this weekend . . .
Aphotic Culture, Neighbor's Voices (who have been opening recently for Oingo-Boingo), and the bizarre performance artist Priscilla B (formerly of another group, but their name escapes me) at the Brave Dog on Saturday, June 27, 418 East First Street. Or just drop by Al's Bar sometime and see some of the stellar entertainment, 305 South Hewitt, both of these dumps are downtown.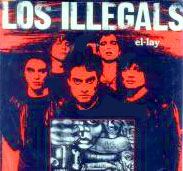 East LA's premiere punk club, Vex, is closing it's doors after a couple of great years presenting avante/hardcore bands like The Adolescents, Minutemen, Los Illegals, and many, many others.
The O.N. Club in Silverlake (3037 Sunset Blvd.) has been booking Ska/hardcore bands with great success and adding some name bands to their bookings as well. The O.N. Club is a wild place to hang out, among the crumbling infastructure of forgotten Silver Lake. Or as I like to call it, West East LA.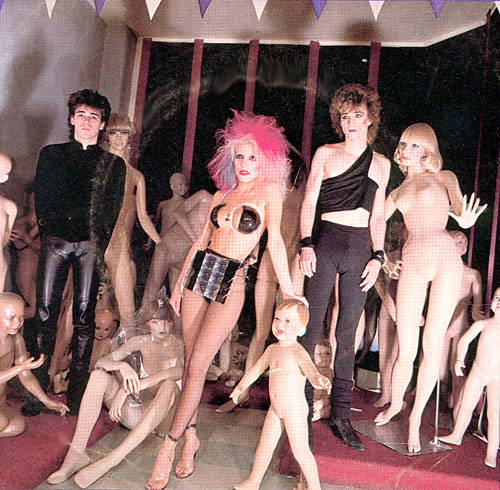 Missing Persons
Missing Persons has received a bit of coverage here. Judy and Eye just saw them recently at the new Dillon's near the UCLA campus in Westwood.
This was only the second time we both attended the same event (Eye don't get out to the Westside much), and this is one of those times we happily agree.
She will do the reviewing, I'll just say how impressed I am at the rate this group progresses, carefully refining their stage presence and material.
Their show is now remarkably different than the Topanga Corral show reviewed here a while back. I was especially knocked out by the way Missing Persons has taken their song "Walking in LA" from the weak, bouncy song it was, and turned it into a vital, searing, fast paced, biting reflection of the city around us.

Judy Zee will elaborate...
Read Judy's review
of Missing Persons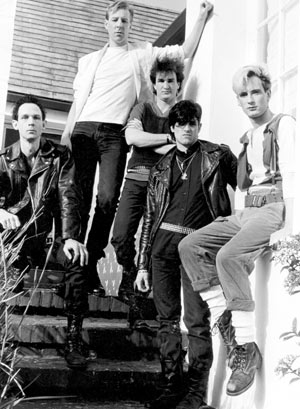 Red Wedding
---
Here is a response to this article . . .
I am a big guy - and not skinny - and I remember freaking out both Adore O'Hare who tsked-tsked and Christian Death's Rozz Williams who groaned just be existing . . .
I remember smoking dope with George Hurley and Mike Watt on an old VW bug in the alley behuind the Brave Dog and them talking about this new band (the Minutemen) they had just formed. I remember hanging with an old friend John Dentino before the Fibonaccis. Ron Springer of the Fibonaccis, by the way, is now a priest. Hey Taxi were great. First saw them at Wong's East before the Brave Dog existed and we were blown away. Spider was a classic Chris Spedding type. Is he still playing? Why Nut were awesome too. A perfect Mexican punk band. I ran into Emiliano somewhere several years ago.
By the way--Edwin of the afore-mentioned Moist and Meaty is in Cheeseburger now, they are excellent. There's another really good old Vex era band called Vida that includes Dez of Black Flag and George Hurley of the Minutemen and Tom Trocolli who roadied for all those guys back then. They are an exceptional band. Al's happened at about the same time and I cannot believe how long I've been going there. In fact I'm having my 40th Birthday bash there next Saturday. Weird. I guess if you didn't die or start a family or get addicted or go Jesus or showbiz or just fucking normal you just keep going at it. We're still married too. Excellent site. I'll be checking in again.
- Brick Wahl
---
"It's hard for me to believe that Red Wedding's last performance was over 15 years ago!

"Spider and I are alive and well and living in Oro Valley, Arizona (just northwest of Tucson). We've been a couple now for 29 years. It's been one long, incredible journey together, and we're still sharing good times.

Anyone who would like to say "hello" can contact us at: azpricklypair (at) worldnet.att.net.

- Michael Ely, Red Wedding
---
:UPDATE: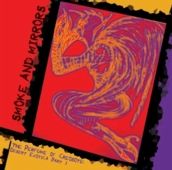 GETTING RAVE REVIEWS! Michael Ely and Jim 'Spider' Taylor have resurfaced a new CD! "The Perfume of Creosote: Desert Exotica Part One" by Smoke & Mirrors. Click to order!
Now it's not often that I'm flummoxed, but this thing's got me beaten - what on earth category do you put it in? Is it prog-rock - or psychedelic - or ambient - or contemporary - or what? It's got all those and more across a staggering twenty-three tracks over 78 minutes of instrumental music. Bearing in mind I don't have the time to do a track-by-track breakdown, it's then very difficult to describe it as a whole. First off, it's rhythmic throughout, with chunky drums and deep bass that you'd find on something resembling a mix of Can, Banco de Gaia & early Ozrics. Then there's the melodies - lots and lots of layers of synths, keyboards and guitars, all presented in easily digestible chunks that are incredibly addictive, tunes like prog, atmospheres like ambience, powerful like Krautrock and heady like psychedelia - yet all so clean and full-sounding in terms of arrangements and production.. I have to say that I loved every minute of it, but who out there is going to buy it without a great leap of faith in my - and others - review, I really couldn't say. Something so different shouldn't be this good - but it is.
- ANDY GARIBALDI
(CD SERVICES)
These original Data-Boy Music columns have been collected in a book with LOTS of new material and photos - it's the story of Data-Boy magazine and the LA Punk / Post-Punk scene. The story presented is a lot more complete!
TV Shows on DVD
Holiday Specials on DVD
TV Commercials on DVD
Everything you're looking for is here:
Shop Amazon's New Kindle Fire