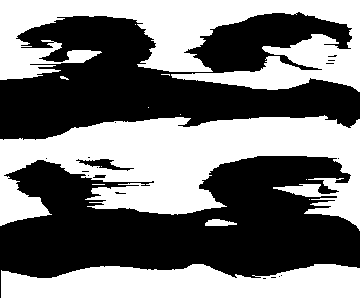 Judy Zee on U2
and Billy Eye looks at Steve Lillywhite
april 30, 1981
---
Dallas- 7/80 - "Arrive at club for sound check at seven. It's called the Rancid Scum Gardens. We play. They seem to like us. Too bad. They get our jokes.

"Derf says all our homosexual jokes
make the girls think we're queer
and we won't get laid."
-Lee Ving of Fear,
from his tour diary - 1981

This time around, we'll start with Judy's article, the Eye'll pick it up, OK? Without further ado, here's Judy's latest PZ Connection article - you see, P is Zee's partner, so when Zee talks about P, then - um, maybe Judy had better explain it sometime...

U2 Boy O Boy

First listening on a car stereo whose speakers leave a much to be desired, PZ listened a bit, and shortly became disinterested in Boy; we turned it off.

A day later, the Zee opened her ears to it on stereo headphones, whilest working, and ran it through her head perhaps a half a dozen times. The music invokes fairy tale dreams- forest fantasies of Peter Pan and Robin Hood, and although Punkasso would rather see Captain Hook's crocodile come and eat at their feet, it's the kind of stuff that stimulates a wandering mind. It invokes the natural flow of thought.

"I Will Follow". the album's first song, which has been getting as much airplay as The Vapors "Turning Japanese", has only gotten better, according to Zee, through these consecutive listenings. Punkasso believes that U2 should return to their origins underneath the Atlantic.

These young men from Dublin, Ireland fill the void with a mixture of extremely new technological and timeless acoustic and chime/bell sounds. The blend of these tones and instrumental effects is wondrous- a pleasing breather from the harshness of much of today's music.

Punkasso disagrees and finds them completely flat, as when Gary Numan tries to emulate David Bowie's early stuff. He thinks U2 are overrated.

Melodies move nicely with this band, harmonies are pure as well as unpredictable. Listening to "Shadows and Tall Trees", I wonder why the Only Ones didn't get the kind of recognition and interest that U2 are receiving right now. Could it be that the Only Ones arrived on our shores too prematurely to relish in the fad? I love this new trend in rock music, and invite it to stay . . . indefinitely.

The Zee's brainwave sensors heretofore put U2 on the throne most recently held by XTC's "Drums and Wires". Funnily enough, "Drums and Wires" was also produced by Steve Lillywhite.
His style is apparent throughout U2's debut album.
U2 will be appearing at the Santa Monica Civic in May, until then we will be unable to tell how much of the brightness heard on the album is theirs. (More on that next month!)
I bought a ticket for Punkasso, but he doesn't want to go. He'd rather drink milk of magnesia that subject his ears to this new musak. Anyone out there want to go with me??? See ya later . . .
Rock on!!!
---
Now Billy Eye...
In connection with Judy's article, your humble servant Billy Eye, had hoped to do a Bio and dissertation on the works of Steve Lillywhite, but space limitations make that impossible.
I have seven pages written, but it is futile to try to fight for space with the other articles in this magazine that nobody reads. So if I may, I will recommend a selected Steve Lillywhite discography for you.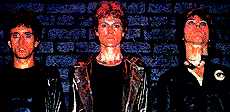 Ultravox
Steve Lillywhite began working (at age 18) assisting Brian Eno on the adventuresome Ultravox recordings in 1976 (including 'Misex'), took what he learned there and produced an essential album for XTC called "Drums and Wires", along with the follow up album, the somewhat less successful but still enjoyable "Black Sea".
These albums, coupled with Peter Gabriel's third self-titled release (with "Biko"), are shining examples of Steve Lillywhite's use of electronic synthesizers and sonic textures to create moods... whimsical for XTC, cryptic and distant for Peter Gabriel's breakthrough latest album.
Souxsie and the Banshee's latest work was produced by Steve Lillywhite, we all know how incredible that album is. Lillywhite's few American efforts are obscure, but quite good also - consisting of two albums by The Brains. Released last year, the second one, "Electronic Eden" is a pleasant mixture of electronic experimentation and the more basic arrangements found on the albums Lillywhite produced for the Psychedelic Furs and U2. I like it a lot.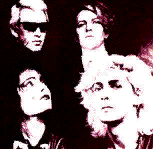 Souxsie and the Banshees ->
Steve Lillywhite's deceptively simple production style, combined with the weaving of echoing guitars and drums lead your mind on a journey to the center of what music is all about- expression.
Now some
local highlights . . .
I have to tell you about FIRE, a San Francisco reggae band, impassioned and thankfully not a 'reggae-based' band but a group that plays real music from the heart. It's honest, from the gut music with a message, music you can dance, dance, dance to. I never believed that three people could make so much music! They were incendiary at the Brave Dog, opening for Hey Taxi! on April 11th, and even better at the Cathay De Grande that same weekend.
The April 11 official opening of the Brave Dog was a success according to co-owners Clare and Jack, but crowds were smaller than hoped for due to the unusually large number of concerts going on that weekend.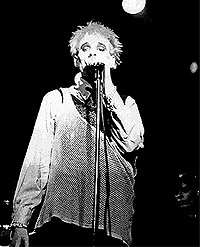 Besides the set by FIRE, east side favorites Hey Taxi! played a viscous set of punk rock fury that scorched the ground and left the crowd mesmerized. More on this band soon!
It was one of those great nights of new music that can only happen in the dark, intimate confines of the Brave Dog.
No Mag is out after a long wait, and it contains an interview with the late Darby Crash, a friend that Judy Zee eulogized so beautifully last year, and a fantastic Flexi-disc by the excellent local band Wild Kingdom. This is a slicker look for No Mag. Good luck!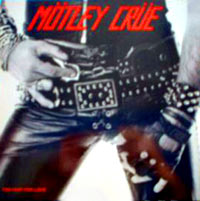 Judy Zee's fave band London has become Motley Crue and they played their first triumphant gig at The Starwood recently. It was well attended, I'm sure Judy will offer her review soon. Thanks for putting us on the guest list!

MISSING PERSONS?
Here's a pleasant surprise. A four song single release by Missing Persons was left here to review. Of course, we get quite a few EPs and LPs to review, but this one I found intriguing. The design of the package is exceptional, particularly considering some of the sleeves I've seen lately.
But one would not expect a sloppy presentation from a group with as much going for it as Missing Persons. Members of the group, drummer Terry Bozzio, singer Dale Bozzio and bassist Warren Cucurullo) all have extensive experience with Frank Zappa, and keyboardist Chuck Wild worked on the film Americathon... so did I!
The long playing single (EP) was produced by Ken Scott, chances are you have one or two of his works in your collection. He's had a wide and varied career including work with The Tubes and David Bowie (think "Suffragette City"!).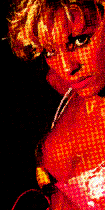 Dale Bozzio
This four song EP is superb musically- electronic power pop with an edge. "I Like Boys" is the cut that's starting to get so much attention on KROQ, but my favorite is "Destination Unknown".
It has the feel of a fifties science-fiction movie on quaaludes- a bizarre journey led brilliantly by lead singer Dale Bozzio, and richly backed up by the superlative band and pristine production.
Also on the disc is a cover of the Doors' "Hello I Love You" that I can really do without. Missing Persons' original material is far superior to this curious tune.
There's "Mental Hopscotch" a fast paced foray that picks you up and takes you absolutely nowhere, but you're loving every moment of it. That's what pop music is all about and this is one of the best discs by a local group, maybe the best by any group in a long, long time.
Missing Persons is available at many local record stores, or from Komos Records, PO Box 2788, Hollywood, Ca 90028. Don't ask me what it costs, money profanes me.