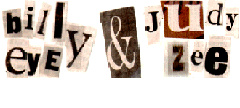 The Billy Eye Rock Awards

Musical missives from Billy Eye and Judy Zee

May 14, 1981

There has been quite quite a bit of criticism concerning this article of late from Data-Boy staff members- most notably editor Dave Hodgson. Comments like incohesive, incomprehensible, nonsensical and totally unrelated to anything remotely resembling journalism. My only answer to this is that Eye hope each and everyone of you critics fuck off and die! There. I hope this clears the air for any future criticism. (Typesetter's note: "Oh Yeah!?!") Actually the response from the readers has been quite good. I just thank you all for responding. My advice to the editor- you never used to read the articles before they went to press, why start now?

And now for something completely different . . .

The Billy Eye Rock Awards
The first annual Billy Eye Rock Awards 1981 were held at the Beverly Wilshire Hotel Convention Center in downtown Beverly Hills and what a gala event it was! Stars and luminaries from all over the world were present to receive what has already become the most prestigious award in show business today.
To bring the rock stars from New York, a plane was chartered and crammed to the baggage section with rock stars and television personalities. The rock group Queen, Farrah Fawcette Majors (with date Ryan O'Neal), Christopher Cross, The Village People, Both the Osmond and Jackson Families, Fleetwood Mac, The Eagles, disco star Donna Summer and many others flew on this virtual Love Boat in the sky. Piloting the big bird were Rod Stewart, Don McLean, with Brooke Shields, June Lockhart, Nanette Fabray and the Doobie Brothers as flight attendants. There was lots of music, fun and cocaine and a good time was had by all. Unfortunately the flight ended on a slightly tragic note- the airplane crashed outside of Akron Ohio, killing all those on board in a slow, agonizing fiery death.
The awards went on as scheduled, however, not at all marred by this event.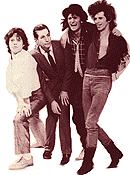 The first award, for 'Burnt out rock star of the year' went to none other than Mick Jagger, who accepted the award with (I think) mayonnaise on his chin. Still sucking in the seventies Mick?
The coveted gold eyeball shaped trophy went to several other performers - Black Flag won the 'loudest contribution to rock music award' accepting saying "any publicity is good publicity" and thanking everyone from Rona Barrett to Liza Minnelli before the bouncers threw them back into the audience.
There was a tie for the best album award between the Psychedelic Furs and Adam and the Ants. Apparently unwilling to share the award, a fight broke out with Adam Ant suffering severe lacerations to his pretty face, and leaving one of the Furs with numerous teeth marks, and even a few teeth, embedded in his neck.
Unfortunately (for them) The Stranglers refused to come up on stage to accept their 'best makeup' award. This really pisses me off, and I plan to see to it that the Stranglers NEVER work in Hollywood again!!!!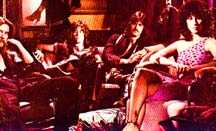 backstage with Black Rose
The suspense was terrific as the last award of the evening was presented. Hollywood's hottest cocaine couple, John and MacKenzie Phillips were called on to read the name of the recipient of rock music's most prestigious honor - 'The Best Rock and Roll Performer of 1980".
Barely able to read the cue card, the suspense was that great, the winner was finally announced. The best rock and Roll performer of 1980 - Cher for her Black Rose band! When the name was announced, boos and hisses broke out in the audience, tables, chairs and steak knives were thrown onto the stage and ceremoniously lit into a raging bonfire that completely gutted the Beverly Wilshire Hotel, killing many of the wealthy guests and causing one of the biggest spectacles in Beverly Hill's long history.
But the owner of the hotel promises to rebuild in time for next year's - Billy Eye Rock Awards.
Excuse my indulgence. Let's get back to business...
Music Connection Magazine has recently reported on the interest expressed in San Diego's The Unknowns by several labels at their Cathay De Grande gig last month. Well, I saw The Unknowns at the Cathay de Grande a few weeks ago, and I doubt that this report in MC is much more than hype. Eye surely didn't see anything special in this group. Nothing new, nothing particularly unique, but technically not bad.
Saw Hollywood Joe the same night, a competent rockabilly performer, with a tight frenetic-energetic back up band. They started out raging, but when the tunes slowed down, so did interest in the band. A guy who goes by the name Hollywood Joe needs to be really excellent, not just perfunctory.
The manager of the Cathay loved them however, he got up on stage twice after the set in an attempt to rouse the audience applause for more encores. "Let's here it for Hollywood Joe! C'mon, let's here it! C'mon!" But I had seen all I needed to after three or four songs, all pose, no prose.
Flippers, the ex (or present, I'm not sure) 'roller boogie palace' has started hosting Veil nights on Wednesdays. Flippers has been booking local pop rock acts as well, an important but often ignored fact- there are too few venues for locals bands, so any break for them is a good one.
So now you have Veil on Mondays and Fridays at Cathay De Grande and Wednesday at Flippers. The new romantic age continues to grow - if only Sir Francis Bacon was alive to see this.
The group Hey Taxi! (see review in Data-Boy 271) has changed their name to Red Wedding to reflect the new directions they are moving into and they are looking for a new drummer. The group plays a punkish psychedelia and as good as Hey Taxi! was, Red Wedding promises to be even better. If you're interested and you can beat those muthafukin skins, call Marc O at 469-6541. The Marines are looking for a few good men. Red Wedding is looking for only one.
As I sit and write this, the number one single in the U.S. is Sheena Easton's annoying "My Baby Takes the Morning Train", and in England the number one tune is Adam Ant's "Stand and Deliver". What does that tell you about the state of the world?
And now, Judy Zee with her latest PZ Connection article:
---
PZ Connection
Judy Zee writes with
her partner Punkasso.
Will they ever agree?
May 14, 1981


"Welcome back Manakin for an unannounced performance on April 14th at Club 88" ran a Man from Uncle-like psychedelic coded message in Showtime. With crystal clear, technologically clean melodic instrumentation; and Brent's expressive vocals- this ensemble has been swaying Los Angeles audiences consistently.
So we showed up for this one. Manakin has been missing in action for four months already, and friends and fans were getting restless.
Opening with "Manakin-land", you enter their cartoon. Brent par usual, is carried, a frozen full sized human doll, onto center stage. Then, they start in with their Temptations-like stage presence savoring 60's-ish black vogue. The pace is upbeat, integrated and intense.
Manakin sounds fuller than ever, much of it do to the addition of a thoroughly appropriate bouncing keyboard/synthesist.
The untabulated eloquence of "Children of Paradise" as well as "Just a Dream" never fails to sway Ms. Zee, tumbling into the imagination of what really could be; strongly grasped romantic ideals, seen through rose colored glasses waltzing to the cadence of human aspiration; stretching towards the near perfection we all feel at times. Manakin nearly composes these utopias merely through sound.
"Bridges on the Other Side", joyfully rhythmic, breaks on through the windows of Reggae, reminding one of "Dangerous Rhythm" (one of Ultravox's most overlooked songs, 2nd album).
Punkasso gives a description of the Club 88 dance floor at this point: false manakin puppeteers prolificate on the floor in a Devoesque bath of the 60's, it was such a cliche I could hardly move.
I wish Manakin was on record already, so that you could hear what I am referring to. No clones these guys. Cream of drums, Guy Epstein shoots off sparks, snaking round the set. On bass you've got Andre. The keyboardist is Chas Coleman playing a shoulder strap hand held bone like instrument which is hooked up to a sequential circuits Prophet 5. His presence and musicianship are both outstanding. Bob 'Moonstone' Walker's running liquid quarter notes make up the river world of Manakinland, and synchronize like clockwork with the synth.
A couple moments of erotic beats were caught and frozen into a time/space continuum, encompassing the overall experience of the night. The jam was real.
Rock on. -Judy Zee
---
EDITOR"S NOTE: I remember Judy telling me at the time that this article got her & Billy Eye fired as columnists for Data-Boy because Billy Eye tells the editor of the magazine to fuck off and die in the first paragraph.

Turns out the people who did the actual printing of the magazine were right wing Christians and threatened to drop them if the magazine continued to contain profanity. Billy Eye was the only columnist using any profanity, so when the editor asked him to stop, his response was to sneak in four letter words wherever he could.

It seems that no one on the publication's staff was reading the articles before they were printed, or even after, so the profanities were often missed. This one wasn't and when it was brought to editor David Hogdson's attention, Billy and Judy were told not to submit any further articles. However they were quickly reinstated due to the popularity of the column relative to anything else running in the magazine and never even missed an issue because of the 'firing'.
---
Want to read the story behind this clip from a 1978 Jerry Lewis Telethon (a local Los Angeles break) featuring a Manakin? The story is here but it will lead you back to this page!