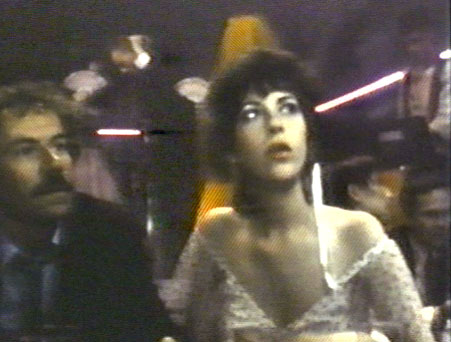 A Star Is Bored

PLEASE NOTE SOME OF THESE ARTICLES WERE HEAVILY RE-WRITTEN FROM MY ORIGINAL NOTES IN 1994 & 2002. All the news and views that will fit in an eleven pica column width

by Billy Eye
September 7, 1981
"Pictures are the only business where you can sit out front and applaud yourself."
- Will Rogers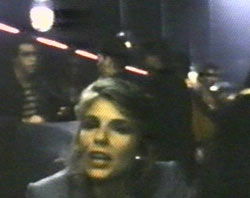 Hollywood ventured east last Monday to film scenes from Jill Clayburgh's latest movie 'I'm Dancing As Fast As I Can' at the Brave Dog. The club stands near the corner of First and Alameda, right next to the world famous Atomic Cafe (where, if the cook is passed out in the back with a needle in his arm, you can cook breakfast for yourself).
The parking lot that wraps behind and on one side of these two establishments was packed with make-up trailers and film crews, and was surely the biggest freak show in town.
Just about everyone in the Downtown/east LA scene was here at nine in the morning to serve as extras, everyone that can still venture out into daylight that is. I know for a fact that this was the first time some of these people have seen the light of day in months!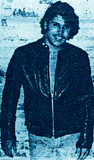 Louie Dufau of The Stains
The director Jack Hofsiss, (who also directed David Bowie in 'The Elephant Man' in New York- see Judy Zee's review in December) chose extras from the 'scene' and many were Brave Dog regulars.
Several prominent East LA bands were represented.
Rudy and friends from The Brat (reviewed next issue), members of Paraplegic Infants, and Los Illegals were there. Louie Dufau, now the drummer for The Stains was featured prominently in one scene... made up to look like a nearly-dead college student in a polo shirt with tennis shoes tied around his neck (!?). The filmmaker's idea of 'punk' I guess.
Let's see... there was Emilio from Why Nut (see DB 271), Tony Pony, Tito Larriva and members of The Plugz, and the list of luminaries just goes on and on.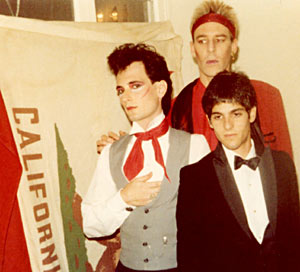 Marc O, Michael Ely & John Tagliavia of Red Wedding
The band on stage for the scene was none other than Red Wedding (formerly Hey Taxi-see DB 271) joined by what looked like two decomposing Andrews Sisters in wedding drag - one in red, one in white - as the band's back up singers.
Some awful electronic synth-futurist glob will be played on the actual soundtrack, unfortunately. A real shame since guitarist Spider Taylor, singer Michael Ely, Marc O and John Tagliavia from Red Wedding kept the humid crowd inside the sweltering, packed club entertained for the day (it was a long shoot) by playing a few numbers. It's a shame their exciting music won't be represented along with the visuals.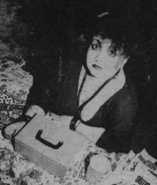 Clare at the door
Brave Dog proprietors Clare Glidden and Jack Marquette were also on hand, and Miss Clare played her role of barmistress in the grand tradition of the stars who went before her, stars like Mae West, Jean Harlow and Baby Jane Hudson.
Even yours truly, the omnipresent Billy Eye acted in a few scenes by the bar (downing warm apple juice for beer) with pals Eric and (collegiate rock journalist) Sal De La Riva as bartenders. I even got to make a grand entrance doing what Eye do best - showing my ID.
I only hope this epic is released in time for Academy Award consideration, I already have my speech written.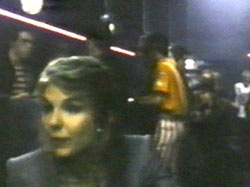 The Brave Dog was only slightly renovated for this crucial scene where Jill Clayburgh discovers she has really hit rock bottom (otherwise she wouldn't be hanging out in a seedy dump like this). She's at wits end, strung out on valium(?) and surrounded by a bunch of degenerates (us, evidently).
In the emotional scene, Jill talks to her pals at a table (supplied by the production), dashes to use the payphone (also installed by the production) then rushes out of the club. Was it the health department on the phone?
One change made by the production designer that looks good and will stay, is the blue neon piping along one wall. Claire said she needed some source of light in the place, anyway. Sometimes the only illumination in the club is coming from the 60 watt red bulb on the back porch (which serves as the entrance) and the lights on the musician's monitors.
Los Illegals played to a large, appreciative crowd at the Roxy not long ago. The Valdez brothers lead on blistering guitars and new lead singer Willy Herron's powerful vocals carry the day through numerous rhythm changes. Standout tune "Wake Up Johnny", about the death of a gang member, was particularly well done this night as was their furious, staccato cover of "Double Shot of My Baby's Love".
Uneven shows are a trademark of Los Illegals, they mix it up fast and slow. These guys have fused a sixties sensibility with punk underpinnings to deliver their unique sound and it felt right at home at the Roxy.
EDITOR'S NOTE: Judy Zee's article (if there was one) is not in this collection.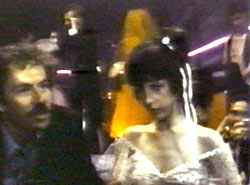 ---
BONUS:
HEAR RED WEDDING - from the LP 'Up And Down The Aisle' -
"All Dressed Up"
, an LA underground classic. In Real Audio.
<- - LEFT: Red Wedding on stage in the background of I'm Dancing As Fast As I Can.
---
UPDATE:
Los Illegals is a seminal band that continues on to this day, playing mostly in Mexico, but occasionally can be seen on the LA scene. They pioneered the 'rock en Espanol' sound later made popular by Los Lobos and others, a sound that is pervasive in today's pop music by artists like Selena and David Byrne.
A bit of the Brave Dog was seen in the film's final cut - the band Red Wedding can be seen in the background, but the scene is very short.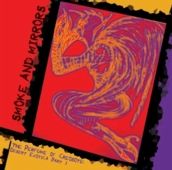 Michael Ely and Jim 'Spider' Taylor (Red Wedding) have resurfaced a new CD. Their new recording name is Smoke & Mirrors - their first CD "The Perfume of Creosote: Desert Exotica Part One" (Click to order) was released in 2004 to worldwide acclaim (no kidding!).
* They have a NEW CD in 2006
- Smoke & Mirrors: Dieties
Marc O. and John Tagliavia from Red Wedding passed away in the early-nineties, both with Aids related illnesses. Tagliavia also had a long history with all manner of drugs.
Jack Marquette, co-owner of the Brave Dog is keeping the spirit alive with theoretical.com. It is an exhaustive look at the people on the scene at that time and contains some of the most fascinating stories on the 'Net. It's an amazing time capsule not to be missed. SEE BELOW.
The Atomic Cafe, formerly next door to the Brave Dog, is long gone - however the neon piping the article mentioned was still on the wall in the old Brave Dog space (then a coffee house) in 1993.
---
Here are some responses to this article:
"Those old club reviews are amazing. My wife and I were regulars at the Brave Dog for most of its existence. I even played there once on a bill with the legendary Chiefs. Jack as I'm sure you know went on to run the Anti-Club, 'till Helen bounced him out of there. We used to see Claire a lot when we lived on the Sunset side of Silverlake. It was heroin that destroyed the Brave Dog. It became a shooting gallery. My friend Edwin had a band called Moist and Meaty that would rehearse there until they were bounced by the junkies for bumming their trips.
"I haven't seen Jack in a few years. Nervous Gender--almost a house band at the Dog--did a reunion at Al's a several years ago that was excellent, believe it or not, tho Edward couldn't make it as he was *****ing so bad. I later ran into him going to a meeting in a storefront near Seafood Bay."
- Brick Wahl
---
"I love the site and was stunned to come across it in a random search on Yahoo! You reprinted an article about the old Brave Dog when Columbia Pictures rented the place for 3 days, which I never saw at the time. What a flashback! Tell The Wahl's hello (whose response you added to the Dog Page), to visit me at my site: (www.theoretical.com) and that I'm fine and never got into heroin like too many of that time who seemed to think it trendy. Well, we're here. They're not.
"I also escaped an even worse short-lived splash of new culture which the THEORETICAL site is about: the scene that developed right after Brave Dog, many of who died from AIDS.
"I really love your site. I've linked it out of THEORETICAL. Keep in touch."
Sincerely,
Jack Marquette
former Brave Dog co-producer,
Sadly, Jack Marquette died in June of 2008 - he was a tremendous influence on the LA music scene and will be missed and fondly remembered for his incredible parties and clubs. The Theoretical site is no longer operative but can be found archived on the Internet Wayback Machine.