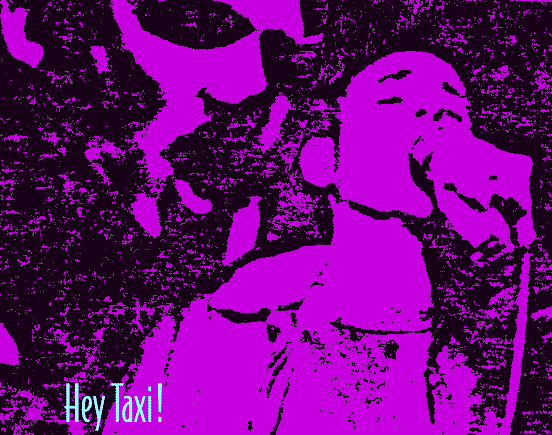 The East LA Scene
march 19, 1981
- - - by billy eye


"The music is alive in the streets
of Los Angeles, just like it was when
the Doors were coming up."
- Ray Manzarek
PLEASE NOTE THESE ARTICLES WERE HEAVILY RE-WRITTEN FROM MY ORIGINAL NOTES IN 1994 & 2011.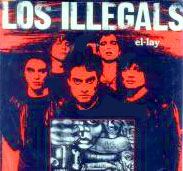 The Roxy on the Sunset strip recently presented an evening of 'East LA Bands' featuring The Brat, Los Illegals and Thee Undertakers. These three worthy bands made for a great night of music at the Roxy and a big crowd showed up.
In the most recent issue of Music Connection magazine, the aforementioned bands were given a full page write-up under the heading 'East Side Story'.
It's about time that the growing East Los Angeles/Downtown music scene gets the attention it deserves. There is a lot of experimentation happening right now and the groups coming from this area may yet become the next major influence on the nation's new music. In addition to the bands showcased at the Roxy, there are many other superb musicians from east of Hollywood that deserve your attention.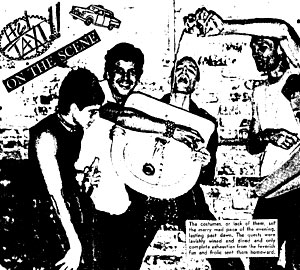 It has been only very recently that the 'punk'-'new wave' groups from the east-side have been able to break into the established Hollywood clubs. A prejudice exists with some club owners that these groups don't have the 'cross-over' sound or have large enough followings to bring in enough people to make it worthwhile.
Clubs on the east side and downtown, like Al's Bar, are smaller than the Roxy and Whisky so there is no place for a band to prove their drawing power, but the scene is growing and some excellent bands are springing up out of the deep black heart of Los Angeles.

The Rentz are such a group. They are a highly energetic, hard edged and surprisingly tight band. Their music is not really hard-core . . . and it's not pop. We won't try to classify The Rentz. Why label everything?
The band has a solid, brash female lead singer, obviously unpreturbed by the male dominated scene that seems to exists. Not flashy looking, rather conservative in dress, this group produces music with power, with feeling and they aren't afraid to slow things down for a song or two. That is unusual lately, most groups like to keep it going fast, afraid they will lose their audience, I guess. You have to have the talent and the material to pull it off and these are elements that make The Rentz a tough act to ignore.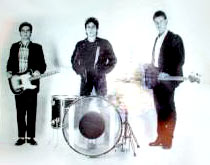 The Plugz has been on the scene for years, the original latino punk group delivers a fast and furious stream of conciousness into your ears and eyes.
Tito Larriva leads this blistering trio, their cover of "La Bamba" rocks hard! This is a seasoned party band of first class performers, always an audience favorite.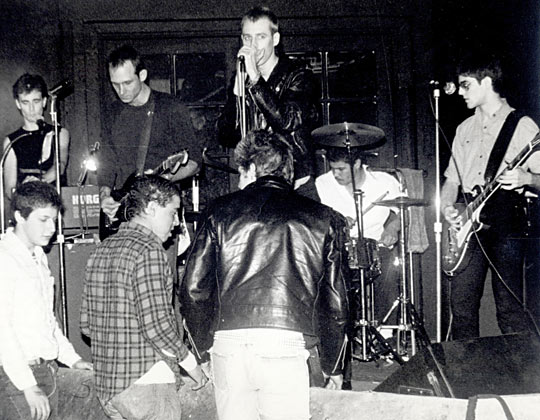 Hey Taxi! at the Brave Dog 1981
Hey Taxi!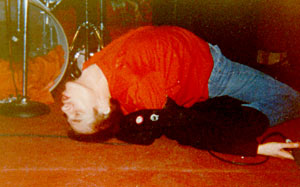 Hey Taxi! is another exciting group on the East Side scene, one that you should experience for yourself.
The group does nothing unusual in way of clothing or hairstyles, but Hey Taxi! is visually stunning- intense in nature, fast paced, but somehow not monotonous or tiring. The presentation is often ironic and overtly sexual, but on a higher level than the crotch-rock of so many bands.
Hey Taxi! live in 1980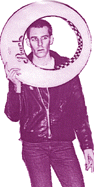 The music of Hey Taxi! has thought, emotion and a very definite twisted view of life expressed in the poetic lyrics of lead singer Michael Ely. The frantic textural sounds of guitarist Spider Taylor are brought together by raw, aggressive musicians John Taglavia on bass, drummer Louie Dufau and Marc O on synth.
These guys not only play well together, they interact with the audience and are fascinating to watch.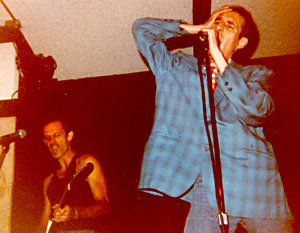 The (hard)core of Hey Taxi! has been around for a long time, and their repertoire is diverse. This is a cutting edge group, a not-so-straight-ahead punk assault, with influences from Bowie to Baroque.
HEAR HEY TAXI!
the 1980 single
"War is Hell"
The Smog Marines have been mentioned in two previous articles by Judy Zee, I finally saw them play recently at Al's Bar. The band is regrouping after losing a pivotal member of the group, and I'm not sure if the awkwardness they projected the night I saw them was on purpose or not. This is an intense band that always attracts all the coolest people to their gigs, a group of musicians that always deliver with force, with a lead singer that doesn't suffer from rock star overconfidence.
Another audience favorite is Why Nut- although I have no idea why in this case. The off beat spastic style of Why Nut just doesn't appeal to me, but it only strengthens my notion that the east LA scene is more diverse and eclectic than the Hollywood happenings. Where else would a niche band like this thrive? Let's face it, without the emerging downtown / east LA bands and their growing popularity and influence, the Sunset strip will whither and die. The city is imploding.
I wish I had the space to further explore with you the burgeoning music scene now being played out from the inner city. You can check it out.
And club owners, c'mon guys, don't deprive us of the opportunity to experience these and other fine groups that inhabit what we call the 'east LA scene'!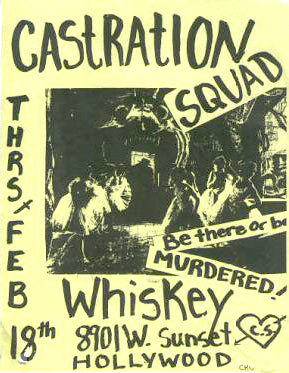 The Detour is booking a variety of acts including Hal Negro and The Satin Tones, a new-wave style ''jazz group with a difference" on March. 22; and the always provocative Castration Squad will appear on April 5th. The latter is a punk-ish bondage oriented group of girls who probably come from nice middle-class families judging from their sloppy, degenerate stage show.
1982 flyer ->
The Detour is a cruisy leather-gay bar with full time DJs located near where Sunset and Hollywood Blvds meet in sleepy Silverlake (home of the ON Club). You should support this club's attempt to spotlight local music on those nights.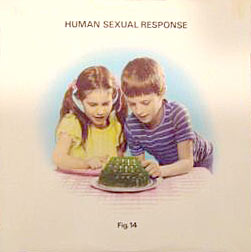 Fig. 14
I saw Human Sexual Response at the Starwood a couple of days ago. The venerable Starwood has just reopened after being closed for a few weeks.
This stems from their problems with complaining neighbors . Seems that some people resent the sound of someone peeing in the bushes outside of their bedroom windows, and throwing up on their front porches.
I predict (just like Jeanne Dixon does twice a year in the Enquirer) that Human Sexual Response will be one of the biggest new pop-rock-new-wave groups to hit the country in a long time. I'm not saying that's a good thing.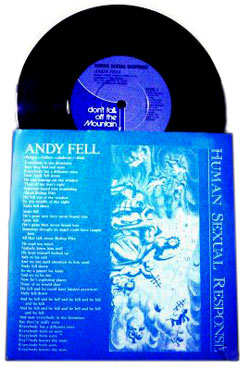 This Boston based band has a couple of tunes you may have heard on KROQ recently, the quirky "Jackie Onassis" and their desperate (but catchy) ode to horniness "What Does Sex Mean To Me?" from the new album 'Fig. 14 '.
Many times I wondered whether or not these 'art rockers' were clever or contrived, the four puck (not punk)-ish vocalists can win you over with exuberance and clear crisp harmonies.
A basic trio of musicians backs them up superbly and the material is strong enough that, at least for a time, you forget that you're not being fully engaged. Human Sexual Response may have a long way to go, but they are a well-choreographed bunch of young people, all cute, and they obviously don't wear any underwear, so they should do quite well commercially real soon.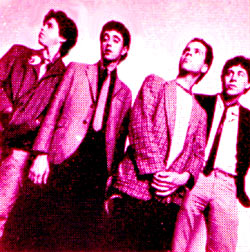 The Toasters
Now that The Starwood has reopened, they have a great lineup of bands on their schedule. Mark Lee, Joe College, Robin Harris, Flip Carter, and Kenny Keeboards aka The Toasters will be at the Starwood on Monday, March 23rd and this will be one of the best shows to catch all month.
HEAR THE
(original LA) TOASTERS:
their single "Teenage Tease"
an LA New Wave classic.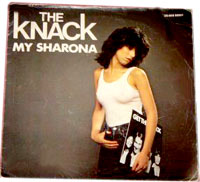 A good one to miss will be... The Knack, reduced to playing the Starwood on April 1st.
Talk about your April Fools, The Knack started out playing the Starwood four years ago, went on to international success and now this is the best gig they can get!
An acoustic show with members of The Circle Jerks, Black Flag, Nervous Gender, put together by Geza X and others is in the works. I'll have more info as it becomes available. Meanwhile, to feed your hardcore habit, don't miss the big punk-fest at Cal State Northridge on March 27th with the Circle Jerks and Bad Brains headlining.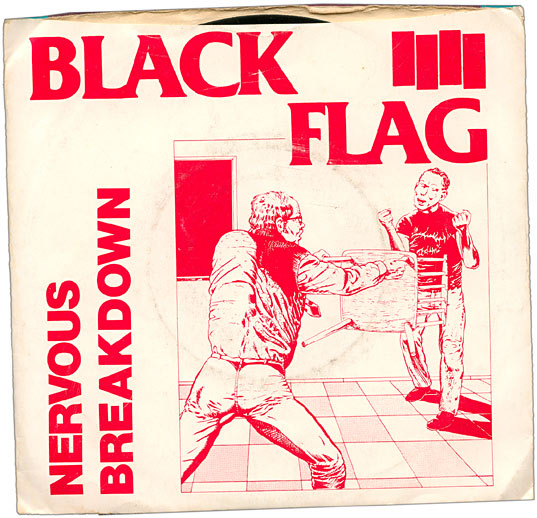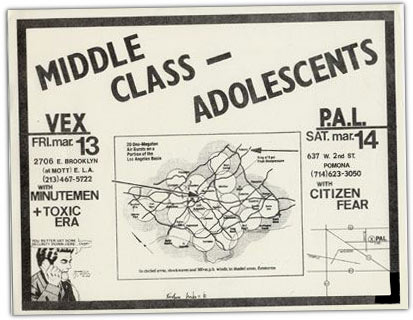 More Northridge shows are promised, there's a huge punk contingency there.

Now, at long last, Judy Zee
and PZ Connection (her newest writing / reviewing / pyramid scheme).

Click For Judy Zee's article on LA radio
---
UPDATE: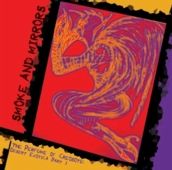 The guys behind
Red Wedding
- Michael Ely and Jim 'Spider' Taylor - have resurfaced a new CD out in 2003, its excellent! "
The Perfume of Creosote: Desert Exotica Part One
" by Smoke & Mirrors.
Smoke & Mirrors with a
NEW CD getting rave
reviews in 2005: Dieties
- ORDER NOW -
---
The 3 surviving members of Nervous Gender - Edward Stapleton, Michael Ochoa and Joe Zinnato - are currently reviewing all of the Nervous Gender material, (studio, live, rehearsal recordings and performance videos) and intend on releasing a series of archival documents and a NG retrospective. www.nervousgender.com