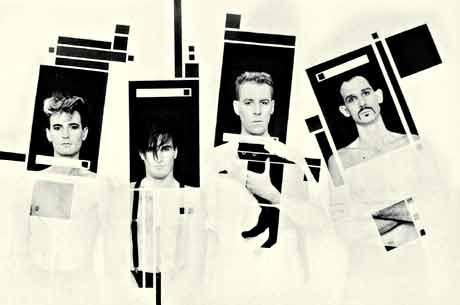 Red Wedding at The Odyssey
March 14, 1985
- by billy eye
PLEASE NOTE THESE ARTICLES WERE HEAVILY RE-WRITTEN FROM MY ORIGINAL NOTES IN 1994 & 2011.

Monday Night.
Traditionally the most boring night of the week, but not if you were at the Odyssey when Red Wedding played an unexpected show.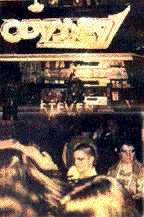 Some of the hottest local bands have been playing the Odyssey in the last weeks as desperate club manager Scott Harvey fights city government and local neighbors for the reinstatement of his dance permit.
Monday and Friday night have traditionally been New Wave nights at this club, and for years it's brought throngs of young people to Hollywood, crowding the dancefloor to dance to DJ's like favorites Chuck E. Starr and DJ Steven or just hang out and play pool in the juice bar upstairs.
However, numerous complaints of public drunkenness, urinating, smoking pot, snorting coke and copulating in people's yards by late night patrons of the club have caught up to Harvey. He weathered the loss of his liquor license years ago because the Odyssey's main customer base is under the age of 21 anyway.
We Make History by Red Wedding from New Wave Theater
All Dressed Up by Red Wedding from New Wave Theater
But no dancing at the Odyssey, long one of the best, most popular dance floors famous for having the hottest DJ's in town, may surely mean the end of the venerable club. Where are all of the underage party kids going to go?
Let's face it, if you ask me, the glow was off the Odyssey at least two years ago. In response to the Odyssey's problems, last year owner Eddie Nash and manager Harvey opened a teenybopper club in Reseda called Phazes, which has become a magnet for valley dudes - and more controversy.
I attended the grand opening of Phazes; it was originally slated to be a gay bar until the opening night when the place was overun by straight kids. I haven't been back since, unless you count hanging out in the parking lot waiting for 'a friend.'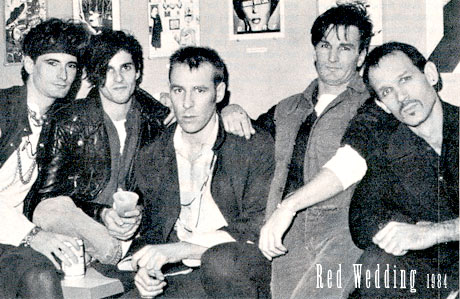 Marc O, John Taglavia, Michael Ely, Brian Engle, Spider Taylor
Harvey's bold plan to keep the Odyssey alive is to book high profile local bands while he attempts to secure that dance permit he needs to stay in business.
So while a dozen or so of the club's pretty-boy patrons picketed outside (it's said they were paid . . . some of these kids looked like they were gonna get paid walking the street regardless), Red Wedding took the stage (actually the famous dance floor) in a last minute surprise show one recent Monday night for a small core of old and new fans.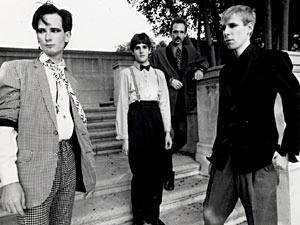 The eager audience was treated to a spirited performance by this local band that continues to explore the psychedelic realm with hard driving guitar solos and haunting vocals.
This night they played a couple of new tunes from the group's latest release 'Nails' which has topped college radio play lists around the country. You may have read about Red Wedding in the February 'In Touch' magazine, they are an intriguing bunch of guys who have long been breaking new musical ground.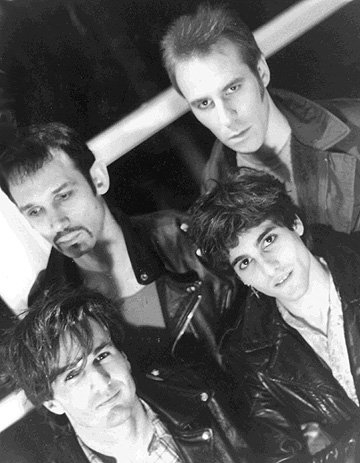 Over the last four years they have been together as a group, Red Wedding has refined a cohesiveness and a sound so unlike most other bands that it is hard to describe them. . . much like X was hard to describe before they came along.
They are neo-psychedelic to be sure, but with plenty of hypnotic swarthiness, and growing better now that they no longer have synthesizers in the mix.
One recent gig in San Diego left the audience begging for more, even after three encores and an improvised version of Bowie's "Ziggy Stardust."
91x radio in San Diego has added the cut "Bernardo" from the 'Nails' album into rotation and this brings people to the clubs in a way that doesn't happen much in LA with our own lame KROQ, which basically refuses to support the local scene anymore.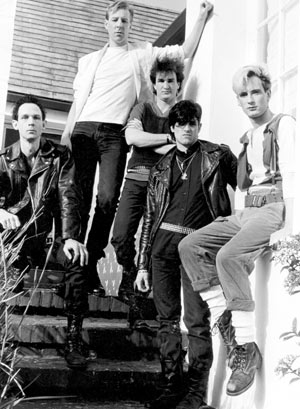 A few people were disappointed that the fog and pulsating light pylons that descend from the ceiling weren't activated during the Odyssey set, tho. (Just kidding). And there was a strict, "No Dancing" rule because of the legal problems. According to bassist John (the LA Weekly calls him "cutey-pie") Tagliavia, Red Wedding is in the studio now recording a new E.P..
Boy George made a brief appearance at the club, but was evidently disappointed that the club was no longer packed with raging teen-agers and didn't stay long after Red Wedding's set. I was amazed at how smooth Boy George's skin was, until Red Wed's former keyboardist Marc O informed me that it was make-up. I'm terribly naive, I guess.
When I went to the back office to talk to him, Harvey and his assistant were there with thousands and thousands of dollars in bundled bills lying in large, indiscriminate stacks on his desk, the last night's revenue from Phazes. So don't cry for Scott Harvey.
More interesting bookings are in store, so the next time you complain about being bored on Monday night, don't be surprised if the Odyssey proves to be the unlikely destination you choose.

Click to hear a college radio
(Cal State Northridge)
interview with Red Wedding from 1984.
Click here to see
Red Wedding on New Wave
Theatre in 1981.
---
BILLY EYE UPDATE: This is the last Rock and Roll article for Data Boy magazine. This one was long after Judy had stopped contributing, and more than two years after my last regular contributions to the magazine.
Here's news footage of the fake protest the club paid for after the dance lisense was revoked. I think the first guy you see interviewed is Scott, who booked the Red Wedding show.

Unable to make a go of it as a rock venue (or re-secure a dance license), the Odyssey 1 was not-so unexpectedly burned to the ground one night, leaving only a shell of the cavernous two story club standing near the corner of Beverly and La Cienega. The fire was obviously arson and someone may have gone to prison for it.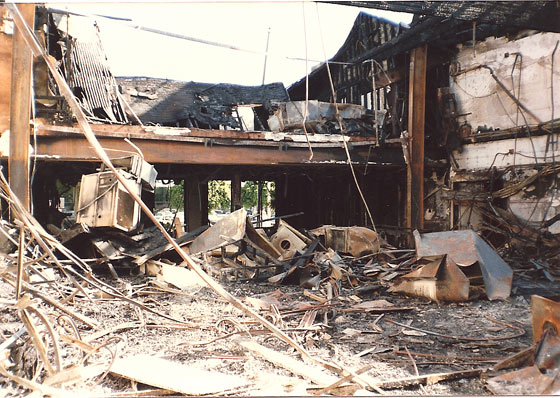 View from the DJ booth after the fire. Photos from Michael.
Intrigue swirled around notorious drug kingpin Eddie Nash, owner of the Odyssey - and other hot dance places like the Seven Seas, Starwood, Ali Baba's and The Kit Kat Club. He was involved in an infamous tale that involved a strung out porn star (John Holmes), missing drugs, money, and a brutal, bloody murder in the Hollywood Hills - the alleged mastermind of the July, 1981 slayings that became known as the "Wonderland Murders." In my new book I'll tell you how I had to face down Eddie that night to get our money.
The Eighties were in full swing by this point.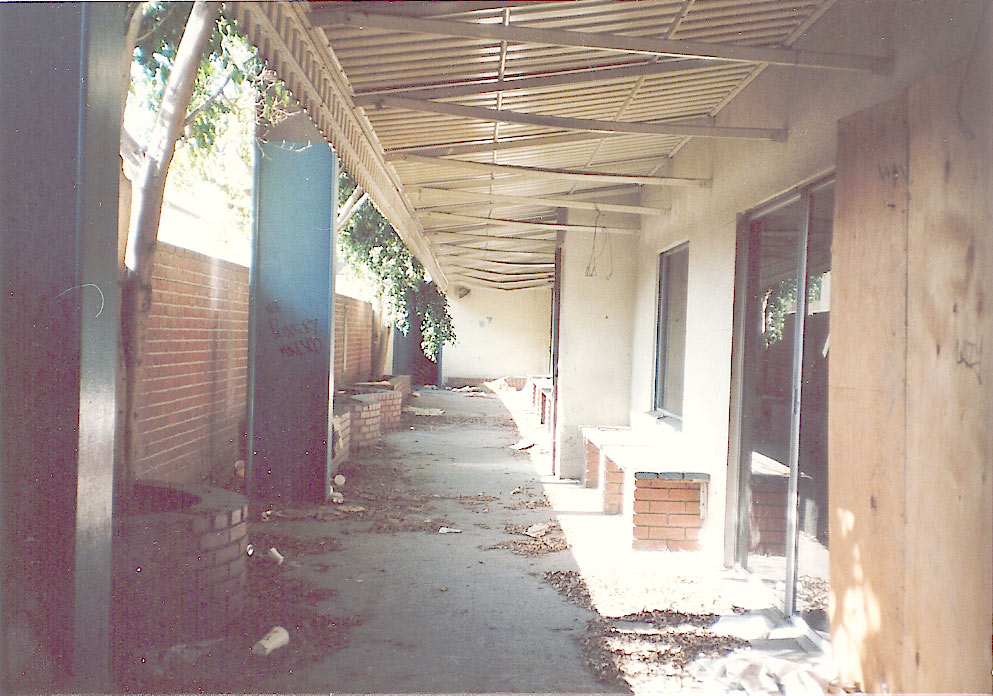 The patio after the fire.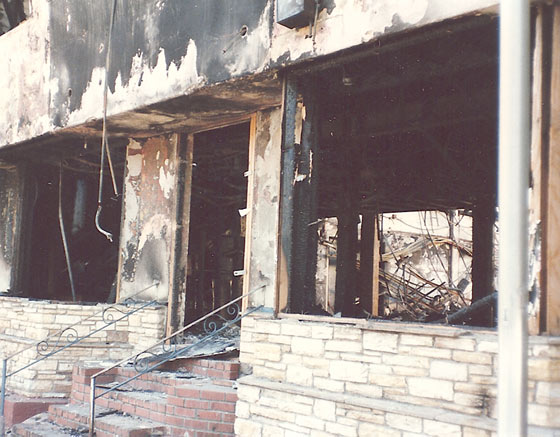 The front of the club.
A movie was made about Eddie Nash called Wonderland.
---
UPDATES:
"I always wondered if the Odyssey was on the net..GREAT articles...Yes I am still ALIVE and living in Palm Springs Calif. I still have all the music but I am no longer a DJ.

"Today I am a Registered Nurse in an Acute Care Hospital. Say if you guys want any live feeds of the Odyssey or news feeds of the closing let me know! Your articles brought back great memories of some fun times! = ) Thanks!

- Chuck E. Starr
---
"Howdy, I grew up at the Odyssey and became a d.j. in LA, claiming the Fake Club as my premier gig before moving to NYC to play records there. the whole sordid story is at www.hyperactivemedia.com/5am/ if you are interested. and by the way, Chuck E. Starr (great to hear he's still around--and a nurse!!!) didn't play the first new wave record at the Odyssey--Steven Smith did. It was actually the buggles doing 'clean clean', which I brought him, and I later forced to him to play 'Rock Lobster', which I had bought from Joseph & Henry's first Vinyl Fetish store--on Highland (i think; maybe La Brea).

"I just got in contact with Chuck's old light man who has tons of tapes from the Odyssey and hope to put them online soon at my site.

Thanks for the flashback, Steve Suckman
---
WOW. I grew up at The Odyssey. What has happened to Scott Harvey and Chris Cox, Nick Bois Manager, Steve The Door Man. Myself and Johnny Deakin lived with Louis Barazza on Croft Street and as under-age-ers and partied every night at the Odyssey, it was a blast. After the closing we followed Nick to the Seven Seas where he worked for Eddie Nash, just wasn't the same club or location. Eddie & Nick got into a lot of trouble and Johnny and myself were there for much of it. It is wonderful you have a write up on this Club and those times. Saw many of the New Wavers first at the Odyssey along with Grace Jones and Elvira at certain Halloween parties they had. Scott Thorsen was another regular there too. Thanks for the great site and info!
- ANTHONY
---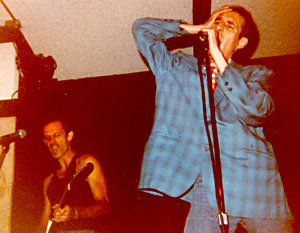 "It's hard for me to believe that Red Wedding's last performance was 20 years ago!

"Spider and I are alive and well and living in Oro Valley, Arizona (just northwest of Tucson). We've been a couple now for 29 years. It's been one long, incredible journey together, and we're still sharing good times. "

- Michael Ely, Red Wedding
---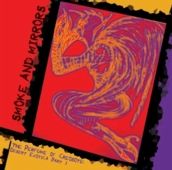 Michael Ely and Jim 'Spider' Taylor (Red Wedding) have resurfaced a new CDs. Their new recording name is Smoke & Mirrors - their first CD "The Perfume of Creosote: Desert Exotica Part One" (Click to order) was released in 2004 to worldwide acclaim.

Smoke & Mirrors (4 1/2 stars out of 5)
The Perfume of Creosote
Hurrah! A concept album.
Taking aspects of ambience, world music, psychedelia and jazz, the artists concerned, Michael Ely and Spider Taylor, have produced a lush and exotic beast of an album, inspiring in its beauty and wonder. It could have been a bit of a mess, what with tribal percussion, prog rock guitars, trip-hop beats an ambient soundscapes, but you'll be hard pushed to find a better fusion experiment.
- Stuart aka zeitgeist

Smoke & Mirrors: Dieties
"Smoke & Mirrors - "Deities" 2xCD - Michael Ely and Spider Taylor's second release brings 140-odd minutes minutes of highly palatable and cinematic tribal pop exotica. Like the bastard love child of Martin Denny and the early Factory Records roster, these 22 instrumental tracks are an expansive journey through ancient cultures as seen through the eyes of modern soundtrack composers. Each track on 'Deities' is devoted to/inspired by a different Hindu deity, and with their highly-developed melodic structure and a good ear for nuance and playful mystery, SMOKE & MIRRORS have constructed a melodic and accessable travelogue. In fact, their upbeat instrumental work favorably reminds me of THE CHURCH frontman STEVE KILBEY's obscure 'Earthed' release. 'Saraswati, The Wise' is a standout, mashing up tablas and banjo alongside drum programming, synth, and guitars for a wonderously joyous vibe. Spectacular, living, and vibrant sounds that uplift the spirits and open up whole new (and old) worlds." (Aural Fixation)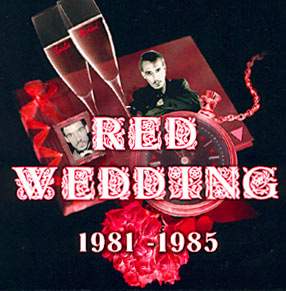 A third disc - WHITE ROSES PAINTED RED -
was released in 2006 to rave reviews.

New Red Wedding 'Best of' CD was
released in 2007 and it's fantastic!