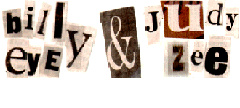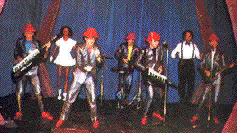 Devo, the Sunset Strip &
Judy Zee on Rock Against Racism

January 5, 1981

"Multinational corporations
can be powerful engines for
good." - Henry Kissinger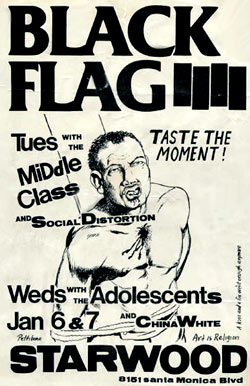 Around the town in an eleven pica column width.

by
Billy Eye
As we start the new year, I wanted to tell you about some artists that Judy Zee and I both admire a lot and about some of the albums we're listening to right now.
Judy and I don't always agree, but we both love Kraftwerk, Eno and Fripp, King Krimson, Black Flag, X, The Psychedelic Furs and old Ultravox, with John Foxx on vocals ('Mi-Sex' is my favorite song).
We both have our favorites from pop to punk, but my guilty pleasures are Gary Numan and Fashion while Judy likes The Knights of Oingo Boingo and The Damned.
Even though most of her taste runs to the serious, Judy Zee just loves Devo, so I guess it was no surprise to her that the band gained the mass popularity they did this past year. For Devo, not too much was lost in the translation from cult group to media darlings- they gained a bit of technical finesse, but lost a measure of freshness in the process... in my opinion.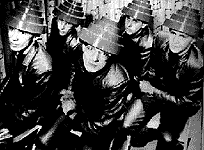 During the time they were working on the new album last year, members of the band and their producer were often seen partying down at the Odyssey, where the first notes of 'Whip it' over the sound system sends raging teenagers racing to the dancefloor. Devo's latest dance hit 'Freedom of Choice' was recorded in a studio just down the block from the club.
Note to producer Bob: get a new pick up line - "You have nice long legs, I'll bet you like to get fucked" wasn't working for you the night we met.
On the live music side of things, there are excellent punk / new wave shows coming up (most weeks) at the Whisky, Roxy and the even the Rainbow Room is hoppin' again, for the first time since the Glam-rock days. But let's face it, when it comes to Sunset Boulevard, the show's on the street.
The parking lots around The Whisky and The Roxy are crowded with heavy metal dudes in full plumage most nights, alternating with punkers in full regalia when there's the rare hardcore show.
A little further down the strip, Gazzarri's (the 'Godfather of Rock' indeed) stays stuck in the past with its lame heavy metal poseur bands, so give it a wide berth unless you just want to see what guys are doing with spandex and scarves. Didn't you used to find that kind of thing further down on Santa Monica? In the seventies?
That's all I have time I have for you for this week...
---
And now, Judy Zee . . .
Brain Waves at the end of '80
and after the deaths of
John Lennon and Darby Crash.
by zee Zee
Where is the rock and roll culture we feel for, live and dream of? Where? It's not so apparent to me.
I live, love, and give support to every rock 'n' roller; people who are sincere, and live for the world of rock, and it's ideals . . . what else is there to do? . . . But people don't seem to communicate much, and most of the rock and roll clubs are cold and empty (even when their full of people).
'Rock yourself out' one might say. Well, that's very LA . . . it's a shame. Because there are so many changed values behind rock 'n' roll. There are so many things we have learned, that we take for granted that the rest of this dying planet must become aware of.
I wish I had the ability to list them all. But in the end, each person must find out for themself. You already know.
But most of the world seems full of bigots and crackpots who are fearful of change for the better. What else is new . . . if we can change the world for ourselves and our own lives and friends, it's great - but can't we manage to do more?
One such attempt is an organization called Rock Against Racism. It's source and beginning is mother country England. The punks and kidz there are as supressed - rather more so than we are - and they're holding on to their values, and growing.
They have a culture. Rock Against Racism even puts out it's own mag, despite lack of finances, and despite the other side being so big and all. New wave bands, rock, reggae, punk bands put on concerts just to keep their friends and comrades, and other musicians out of the hands of the confining 'authorities'.
I wish I could do so much. Maybe I can. Maybe we all can. Don't let apathy rule us. What right has anyone to stop you from experimenting with anything or to stop you from doing what you want to do? You're not out to change their trip so much as to stop them from dictating yours. (Look up the word anarchy.)
Let's get our lives together, it may sound corny, but there are a lot of us, there really are. DEVOlution is all around us. Let's get beyond it.