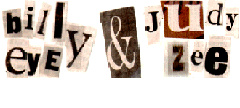 "I don't think anyone really knows what the fuck is going on anymore."
- Debbie Harry
Billy Eye on Hollywood
New Wave Dance Clubs: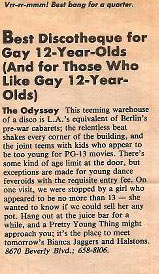 If you actually read this column in the last issue (and research indicates that you didn't) you would remember that Eye promised to take you on a tour of some of the better clubs you can go to around town and listen to that radical New Wave sound that you just have to have pumping-thumping through your pulsating, protruding veins!
Regardless of what some papers may say, the new music of rock and roll is here to stay. And a 'new wave' of sounds is pushing disco back into the dark, poppers-infested recesses from whence it came. Adventuresome sounds are creeping into all but the most hard-core disco dancefloors, with some mainstay clubs like Circus Circus and The Odyssey offering new wave nights on a regular basis. Mostly on the weeknights.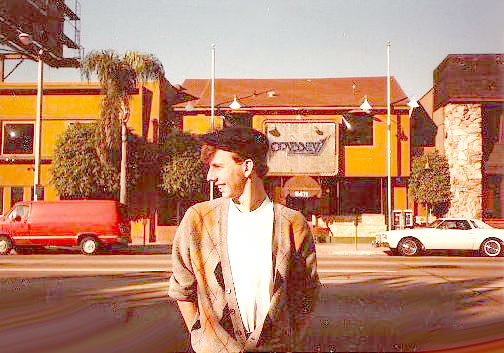 Monday and Friday are the really popular regular nights for new wave music at the Odyssey with DJ Chuck E. Starr, and on Thursday nights Circus Circus opens the circular Trapeze Room in the back of the club for new music.
The Trapeze Room is a comfortable place to dance or just to hang out, there's a small bar back there so it's cool, and the dancefloor is built up on several levels. This is all while the packed main disco is pumping out that awful, stale 'Don't Cry for Me Argentina' sound, but believe it or not, thank God, you can't hear it in the back.

You can also check out Gino's on Wednesday nights for a more ethno/techno experience. This is a dimly lit club with a large jumpin' dancefloor that attracts a (just above) street level crowd. On most weekend nights, Gino's is where the Hollywood Boulevard crowd goes to party and try, in vain, to look cool. Located in the middle of a shopping center on Western between Sunset and Santa Monica, Ginos is the club you went to one night and then had no idea where it was or how you got there!
The Seven Seas on Hollywood Boulevard (across from the Chinese Theater) also has new wave nights. They draw a large, mostly gay crowd. Like at The Odyssey, this crowd is an enegetic one, chearing wildly when songs like 'Rock Lobster,' and anything by Devo is introduced.
If you're looking for other kinds of music, two clubs off the beaten path offer a more hardcore rock and roll ambiance. The One Way and Cuffs, both in Silverlake, are two examples that come to mind.
At first, the owner of the One Way's attitude about his DJs playing punk and experimental synth music was, "Our customers don't want to hear it, but we don't give a damn, we're playing it anyway." Eventually the patrons started liking what they heard and the club started to attract a more diverse, younger crowd.
The One Way is dark, there is a chain link fence that separates part of the space to the left of a bar that sits in the center of the club. The loud music is hearty mix of hardcore punk and techno/trance with lots of local bands represented, played some nights by DJ John Bryant who will take your requests. And he has all of the cool stuff, the underground, San francisco and local band 45s.
There are other dives in Silverlake and Echo Park that play hardcore regularly, I'll let you discover some for yourself.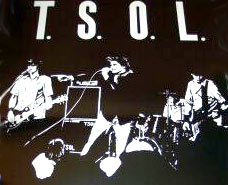 No doubt about it, a new music explosion has taken hold of Los Angeles. If you want to see a good hardcore show, the Ukranian Culture Center has been the site of some incredible shows lately.
T.S.O.L and Flipper (from San Francisco) played a fearsome set on a Friday night (Oct. 15) that attracted a huge crowd, the pit was a throbbing glob of sweaty meat.

The Ukranian space is big and acoustically right for hardcore bands, the sound just reverbs off the crumbling walls.
But beware... on your search for new music you will find that many new bands are nothing more than a group of guys and girls who think that it might be fun to be Led-Zep rock stars. You'll find a lot of these guys in the Valley, and at The Troubadour on most nights.
I would like to thank the owners of a new establishment to be called 'The Hollywood Spa' for inviting me to their upcoming gala opening celebration on Nov. 8. Of course, the party is not open to the public, so don't get your hopes up about meeting me there! I'm not even sure what kind of business it is, a health spa I suppose, but the prospect of free drinks and dancing is all the spark Eye need.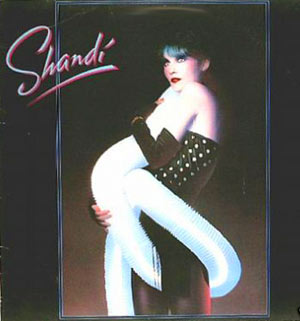 -- -- Now, the lovely and talented Judy Zee will let you know what she found on her excursions into Hollywood during the last week or so.
I've caught a couple of acts around town this week. . .
Shandi, on a Saturday night at the Starwood, was in good spirits. Towards mid-set they began cookin' and were fantastic by the end of the night. Tim's (who used to be Dyan Diamond's) guitar-work was excellent and appears effortless... his use of harmonics was stunning.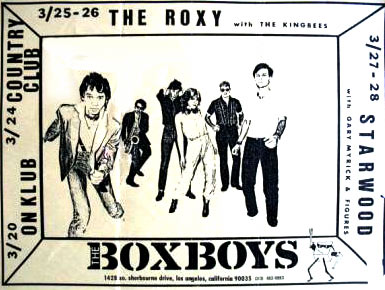 Two days later, I caught The Boxboys at the same club. If you have any kind of affection for reggae and love upbeat music- you will really love these boyz. Their special blend of ska turns the room into a joyous festival.
The Boxboys play straight blues twisted with a touch of highly energized reggae rhythm and funk, producing a simple, chunky syncopated sound, all bouncing and jamming jubilantly.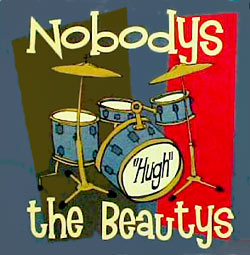 Dressed sleekly in black, save for lead singer Safeway's lone white shirt, on the last day of September, The Nobodys took the stage in fine form- in a frenzy you might say. They opened with 'What do you want to do?'- "I don't know" singer Safeway Goya replies, "I just gotta do SOMETHING!" They burst and bash with electric sound and have got upbeat catchy tunes.
Their synthesizer player, Pepsi, is great, kicking around happily on her Oberheim. A couple of songs into the set, they have already gained my respect with their precise sound and thoughtful lyrics. In 'No Time' the interplay of instruments and arrangement is impeccable. 'Screwing in Lightbulbs' carries on where the Doors' 5-1' left off, with it's somber beat and sensuousness. . . its truly kinky. . . their pauses are cute and their dynamics great; their harmonies full. Frantic energy channeled.
The Smog Marines
Candilejas, Hollywood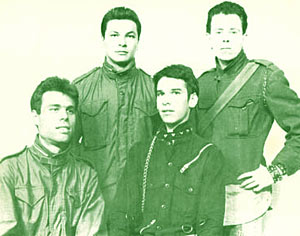 Out of all the bands I've seen this time around, only one can be termed 'punk' and only for want of a better term. The Smog Marines were probably a shock to the club management at Candilejas in Hollywood, because after their first few songs, they were requested to cut their set to "five more minutes."
The group complied, and the audience was treated to five more minutes of this harshly pure music. It was like a breath of clean air, so invigorating to hear such loud, raucous undilutedly real rock 'n roll no holds barred. If you get into this kind of music, this was a rush; a-harmonic, fast paced and raucous- the Smog Marines do it well.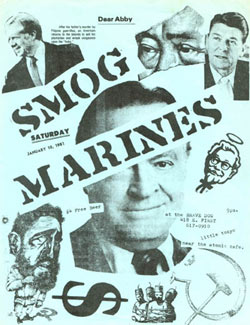 There are very few bands like this consistently making noise in LA. Sharp. Direct. Repetition on discordant, dissonant riffs in constant rhythm.
The Smog Marines' song that twisted the club management around was 'Suffocation-Plastic Bag', the story of a l'il boy and l'il girl playing. . . ah yes. . . in the 1980s.