From the found archives of the Billy Eye and Judy Zee
punk rock articles in Data-Boy Magazine / 1980-85.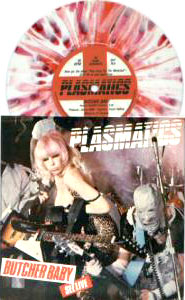 by billy eye
I get really pissed off at people that try to pass themselves off as real artists. I don't try to pass myself off as a real journalist!
One recent Friday afternoon, New York "rocker" Wendy O. Williams, mohawked lead singer of The Plasmatics, did a record store signing at Licorice Pizza on Sunset.
In case you don't know, The Plasmatics are famous more for their stage antics than their questionable skills as musicians.
When you attend one of The Plasmatic's shows you get equal helpings of chainsaws attacking guitars and televisions, Cadillacs being demolished by sledgehammers and explosives, and the tasteless antics and vocal strainings of a former stripper strutting what's left of her stuff across the stage and into your disbelieving face. At the Licorice Pizza appearance, Wendy O. Williams took her brand of performance art to a new level.
"Wendy O was signing autographs and she starts yelling about what kind of dicks she likes" said Plasmatics fan and my pal Jim Phillips. "She was getting really graphic, so some guy jumped on the table and started dancing, pulled his pants off and stripped down to his underwear.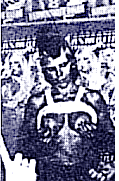 "That wasn't enough for Wendy. She wanted to see it all, and when the guy pulled down his shorts, she pulled up her top and started fondling herself". This girl must feel right at home on Sunset Boulevard. Here's a picture from the incident in case you think I'm making all of this up.

Flipper's, the 'roller boogie palace' (on the corner of Santa Monica and La Cienega) owned by Cher and her glittering super-friends like Olivia Newton John has been booking more and more new music bands in an attempt to move out of the seventies.
So far, most of the acts are lame pop-ish rock bands, the skinny tie, striped pants genre. Some punk shows are planned for the future, we'll see what happens. It remains to be seen whether people will want to see their favorite bands in such a heavily mirror-balled atmosphere.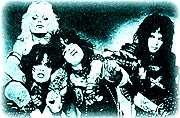 Local metal rockers Nikki Sixx and Vince Neil paraded into Data-boy the other day and asked me to do a poster for their upcoming Starwood gig.
Yes it's true, out of the ashes of Judy Zee's favorite heavy metal band London, they have created Motley Crue.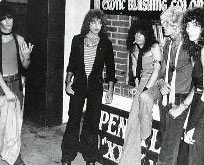 These guys are serious about what they are doing, about every detail. They really make a sight walking down Santa Monica Boulevard in Hollywood, dressed in scarves, high heels, leather and black spandex, Nikki with jet black hair and Vince with wild bleached blond.
The look is Kiss meets Bowie and it works.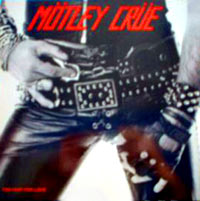 They operate in their own world, oblivious to the drive-by stares of johns cruising the male hustlers on the street.
Yet they obviously invite the attention, as this is their normal walking around attire.
LEFT: Data-Boy publisher Saul Suffron's
infamous 'Fat Shirley' drag persona.
I'll see you guys next week when you pick up the posters - but remember, if you want to write a check, Fat Shirley has to approve it.
And now, as you sit on a bar stool somewhere with your elbows soaking in beer wishing you were somewhere other than where you are right now, here is Judy Zee to whisk you away to another world.
What sounds like Shandi, acts like Manakin, dances like Devo, sings like Blondie and writes like Oingo-Boing? Live Nude Girl. They've got the beat and are go-go-go with the techno-funk punk. Nude theatrics, patent pending, with plastic and rubber toys- from 3' scissors to multi colored nuts and bolts and colored cardboard shapes spreading themselves across the stage.
Lead singer, Lissa Mehndelson is wearing a red DNA structure design on her long T-shirt. She's short with cropped dark brown hair, and is cute, reminding on of the central female character in the film "La Strada". The bassist, Rich Star, played a maple necked Fender fretless precision bass. The synthesist, played an Arp Quadra and Mini-Korg with an MXR sticker on it. He was energetic, with his instruments bubbling lke a scientist's factory - It's a party with Live Nude Girl!
A plutonium circus, we were at the DNA exhibit- featuring the staccato lead guitar Andrew and, as usual, the Wong's West regular girls were a go-going in the corner. The rest of the audience response was WWS (Wong's West Sedate), the band was alive but the crowd was rather dead.
You can rest assured that Live Nude Girl do display bona-fide new wave, semi-sophistico punk in motion, a musical expression of the old style without the noisy violence associated with this type of music.
---
UPDATE:
Wendy O'Williams committed suicide in 1998.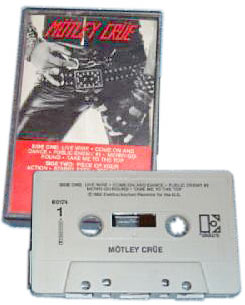 Motley Crew sold millions of LPs and cassettes and launched a successful reunion tour in 2005.
I don't know what happened to Fat Shirley, but Data-Boy magazine (Saul Suffron was the publisher) ceased publication sometime in the late-eighties.
Data-Boy closed their West Hollywood storefront printing company on Santa Monica Boulevard in 1994 after more than 20 years in business, much of that time as the leading gay advertising agency, magazine publisher and local printer.