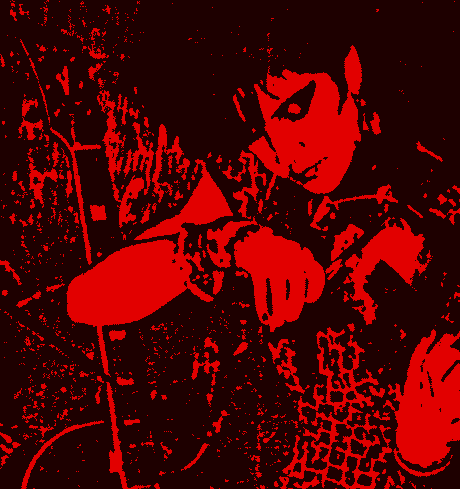 Los Illegals and The Brat at Circus Disco
John Cale at the Whisky
July 9, 1981
by billy eye and judy zee

"I am surprised I'm somewhat successful,
because previous to this I was a dishwasher."
- David Byrne, Talking Heads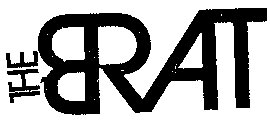 June was 'birthday month' I guess, with two clubs hosting birthday parties of sorts.
A party for Eddie Ayala was held at Circus Disco in the 'Trapeze Room', complete with cake and music from both his band (Eddie is the lead singer for Los Illegals) and The Brat.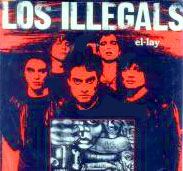 Eddie Ayala and his group Los Illegals were pretty good this night, they play a modified pop sound - psychedelic influences with a latino flavor. Their intention, I think, was to excite the audience to dance, which they didn't, but everyone did listen intently and in a discotheque atmosphere like this, that's saying a lot. Very little separation between performer and crowd here, and seeing the band in an intimate but reasonably well lit space is a treat.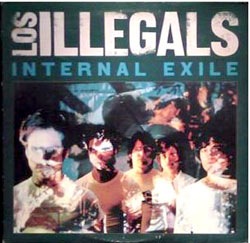 Los Illegals is a powerful group and not playing to their full potential tonight, but that is to be expected. Everyone was here to party. The more relaxed 'Illegals' here were more playful, I liked that a lot.
Eddie has an excellent voice, the band was tight (with added help from The Brat's own Rudy Medina on guitar- a definite asset- he really is one of the most accomplished guitarists around).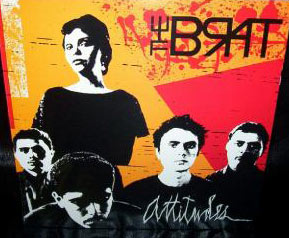 The Brat played a bland set, with lost vocals and uninspired performances by most members. I have to confess, Eye wanted to like The Brat with this viewing, especially after talking to guitarist Rudy, who is conscientious and congenial (talented too). The Brat started out strong, they're an excellent band, but they continue to give mechanical performances lately.

John Tagliavia's Birthday
A smaller, but just as enjoyable party was held at the Brave Dog a few days later for John Tagliavia, bass player for Red Wedding.
John is an engaging (and flirtatious) performer and his stomping bass and piercing background vocals help give Red Wedding that celebratory (certainly not celibatory) sound they are known for.
Pricilla B is one of the most bizarre and entertaining performers Eye've seen in a while and she did her latest performance/art piece at the Brave Dog recently. She began her rewritten cover of 'Summertime' ("my daddy is sick, and my ma is out lookin'...") by opening a large watermelon, digging her hands into it and pulling out it's wet entrails, allowing the juices to run from her fingers, down her arms and over her body like a bloody scene from Andy Warhol's 'Frankenstein' or something.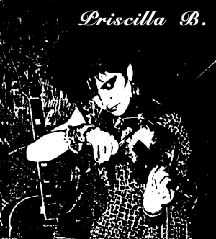 Then she starts tossing hunks of the wet glop into the audience. To complete the 'Summertime' satire-imagery, she laid back on a brightly colored lawn chair, as her accompanist played vague chords on his synthesizer. The audience, as well as this reviewer, truly appreciated this socio-theatrical performance. It was short and fun.
The big news (but you know about it, don't you...) is that The Psychedelic Furs will be at the Roxy on July 29 and 30 - that's a Wednesday and Thursday, so eye'll see you there, ok? Buy me a drink.
Local favorite Wall of Voodoo is also scheduled to play with the Furs, so you can count on this being one of the best shows of the summer, they really rock live. Incidentally, Wall Of Voodoo was booked to play a surprise gig at Al's Bar a few weeks back (maybe you read the ad in the Weekly that teased the "surprise IRS recording artist" date) but the show was cancelled at the last minute, which was too bad. An intimate setting like Al's Bar would have made a show by Wall of Voodoo a particular treat. They probably won't be playing the smaller clubs much any longer.
A LEGEND

Rock and Roll original Jerry Lee Lewis will be at the Palamino in July - he is terrific live! I saw him last year at The Palamino, he was pale as death and they had to carry him from the car (parked next to the door which is adjacent to the tiny stage) to the piano.
The legendary rocker's been sick (or something), but the energy level of his performance was incredible and his band is deliberate and disciplined. Like a train rolling along behind the conductor.
Jerry Lee banged out an incredible show, never playing more than two thirds of any song - and then the crew carried him off the stage and into the waiting limo again. He was clearly having fun forcing his band to stop playing on a dime, at his whim.
Of course, the Palamino is kind of a drag, because it's a scary Valley cowboy-clone bar in all its trendy, 'Urban Cowboy' glory. But it is a venue where you can view a performer close up, when there is someone worth watching, which is almost never. Jerry Lee is the exception - see him before he dies or ends up in prison. Check out his new album covers, cool stuff.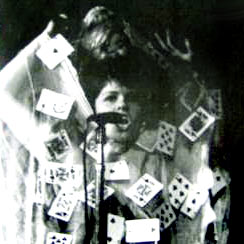 The always bizarre but ever fascinating performance artist Johanna Went (shown) joins Top Jimmy and the Rhythm Pigs for a benefit for No Mag on Sunday the 12th at The Whisky.
TSOL, Circle Jerks, Black Flag, X, Devo, B-52s, Split Enz- this is the kind of music you will hear after midnight on KCSN, even on weekends, in the Valley. 88.5 on your radio dial. The soundtrack for after-club driving in the valley late at night.

And now, the latest
from Judy Zee's side of town...
(Click to read Judy's review of John Cale.)
---
UPDATE:
This was the last gig that Eddie Ayala and 'Los Illegals' played together. 'Los Illegals' continues on today, they played a gig in 1996 at The House of Blues in LA, and are seen often playing in Mexico to avoid the 'pay for play' situation that had taken over the Hollywood scene in the nineties.

Eddie Ayala has resurfaced in the producer mode of Mexnut Enterprise. His newest CD compilation is "Barrios Artistas" Volume I. For the bilingually impaired, this is mix of various local bands with female emphasis.

John Tagliavia died in 1993.

KCSN began playing country music exclusively in 1985.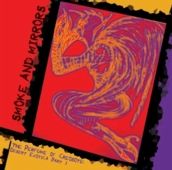 Michael Ely and Jim 'Spider' Taylor (Red Wedding) have resurfaced a new CD. Their new recording name is Smoke & Mirrors - their first CD "The Perfume of Creosote: Desert Exotica Part One" (Click to order) was released in 2004 to worldwide acclaim (no kidding!).
They have a NEW CD in 2005 -
Smoke & Mirrors: Dieties.
SAMPLE REVIEW:
Now it's not often that I'm flummoxed, but this thing's got me beaten - what on earth category do you put it in? Is it prog-rock - or psychedelic - or ambient - or contemporary - or what? It's got all those and more across a staggering twenty-three tracks over 78 minutes of instrumental music. Bearing in mind I don't have the time to do a track-by-track breakdown, it's then very difficult to describe it as a whole. First off, it's rhythmic throughout, with chunky drums and deep bass that you'd find on something resembling a mix of Can, Banco de Gaia & early Ozrics. Then there's the melodies - lots and lots of layers of synths, keyboards and guitars, all presented in easily digestible chunks that are incredibly addictive, tunes like prog, atmospheres like ambience, powerful like Krautrock and heady like psychedelia - yet all so clean and full-sounding in terms of arrangements and production.. I have to say that I loved every minute of it, but who out there is going to buy it without a great leap of faith in my - and others - review, I really couldn't say. Something so different shouldn't be this good - but it is.
- ANDY GARIBALDI - (CD SERVICES)