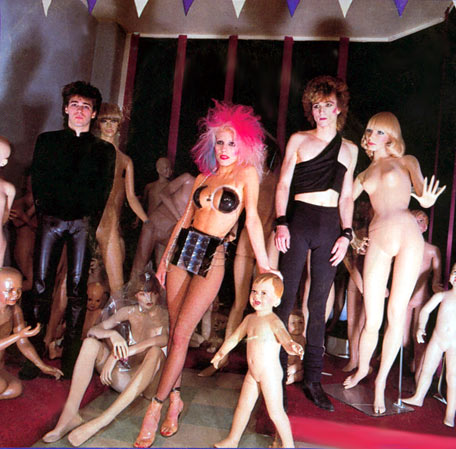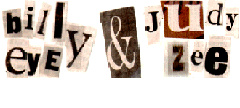 Red Wedding at the Whisky,
Missing Persons on Video,
The Go-Gos Everywhere
Around the town with Billy Eye
August 27, 1982
PLEASE NOTE THESE ARTICLES WERE HEAVILY RE-WRITTEN FROM MY ORIGINAL NOTES IN 1994 & 2011.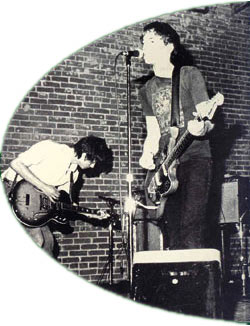 Dream Syndicate
DOWN SOUTH:
Orange County is still proving to be a hothouse breading ground for hardcore bands and searing live shows, defining a new distinctive sound, stance and scene.
On September 10th, three of your favorite locals will appear at the Galaxy Roller Rink (121 N. Gilbert in Fullerton) - 45 Grave, Twisted Roots, Dream Syndicate. What a lineup for five bucks, topping off a great summer of kicking shows. Get there early and see Dream Syndicate for sure. This quartet played their first live gig in January and gained a stellar reputation after jams at the Anti-Club (on Melrose) and elsewhere. The music is weaving, dreamy, oddball and extremely attractive - damn these guys are good - and they have a growing following.
The roller disco fad has long faded - so what are cavernous skate rinks to do? More and more owners in OC (and the Valley) are turning to booking their venues like nightclubs in an attempt to draw a crowd.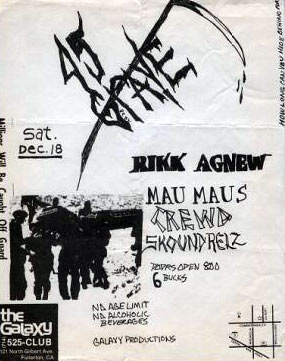 Every weekend, The Galaxy (Fullerton's vintage 50's-style rink) showcases adventuresome music, and it's drawing a strong crowd with gnarly hardcore bands like Fear, Mau Maus, Fear, Salvation Army and OC favorite sons Middle Class. BYOB. Bring your mom.
Speaking of Fullerton, R.E.M., and The Untouchables will light up Ichabod's on August 30th. REM is from Georgia, one of my favorite new bands. Their new EP is hypnotic, I'm addicted to driving around LA at night listening to it, although I have no clue what vocalist Michael Stipe is singing about half the time. Locals The Untouchables have been banging out their infectious ska sound for some time - always a joy to watch.
BACK IN LA: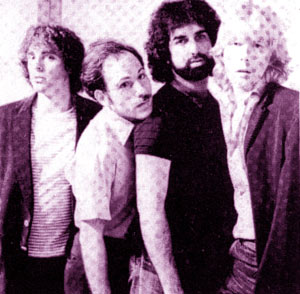 If you remember me talking about the LA Burgers (pictured) a while back, they've shortened their name to The Burgers and they are back gigging around town, surely to turn up at Madame Wong's West in Santa Monica. They're a great pop band with hooky tunes, they always put on a good show.
Wong's West does a steady business on weeknights, drawing people from the nearby campus. The bands tend to be lightweight pop acts from the west side of town.
Ester Wong, owner of Wong's West, has been block booking East Side bands to determine if they can draw a crowd. Wong's has upstairs and downstairs stages, the darker, smaller basement space is more comfortable so that's the preferred venue for East Siders.
Look for a new LP from The Circle Jerks soon, an album of cheezy cover tunes.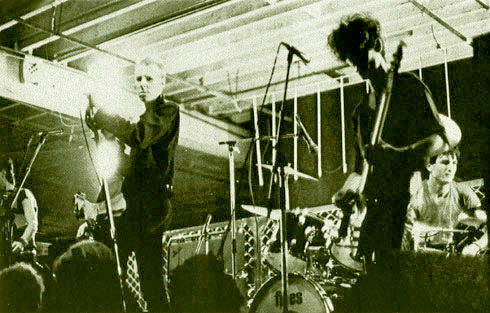 RED WEDDING AT THE WHISKY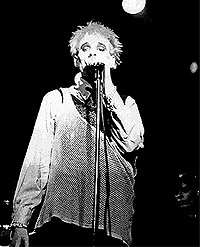 Red Wedding hit The Whisky hard on Thursday, August 5th. Bringing their post-punk psychedelia to the Strip, the overflow crowd was wildly enthusiastic in their response to 'All Dressed Up, 'Pink Night Mirrors,' 'Marsha in Pictures' and other weaving Red Wedding familiars. It was a triumphant occasion, following a barrage of strong performances from this group.
Watching the opening number from backstage, surrounded by the famous names etched into the walls, I was struck once again by the shattering guitar work of Spider Taylor, who proved once again he is one of the best players on the scene. If not THE best.
Craig Lee in the LA Times said about the Whisky show, "...Red Wedding consistently drives it home with relentless rhythm." That's true enough. The band has forward momentum and one of the most intriguing live presentations anywhere, thanks mostly to the vexing lead singer, Michael Ely and his compelling lyrical scenarios.
With renewed interest in local bands, maybe Red Wedding will finally get signed and reach a wider audience. In the meantime, they are going in the studio to record an EP of their live show favorites.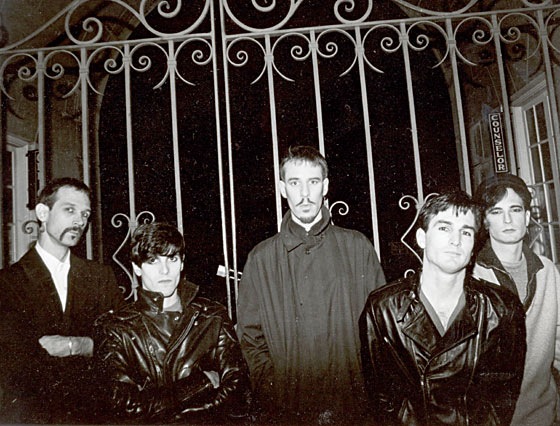 THE GO-GOS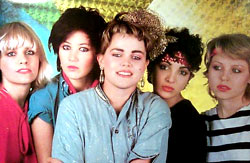 One LA band that started with a self-released single - then ended up with a smash hit - was The Go-Gos. These girls roared up out of local clubs like the Vex and enjoyed the love and support of the LA Weekly.
Along the way, The Go-Gos proved more and more popular in the gay dance clubs. As a result, the girls attract a huge gay audience to their concerts.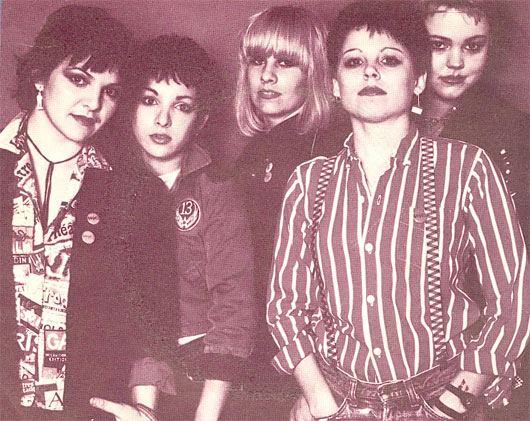 And what would K-Rock do without the Go-Gos? Find other local bands to play, maybe? That would be music to my ears, these gals are too slick for me now - but I'm in the minority, I know.
K-Rock has been narrowing their playlist for some time and is becoming only slightly less annoying than their FM counterparts. They play the Go-Gos relentlessly, but let's face it, last year they recorded an album (Beauty and the Beat) brimming with hit singles. Now Vacation has everyone bouncing, it's another top ten hit. The Go-Gos are major stars now, on a world wide scale. That should mean great things for other locals, right?
MISSING PERSONS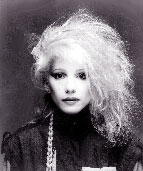 Speaking of reaching a wider audience, Missing Person's long awaited album SPRING SESSION M will be released in a few weeks. The band will be out supporting their new single 'Words' with some high-profile shows around California.
The new wave darling of KROQ, Missing Persons is one of the very few local bands that can sell out a venue within hours, with scalpers getting $50 or more a ticket. In March, right after the band's raucous sold out Santa Monica Civic show, Capitol Records finally signed the group; work on the album began almost immediately with Ken Scott once again producing.
The single is already climbing the national charts, thanks to Capitol's pairing it with a 12-inch re-release of the group's best-selling, home grown EP. The group has also supplied two hastily filmed music-videos (that were shot over a year ago) to the fledgeling MTV music cable channel.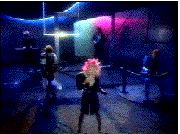 Funny thing about those videos - I Like Boys took months to finish because of the special effects that were added afterward bcause the band hated the intial result. That video sat unused while they shot Mental Hopscotch, an attempt to show club owners what they could expect from the band's live act. Terry in particular was frustrated by this process. Being a perfectionist, he didn't care for the rushed nature of these video productions. Still - when MTV was desperate for video content for their new channel, these songs were ready to go. How videos will affect record sales is anyone's guess.
Capitol will be shooting a big-budget video for the group's next single, Destination Unknown (my favorite MP song). I suspect this will mean there will be no more small club gigs for this fine group soon. I'll miss that. I liked the energy the group infused into each show and the enthusiastic response from every unprepared audience. Seeing that level of craftsmanship up close is a rare privilege.

Missing Persons at the US Festival in 1983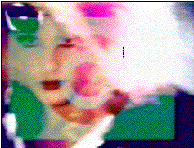 I've noticed a distinct difference in the band's dynamic over the last year. Dale Bozzio, who's shy awkwardness clashed with her plexi-sexy appearance at first, has become a more confident performer.
Her appeal is becoming the focal point. The excitement at Missing Person's concerts is wildly contagious, with four masterful musicians and an incredible repertoire of songs backing Dale up. Eye attended some of their shows in Northern Cal and the audience loves her wherever they appear. The roar that accompanies the start of 'I Like Boys' proves that devotion - and that there are a lot of gay boys in the audience!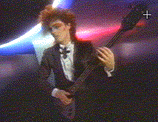 Another positive attraction has been the addition of Patrick O'Hearn on Bass / Bass Synth. He's been working behind the scenes with the band for some time and is another Zappa alumni. Patrick's adding a funk flavor that clashes nicely with the rock-out nature of Terry Bozzio on drums. Warren Cuccurullo fuses the new wave synth jams Chuck Wild puts out - the mix is made.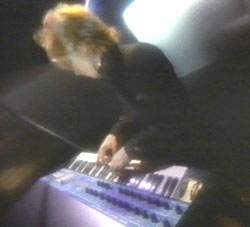 Eye chatted with keyboardist Chuck Wild just the other day and asked him how the latest mini-tour was shaping up. He told me about the sold out shows, fans haunting the hotels where they stayed, the mob scenes and other indicators that denote success in 1982.
I don't think there is any limit to what this group can accomplish - and neither do they!
- Oh, and congratulations to Freddie Snakeskin, now the program director at KROQ. See you at Vito's!
---
UPDATES:
The Galaxy Roller Rink in Fullerton closed in 1984 (I think) and is now a Mormon Temple.
---

'Spring Session M' went gold and there were three singles released from the album - 'Words' and 'Destination Unknown' both reached #42 while 'Walking in L.A.' reached #70 on the pop charts.

There were two follow-up LPs which contained some excellent material, but sales were lax.


Dale Bozzio from 1984

Chuck Wild left Missing Persons in 1984; the band broke up completely in June 1986 in the midst of a tour.

Dale Bozzio released a dance single (Simon, Simon) and album (as Dale) on Prince's label in the mid-eighties. For years after that, Dale Bozzio toured with a backup band, billed as Missing Persons, performing much of the band's old set. I saw her in a club on Hollywood Boulevard in the early-1990s, there were stars like Chi Chi LaRue and Sam Kinison in attendance, as was former band mate Chuck Wild..

A superb CD containing a live MP performance from 1981 was released in 1997, along with a CD of DJ remixes.

There have been attempts to reunite the band. Several concerts with originals Dale Bozzio, Warren Cuccurullo and Terry Bozzio took place in southern California in the summer of 2001 in anticipation of a longer tour which never materialized. If they hadn't gotten back together at that time they would have been prime candidates for the MTV series Bands Reunited.
After three live shows in 2003 accompanied by Warren, Dale is back to performing Missing Persons songs with a pickup band (although she cancelled four shows in LA set for the first week of January, 2004). There were concert dates scheduled for late-2006.

Warren Cuccurullo has stated, "The really enjoyable times for Missing Persons were from 1980 when we started until the end of the Spring Session M tour. After that, it just kept getting more and more difficult. We had three incredible years and three that were tumultuous to say the least."
Listen to a terrific 2006 interview with Chuck Wild here. He has a highly-acclaimed CD series called Liquid Mind - find out more at: liquidmindmusic.com.
---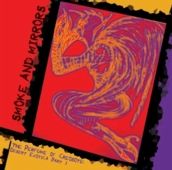 Michael Ely and Jim 'Spider' Taylor (Red Wedding) have resurfaced a new CD. Their new recording name is Smoke & Mirrors - their first CD "The Perfume of Creosote: Desert Exotica Part One" (Click to order) was released in 2004 to worldwide acclaim.
They have a NEW 2 CD set in 2005:
Smoke & Mirrors: Dieties and another in 2006.