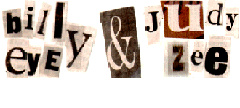 New Wave's Eve
(& end of the year wrap-up)
by Billy Eye // January, 1983



Three years ago, a short time after Eye moved to to LA, there was a segment on the lame '2 on the Town' TV show on New Wave and Punk bands. They stated that, because it's played at the same rate as your heart is pumping, punk music was causing people to go insane and become violent. They showed scenes of local punk bands and the audience slam dancing as proof these groups held an unhealthy sway over the audience, inciting the crowd to abhorrent behavior and... God knows what. I just had to check that out!
It's been two and a half years since Eye started this column, and I'm grateful to all of you who have written and read. And thank you '2 on the Town.'
FAVORITE BANDS OF 1982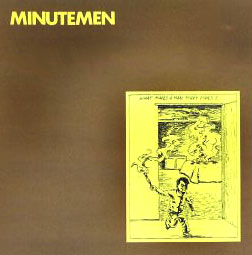 '82 was a year of tumult and turmoil, growth and change. It was a great time, but I witnessed so many witless bands I shudder to think back on it. Lame music is really starting to irritate me, I might develop an aversion to going to clubs where I don't normally hang out.
But the new year means out with the bad and in with the good, so here are some of my more pleasurable experiences that I didn't get to write about in 1982.
Vaulting to the top of the list - San Pedro's The Minutemen. They've been around for a couple of years now and keep getting better both live and on vinyl. Singer D. Boon, bassist Mike Watt and drummer George Hurley slammed and jerked through a number of fierce shows last year and have been touring the country in search of a new audience.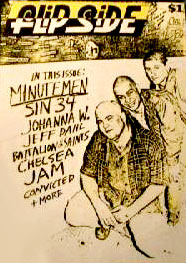 The Minutemen are so named because their songs clock in at about a minute - and, like The Minutemen of old, they are ready at any time to grab their instruments and go to battle.
But this is not a on-note-fits-all band - influences from jazz to country lie beneath the surface. Their LP 'The Punch Line' was released on SST Records (home of Black Flag) in 1981, a strong follow-up to their EP 'Paranoid Time'.
Frantically fast, impossibly fierce, overtly political, thoroughly Orange County, The Minutemen stand tall in the So Cal scene. The Minutemen were probably the best hardcore opening band of all - they moved up to headliner status in '82, rising to the occasion with more expansive, eclectic material.
Black Flag and The Minutemen played a gig just last week in Santa Barbara that (I'm told) was kick ass.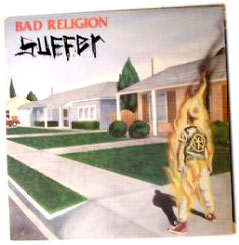 Unit Three With Venus has a hot new single called 'Pajama Party' being played on KXLU. They delivered a scorching set at The Old Victorian Theater on November 12th paired with Circle One, Bad Religion and Social Distortion.
I'm crazy about The Gun Club as well, they are best of the best for me - a live presentation that is always reinventive.
Have there ever been more natural enemies than punkers and heavy metal-ers? A couple of short years ago, fights broke out whenever the two groups met - for whatever reason. Now Metalheads are adding punk riffs and ripped-fashion to their spandex world. Groups like Suicidal Tendencies are gaining respect from the metal lovers who are turning up at gigs in big numbers. Weird.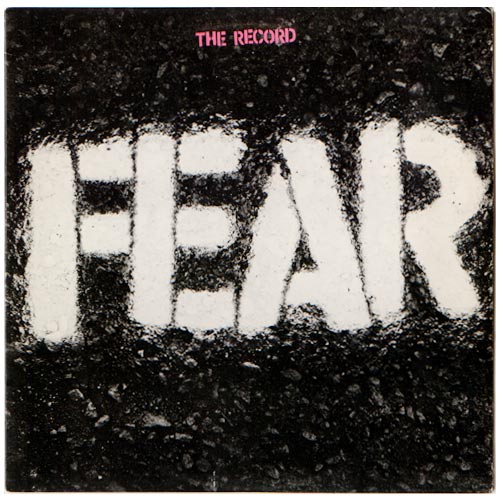 Fear released a fantastic album in '82 called 'The Record' featuring the hilarious 'New York's All Right, If You Like Saxophones' with Derf Scratch screeching on the sax - and 'Let's Have A War' is another standout in a crowd of great tunes.
Fear was one of the top concert draws in LA last year. Other bands (that I like) that were top ten live draws - 45 Grave, The Motels, Gary Myrick, The Untouchables, The Plugz, Oingo Boingo, and The Boxboys.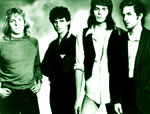 The Dream Syndicate with Steve Wynn on vocals and guitar is another superb live ensemble that's evolving beyond what some thought they were capable of - defying description with long, melodic guitar solos that seduce you into a trance - juxtaposed with upbeat rhythms, even country licks. Did you catch their live show on KPFK last September? It was even better than their E.P. released a few months earlier.
Dream Syndicate started at the bottom of some great bills in early-1982 and, like The Minutemen, worked their way up to headliner by the end of the year. They'll be at the Music Machine in West LA on January 29th before heading off on a mini-tour.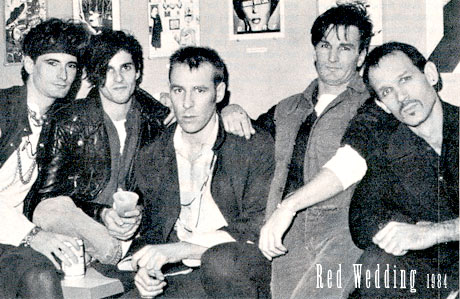 Red Wedding is another favorite. They were kinda the house band for The Brave Dog which closed last year, after one hell of a private party in March with Nervous Gender, Strong Silent Types and Gobscheit (actually Edward Stapleton from Nervous Gender and Patrice Repose mixing synth sounds with their senses-shattering poetry).
There was even an unanticipated set by the now-defunct Speed Queens and other random entertainment until the short hours. We all miss the Brave Dog.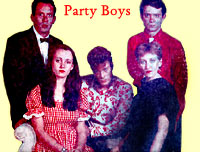 The spirit (and talent) behind the Brave Dog present another Theoretical party starring The Party Boys, Glen Meadmore and The Ju Ju Hounds on Sunday, January 23rd. As always, this is an afternoon party that starts around 5:00pm at The One Way (612 North Hoover) in Silver Lake. Theoretical is a monthly event that began in July of last year - not to be missed.
Is the Downtown scene sinking like a British Frigate? Music defined as 'Art-rock' and 'New Romantic' has faded away. Bands are scattering like cockroaches to reinvent themselves or at least throw off old definitions. Laughable groups like Adam and the Ants made it hard to take 'New Romantics' seriously - and most of the bands that identified with the 'New Romantic' label were awfully serious. Awfully.
RADIO WAVES
It might be said that 1982 was the year New Wave was embraced by the mainstream. Even rock dinosaur KMET began playing new music in 1982 - too little, too late. Human League, Soft Cell, 20/20 and others can be heard on the venerable station, to no one's satisfaction, I'm sure.
Is it annoying to anyone else that the KROQ DJs talk incessantly? I'm forced to get up to the Raymondo and the Blade program in the mornings (don't ask why), and when KXLU gets too much for my fellow office workers, I turn to KROQ. But the DJs must think we're enthralled with their every movement, bowel and otherwise.
I actually like Raechel Donahue (9-noon), she's a broadcast legend from the sixties (Dusty Street and Raechel are both graduates of the Mighty KSAN, the Jive 95). KROQ had the good sense to hire Raechel (and Dusty) away from San Francisco.
Familiar daytime DJ Freddy Snakeskin is now the program director, while still keeping his afternoon shift. I run into Freddy every once in a while; he's a nice guy with a keen taste in music, but he loves to talk on the air! Daily jocks Jed the Fish and Dusty Street are well liked - though Dusty in particular goes on a bit about her private life and her friends, particularly "Vito, Hairdresser to the Stars."
In Silver Lake on Hyperion across from The Gauntlet (you know where that is, right?!?!), Dusty's pal Vito services most of the KROQ gang along with other scene notables and band members including - your own Billy Eye. Vito gets so much action his waiting room is one enormous bed. I kid you not!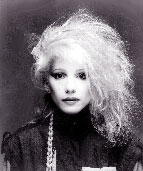 MISSING PERSONS
Was it any surprise when 'Mental Hopscotch' by Missing Persons showed up at number one in KROQ's 106.7 top records countdown of the year? (Tellingly, 'Johnny Are You Queer?' by Josie Cotton came in at number 5.)
New Years Eve with Missing Persons was a blast at the Long Beach Arena, sold out weeks in advance. Hard-partying Dusty Street and Vito (the aforementioned hairdresser to the aforementioned stars) arrived in a resplendent manner in a limo provided by MP's Chuck Wild; the glamorous Chi Chi LaRue and dozens of other celebrities that matter were in attendance.

Missing Persons has a large cadre of fans that have been in their audiences from the early shows in the Valley, so this gig was a celebration of the band's great recent success and their return to the LA area after triumphantly touring the country.
The Long Beach Arena remains a superb venue to see bands, the sight lines are good (at least they were from my seats up front) and the sound system is adequate. This is the largest stage the band has played to date, I'm used to seeing them in smaller clubs, but the power the band members have is in no way dissipated by the larger venue, the crowd roared its approval song after song.

MP's new album has sold 150,000 units the first two weeks, the group recently toured Europe, shooting a video for 'Destination Unknown' and soon they'll be off on a national tour of sold out dates.
They've found success on their own, with very little press (except here in Data-Boy, of course). What press they've gotten has been mixed. Craig Lee from the LA Weekly called them, "sleaze and tease electronic rock" but privately admitted (outside the Brave Dog) to Chuck Wild and Eye that he had never actually seen the band.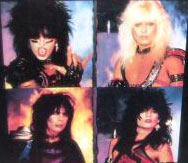 Did you know Missing Persons, Motley Crue (seen) and Wall of Voodoo share the same rehearsal space in Sun Valley?
What do they have in common? You read about all three groups here in Data-boy magazine first! Ha!

---
UPDATE:
Sadly, Jack Marquette, co-creator of the Theoretical parties, died in June of 2008 - he was a tremendous influence on the LA music scene and will be missed and fondly remembered for his incredible parties and clubs. The Theoretical site is no longer operative but can be found archived on the Internet Wayback Machine.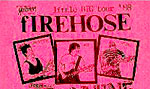 D. Boon and his girlfriend were killed in a car accident in December 1985. In 1986, the surviving members of The Minutemen formed another seminal LA band, fIREHOSE. They were very popular on the LA scene for several years, one of the best live groups of the era.
Las Vegas Review-Journal's Best of Vegas 2004 cited Dusty Street as "Best Radio Personality." They wrote, "Dusty Street is a real radio pioneer whose resume includes stints at San Francisco's KMPX (later KSAN) and Los Angeles' KROQ, both of which occupy a beloved place in the alternative rock radio firmament. These days, Street shines every Sunday from 7 p.m. to midnight on KSTJ-FM, STAR 102.7, where you'll enjoy hearing her seriously cool self as she plays Siouxsie & the Banshees, Bauhaus and other examples of '80s rock that you won't hear much anywhere else."
On October 1, 2004, Dusty Street and Raechel Donahue relocated to Cleveland to join the lineup of the Rock & Roll Museum's new radio station. Raechel Donahue is currently on the air in Little Rock, Ark. on Oldies 106.3. She tells us: "I am making documentaries now and the new one is called Airplay -- it's about the politics of radio and music, including the punk years... xxoo" - Raechel
Freddie Snakeskin lasted 12 years at KROQ. He, Dusty Street, Richard Blade and the Swedish Egil (all at KROQ in 1982) can be heard on SIRIUS Satellite Radio. CAN YOU HELP WITH INFO ON THESE GREAT TALENTS?
The surviving members of Nervous Gender - Edward Stapleton, Michael Ochoa and Joe Zinnato - are currently reviewing all of the Nervous Gender material, (studio, live, rehearsal recordings and performance videos) and intend on releasing a series of archival documents and a NG retrospective. www.nervousgender.com.
Listen to a terrific 2006 interview with Chuck Wild of Missing Persons here. He has a highly-acclaimed, chart-topping CD series called Liquid Mind - find out more at: liquidmindmusic.com.
Vito, Hairdresser to the Stars, was found dead in 1985. Most likely a drug related crime, the killer had been riding around with the hairdresser's body in the trunk of Vito's BMW for several days. The eighties had become somewhat less carefree in Los Angeles by that point.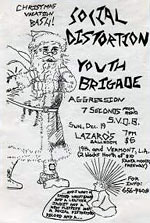 ---
- - As far as it's known, this was the last Billy Eye / Judy Zee column that ran on a regular basis in Data-Boy magazine.
The next Billy Eye article didn't see print until more than two years later - and it details a fitting ending to the series. Read it here!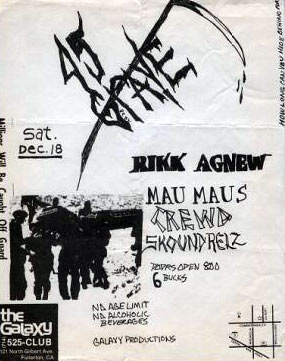 Dec. 1982