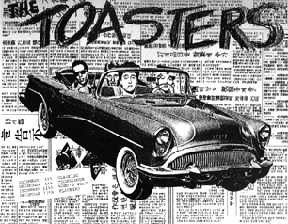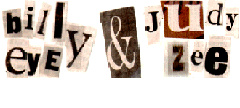 The new wave is here
October 16, 1980
(PART ONE BY BILLY EYE)

"I can't see anything decadent
about mature people having fun with their clothes on."
- Truman Capote
Last issue I told you about some great bands and seedy clubs that might fall into the 'punk' category. On the pop music side of things, there are some interesting so-called 'new wave' bands playing around town, and some wildly fun clubs to go to.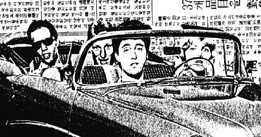 The Toasters play some of the best music you'll hear anywhere - I don't really know how to classify the band other than pop, they aren't hard rock, but they burn the stage and shear the audience with crisp, clean tunes that are both lyrically and musically right on target.
It's a real treat to watch these guys play, each one of them has an engaging, accessible stage presence that works for them as individuals and adds to their appeal as a group. I guess that's what it's all about tho, huh?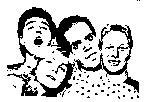 The word for this group is 'together' and you should get together with this band wherever they play next and The Toasters are appearing with great frequency throughout the LA club scene.
I caught them at Blackie's, a great little hole in the wall in Santa Monica that thankfully serves up cold beer and great west-side bands. Blackies is more laid back than the Hollywood clubs, and bands seem to feel at home here, more of a hang out than an event.
HEAR THE (original LA) TOASTERS -
their single "Teenage Tease",
an LA New Wave classic.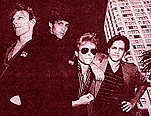 A list of the most popular local 'new wave' bands might include the so-so Great Buildings, who just signed a deal with CBS. Lucky for them, because band signings by major record companies are getting scarce - and the budgets are much smaller for these newly signed bands that they were just a year ago.
The record industry is in a severe slump right now, the direct result of bloated spending on seventies dinosaurs and lame 'new wave' crap bands like The Knack, the band that started the whole "LA explosion," then poisoned the well.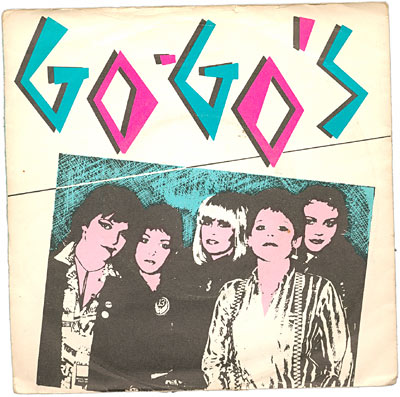 The Go-Gos had to sign with an independent (Stiff Records) to get some kind of deal this year. The majors may be sorry they passed on The Go-Gos, crowds are jamming their shows and their self-released single, 'We Got The Beat,' is starting to gain national attention besides getting relentless play on KROQ.
Speaking of The GoGo's, they played two sold out shows on the 12th and 13th of September at The Whisky and the whole experience was a perfect ending to a great summer of new music, bringing together a crowd from every spectrum - from punkers to gay clones and everything in between.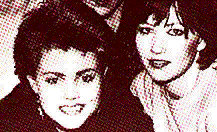 HEAR THE (original )
GO-GOS 45rpm single-
"How Much More"
The Downtown crowd converged with the Hollywood scene for a great big Go-Go's love-in at the Whisky,. The real fun was in the crowd outside on the streets (undoubtedly the biggest freak show on Sunset since the Bowie era), and backstage amongst the graphitti scrawled walls of the Whisky's derelict dressing area. Names of the great and not-so great who have played the club in past decades are scrawled on the backstage walls to remind us all of the rich history this club represents.
Following their phenomenal blowout at The Starwood a couple of months earlier, it truly was the summer of The Go-Gos.
Sunset Boulevard is coming alive again, thanks to the energy of new groups, like The Go-Gos, that are bubbling up from the smaller clubs. These girls originally got together because their boyfriends were in local bands, and their awkward gigs earlier in the year at Club 88 and Al's Bar downtown are fondly remembered by many, but let's face it, musicians they weren't. Still, these inexperienced punk chicks have an overpowering exuberance, and an abundance of crowd pleasing tunes, that carry them over the top. They're more popular than the bands their boyfriends are in now!
On the other hand, a 'new wave' group with a lot to learn is The Works. Put simply, The Works doesn't. (Even if I didn't think so, I would have been compelled to write that line, right?) Leading the group is an Erik Estrada look-a-like with sort of the same smarmy 'CHIP's' attitude.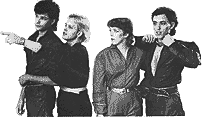 This guy swaggered across the Wong's East stage in the best Rod Stewart tradition. The problem is - he isn't Rod Stewart. And even if he was, I wouldn't waste my time. It's way too late for this crap, some people just don't get it, I guess. It's not about haircuts and costumes.
Hey, I was going to tell you about some of the cool New Wave clubs, but I got sidetracked. I'll clue you in when we get together again in two weeks. In the meantime, if you have a band you would like reviewed here, just call Billy Eye or Judy Zee at the Data-Boy multi-national corporation - we'd love to see you.
And without delay here is the lady herself, Judy Zee, who answers a reader's question about the definition of 'New Wave' . . .


Rock and Roll -1980
by Judy Zee
Much of the music we now call 'new wave' extends far beyond that classification itself. Now that the record companies have gotten a hold of that phrase it makes the music seem as if it's just a pawn in an industry game, another fad created from above.
Don't let the hype mislead you or turn you off to the music- it has a lot to offer, being a highly evolved sort of sound. (and to clarify the confused- 'new wave' is not 'punk'. It is not that scratchy noise where every voice and instrument is screaming. 'Punk' is a very preliminary form of rock, where 'new wave' is a far more advanced form.)
There is a preciseness in most 'new wave', a stylistic approach with an innovative edge and pointed lyrical message. Frankly, I tire of the words 'new wave' and simply consider it today's form of rock and roll, which has grown through many shifts in style to reach this point in time. Luckily we have grown out of the dinosaur rock age of heavy metal and have turned up in a brighter world, progressed a bit past 'progressive', and are finally here in the age of the sophisticated equipment and electronic wizardry that made all of this possible.
So, here we are in the world of new rock. Viola!