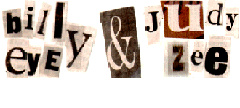 Musical Missives
All the news and views that will
fit in an eleven pica column width
by Billy eye
August 6, 1981
"Most of the music papers were slow to pick up on it. In 20 years time, critics will probably write great, dewy-eyed retrospectives on how good it was in these clubs and how these innovators were doing this, that and the other"
- Gary Kemp, Spandau Ballet


Once again, Billy Eye commands the night and regurgitates what little entertainment he found for your reading pleasure...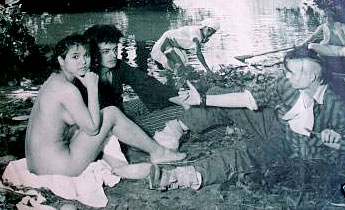 Many people were disappointed at the cancellation of the Bow Wow Wow gig at the Whisky a couple of months back, but one wonders if there was ever any intention to play at all. The official reason for the cancellation was British lead singer Annebella Lu Wins' inability to obtain a work permit (she's only fifteen).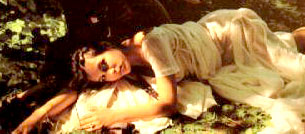 Annabella may only be fifteen, but she has strong political views. "It's that Mrs. Thatcher that I blame. She's an evil woman. She doesn't give a damn about what is happening to this country. Iron Lady my foot. She's not the Iron Lady, she's just a bloody bitch." Catfight! Score one for Thatcher, tho, 'cause Annabella is staying home.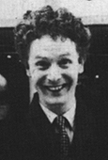 Malcolm Mclaren
Let's remember that Bow Wow Wow's manager, Malcolm McLaren, was also the guiding force behind The Sex Pistols. One of his favorite publicity gimmicks was to set up tour dates for the 'Pistols' and then cancel them, pointing to censorship- when in fact no tour was ever planned at all.
It's a nice gimmick, you must admit- generate interest, generate enthusiasm, generate sales. But as always, it's the music lover that misses out.
Why not Why Nut?
Well, Billy Eye does an about face. Six months (or so) ago, I saw the group Why Nut and wasn't too impressed. But now, Why Nut has returned after a long absence - and they are terrific!
This three man team, led by masterful guitarist Emilio, have succeeded in creating an exciting, intense sound. At times the vocals blend together with the instruments (guitar, bass, drums) so well it's as if a new instrument has been created, at other times, the vocals are overpowering and wholly independent. All of the musicians are fine and the material exhibits a broad range (compared to other punkish bands at least).
Why Nut is definitely evolving into new areas - the group members have been on the scene for quite a while and, if the show I saw was any indication, they will become an important force in the emerging downtown music scene.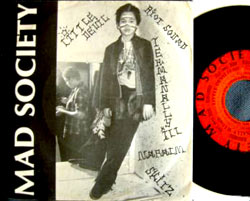 Angry, sneering, snarling and only thirteen years old? That's Mad Society with lead punker Stevie, his big brother, and their underage friends thrashing the stage. These hardcore Eastsiders have a 45 single at cooler record stores like Moby Disc in the Valley and Vinyl Fetish in Hollywood. Some of their hottest tunes - 'Napalm' and 'Little Devil' - will send you reeling.
Around the town...
Neighbor's Voices plays Al's Bar on Friday, August 28th. This is a different kind of band - a truly funky sound with staggering, loquacious vocals backed by brilliant musicians. See them!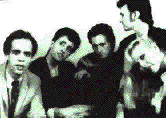 The Toasters, a fave local pop group, mark their return to the live music scene on Thursday, August 13 at Cathay de Grande. The Toasters were really moving up and playing the bigger venues (Roxy, Palladium, etc.) a few short months ago, but evidently poor management stalled them at a key point in their progression. Then again, that's what they all say.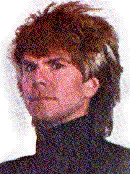 Here's an item of vital importance.
I want to thank Chuck Wild of Missing Persons for a great pair of custom made black and white checked Vans tennis shoes. Hey, I was only kidding about accepting bribes and gifts. (But I took it, didn't I?) I guess he noticed my old pair was being held together by staples from the back issues of a certain magazine for which I write.
For fans of the new psychedelia, try a dose of Killing Joke's new LP (it's great), and also try Judy Zee's latest article, which follows directly.
LA ROCKS???
by Judy Zee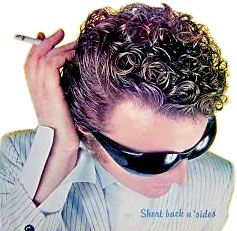 Last year when Ian Hunter came 'round to the Roxy, I remember the song 'Cleveland Rocks' spontaneously being turned into 'LA rocks' by Ian and the crowd. How true is this lately?
Me pals and I have been doing some thinking on the subject, and here is some of what transgressed.
It's a stupid assumption that psychedelic music must "replay acid experiences". First of all, acid experiences cannot be replayed. Second of all, it seems as if there is a fear or distaste of association with the mind expansion induced by hallucinogens, which happened to us during our tripping youth in the sixties and seventies.

Methinks its so pretentious to consider tripping some clichÈ, or thoroughly redundant anachronism, 'cause its not. Maybe its been heard before, but there is no better place to first explore than within yourself.
'Psychedelic music' is a floating description, not an iron label, anyone intelligent would realize that those whose music is of this description might have absolutely nothing to do with psychotropic substances at this point in his life. (Please excuse this columnist's passion in these words, its just that writers in this town have been very snottily crushing notions that certain psychedelic '80's music is indeed psychedelic at all.)
For now, 'psychedelic' is a complimentary and descriptive term for flowing, in touch, mind freeing music. Lets have more of it!
---
Wild 1970s / 1980s Gay Icons:
See more Flight of the Conchords style T-Shirts!