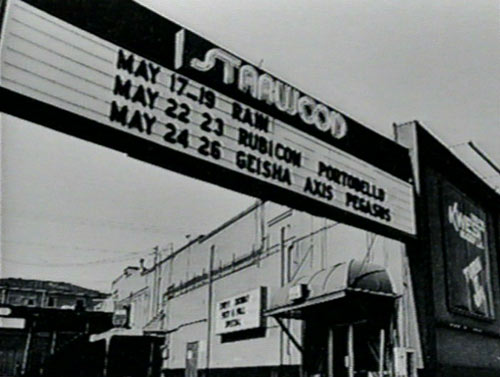 Will West Hollywood
Support New Music?
October 20, 1981
- by billy eye
PLEASE NOTE SOME OF THESE ARTICLES WERE HEAVILY RE-WRITTEN FROM MY ORIGINAL NOTES IN 1994 & 2011.
"The way you're supposed to review records
is to, like, put some excitement into the world."
- Patti Smith

If there is one thing that I want to accomplish with this forum, it is to get you to go out and experience some 'new music' for yourself. I'm amazed at the people I've met through this column that love rock and roll - you might get caught up in the wave of fine bands playing around L.A. too - if you give it a try.
Around the town...
I don't have the space to tell you about all the bands I caught this week - or WHAT I was caught doing either! I probably see a dozen bands a week now, and I may be getting jaded.
One group that seems to be relying on newcomers to the rock scene to build a following is Fugitive. With flyers announcing their Club 88 gig distributed strategically around West Hollywood, it is evident that this band has faith in the local gay bar patrons - a reason to believe these people will go to one of the rock venues and turn on to a rock band.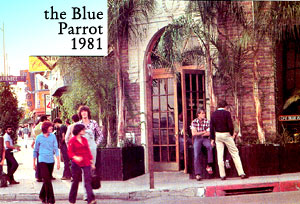 Club 88 is in West LA, fairly far away and not as convenient for gay bar patrons as the Whiskey or Troubadour, both within walking distance of The Four Star or The Blue Parrot.
You think I'm leading to a review of Fugitive, right? Well, I didn't go to that show. Instead I went to see The Act at the Troubadour on Santa Monica, on the edge of Beverly Hills and the gay gulch. (If you want cohesive, comprehensive writing, go read Newsweek.)
The Act is featured on the 'No One With A Bullet' album I mentioned a few columns back, one of their compositions, 'Telephone, Telephone' really stood out on the album - a haunting song as longing as any psychedelic release from the U.K. and as raw as anything produced by the Downtown art-rockers. So naturally, I'm leading up to a review of The Act, right? Nope, the foreplay isn't over yet.
Because opening for The Act was St. Regis, a pop band that has been playing around town for a long time (you've seen their flyers on nearly every utility pole in Hollywood) and it's easy to see why they haven't progressed further than they have. I've had the impression from the beginning that these were four pretty boys who thought they might look good on stage, so they started a rock band. I kept this impression throughout their mostly tedious set. Their cover of the 'Perry Mason' theme was pointless and without form and the large four foot mirrors that stood behind the group served no purpose, that I could see, other than to show off their asses and give the keyboardist a chance to see himself on-stage.
Before I drown you in caustic comments, I have to say St. Regis has one of the best drummers I've seen in a long time - superior and unpretentious. He really made the set worthwhile. Whenever I got tired of the put-your-knees-together-and-sing style of the rest of the band, my eye always went to the drummer.
Of course, the crowd at The Troubadour loved it, which just goes to show you how harsh I am.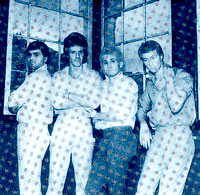 By the time The Act took the stage I was not in the mood for more bad pop music, Fortunately, I was not disappointed. Not to say The Act nailed a perfect set by any means, this group seems to suffer from a form of schizophrenia; when guitarist Nick Paine leads the group, the songs are more intense and emotional in nature.
With Vinnie Lee on lead vocals, the songs are more pop-oriented. Pat Shane and Vinnie Lee harmonize on their numbers together and the material is quite pleasing, but occasionally something was missing. 'It's No Secret' was a solid number and they both sang with energy and conviction, but my taste tended toward the harder edged tones of Nick Paine.
'Telephone, Telephone' (written and sung by Nick Paine) was beautifully delivered. The desperate mood of the piece was especially evident live - this plaintive lover's lament to the inanimate object that controls too much of our lives. 'I'm Doing What I Can' showcased his entrancing guitar work and gutsy vocals.
Michael Bernard on drums kept up well with the mood and tempo changes that The Act takes you through. This band has no one sound, that makes The Act a hard band to pin down but doesn't lessen the joy. Consistency is rarely the answer...
BONUS - LISTEN TO:
Telephone, Telephone
by The Act
(Real Player format)
Album Review
It had to happen eventually - disco-psychedelia. I'm referring to the debut album of Was, Not Was and after reading the review in the LA Weekly ("...this is the album of the summer...") I had to check it out. 'Tell Me That I'm Dreaming' is a funky witty tune with a speech by our own president mixed in - it makes a statement and has a danceable beat. But some of this album is lost on me. Fans of Funkadelic will love it, there is a strong influence of that group here. Still, if you're into disco music (ouch) it would probably be the best purchase you can make.
Sure beats 'Don't Cry For Me Argentina' or any of that other shit we're forced to listen to in every gay bar. Was, Not Was is a weird, intelligently produced album, not for disco freaks only!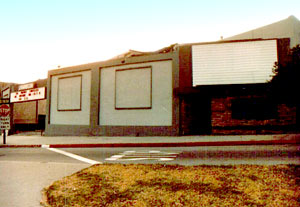 R.I.P. Starwood
One of my favorite clubs, The Starwood, is closed for good. At least I think it is. Their schedule had been erratic for a while and now the club is primarily being rented out for private events and record company showcases.
The authorities have been coming down hard on The Starwood, one of the few clubs with an adventuresome booking practice.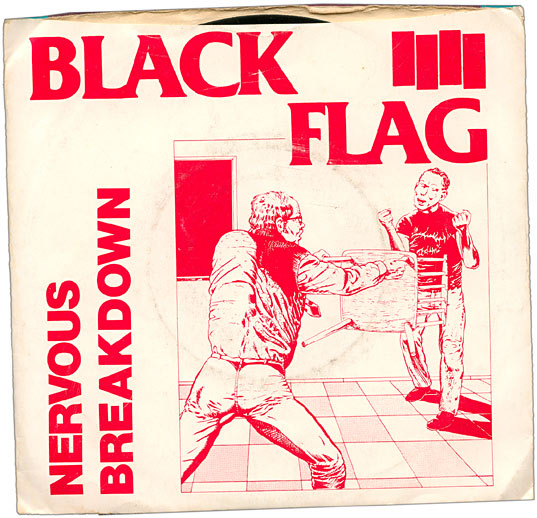 While other Hollywood clubs are hurting for regular customers and closing their doors to music they don't understand, The Starwood stood strong, supporting punk bands like Fear, Black Flag, X, Middle Class and The Adolescents who now increasingly turn to smaller, alternative venues. Other clubs too are feeling the pinch - Blackies was supposedly run out of business for playing hardcore.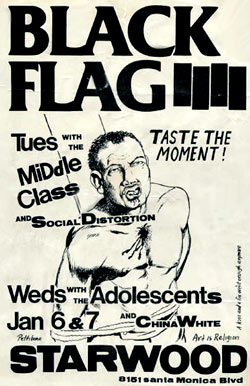 The Starwood was the place you could go most any night and have a great time. The club had dark corners to hide in, strong drinks in clear plastic cups; the place where Van Halen, The Knack and so many other careers were launched over the last ten years or so. The Starwood started booking more heavy metal bands like Dokken and Quiet Riot toward the end and was attracting spillover crowds almost every night, or so it seemed.
Gone forever? Well, it may not be - owner Eddie Nash promises to return soon.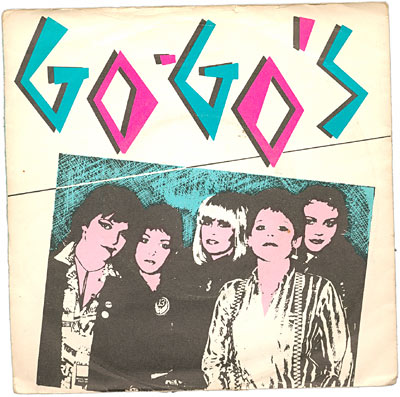 Heading out of town?
Adventure seekers are heading up to Santa Barbara, which is becoming a hotbed for new music fans. There are a few small clubs that book our favorite LA bands and The Arlington Theater is a cool place to gig as well. The Go-Gos and The Fleshtones played the Arlington on October 5th.
Santa Cruz is another smoking destination, where a renovated theater downtown hosts the bands we love here, along with the best of the SF scene, naturally. Berkeley is hosting some LA hardcore bands like T.S.O.L. and Middle Class, San Francisco clubs are booking Downtown locals like The Brat.
Northern California in general is receptive to the bands we like, just as we groove on their best - like Dead Kennedys, Flipper, Castration Squad, and Fire, my favorite northerners who venture south.
Or you can go south and look for LA's Wall of Voodoo at The Bacchanal in San Diego next month, a superb venue, by the way.
Meanwhile, I'll be staggering through the clubs this week and retching it back up it for you when we meet up next time. Fair enough?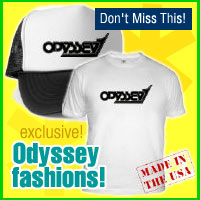 ---
There was no Judy Zee article in this issue.
The Starwood reopened in 1983 as Club Hollywood but it was short-lived. Eddie Nash was an integral part in the infamous Wonderland murders that occured in the summer of 1981. See the movie 'Wonderland.'