The New Wave Scene
November 16, 1980
by Billy Eye

"I've seen bands crying over reviews.
Some of my favorite reviews are bad ones."
- Mark Smith, THE FALL


PLEASE NOTE SOME OF THESE ARTICLES WERE HEAVILY RE-WRITTEN FROM MY ORIGINAL NOTES IN 1994 & 2011.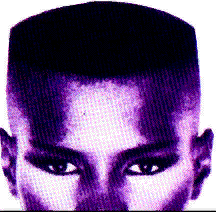 Grace Jones played two incredible shows to packed houses at the Starwood last week.
I had never heard of the woman, but I went to see her on the insistence of Data-Boy's assistant editor Danny-Larry. Now kidds, this one act you have to see for yourselves because no one can really explain what it is that makes Jamacian-born Grace Jones the outrageous performer she is.
The severe leatherette, androgynous look and attitude are a large part of the package, and there is very much a disco influence to her music. 'New-wave-disco with a funky Caribbean influence' would be the phrase to describe her, but don't let that stop you from seeing her. I went to the first set that night and stayed for the second. You can do that when you're on the guest list, baby!

Backing up Grace Jones was a fierce rhythm section led by Robbie Shakespeare and Sly Dunbar. They were pure and soulful, but the center of attention at all times was the striking, extreme lead singer. On three occasions that night, Grace Jones took the concept of audience participation to new heights.
During the first set, she jumped into the audience stilettos first, microphone in hand, beating her fans over the head and face, spitting and singing her new tune, 'Get Down On Your Knees'.
I thought this may have been mostly for show, but an actual fight broke out during the second set when some guy started out toying with the singer's feet from the edge of the stage. Within moments, he ended up in a fight for his life! Grace Jones was definitely getting the best of the poor dope. The bouncers had to pry the Diva off of the guy, and drag her back onstage. Grace Jones shot everyone the finger, stormed offstage, and just when we thought the show was over, she burst back onstage singing "La Vie En Rose" as if nothing happened. And the audience loved it!
There was lots of slam dancing, spitting and insults flying from both the audience and the stage... good clean fun!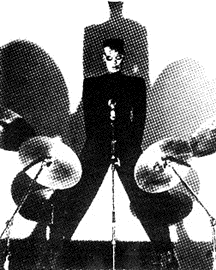 When Grace Jones offers an interpretation of a song in her live show, it is hers and hers alone, and she covered quite a few tunes by other artists. Bill Wither's "Use Me" and Iggy Pop's "Demolition Man" were total dance blow-outs!
But my favorite number of the evening was an original, written by Jones herself, 'Bullshit.' I really believed it when she says in the song that she's had "enough of the same shit, wrong shit, bullshit."
If you too are sick of the same shit by all means see Grace Jones, she has a big New Year's eve concert/event coming up next month, so you have the opportunity.
Grace Jones in 1980
The Nobodys were at the Starwood last week as well, on Wednesday night, and they rank as one of the best new bands I've seen in a long time. The crowd was big this nite, especially for so early a show, and many were wearing 'Nobodys' T-shirts and lighting cigs with 'Nobodys' matches.
This group devotes a lot of time and effort into publicity, which must be one reason why they are one of the best known bands in LA right now. Their flyers are on every telephone pole in Hollywood.
But the main reason for the success of The Nobodys is the fact that they are a group of very talented musicians and, I suspect, actors as well, who perform as a tight ensemble. Lead singer Safeway has a brash, repugnant stage presence- each member has their own peculiar personality on display- and that helps make The Nobodys fun to watch as well as hear. Judy Zee did an excellent review of The Nobodys music in DB#259, I just thought I'd add my take.
This column wouldn't be complete unless I tell you about the big police bust at the gala party for the opening of The Hollywood Spa on Nov. 8. I got there early that Friday night and learned that this was the former Plato's Retreat, a notorious sex club Eye read about in Playboy magazine a few years ago. It seemed like just another boring party to me, so when I had enough of the free booze and food, I left.
Evidently, moments after I walked out of the club, the police poured in, putting a halt to the festivities. I read in the paper the next morning that 16 people were arrested for things like oral copulation, mutual masturbation and sodomy. Where was I when all of this was going on!?!
Readers, in the future, if you wish to invite myself or Judy Zee to your function, please make sure that all permits have been obtained and that the proper city officials have been paid off.
And now, back from the beach with news... it's Judy!
Evolving
November 16, 1980
by Judy Zee
Talking Heads are no longer obscuring their poetry - they are musically accenting it. Examine the lyric sheet accompanying the latest album. I read it through, out loud, before listening- the messages therein can shift your balance to a centered stance. There is an assured intelligence in this; a Gertrude Stein-esqe tendency in the pattern; and a native American Carlos Casteneda sort of wisdom.
Talking Heads in 1980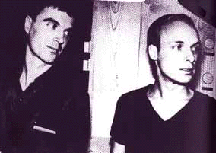 David Byrne
and Brian Eno
David Byrne, captain of ship Talking Heads, along with Brian Eno is expressing the desperation level in this present world- it's unpredictabilities, it's beauties; deevolution and the human element. Like all true works of art, this bands new music leaves itself open to infinite interpretation. They have achieved a pan-cultural span of communication and are carefully letting in all the elements that will extend beyond rock 'n roll. The only drawback here is- how much will the masses will be able to understand this artist achievement? Appreciate it? What they are doing now appeals to a broader audience, meanwhile, what percentage of their present fans will be able to take their new direction?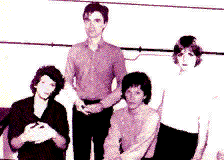 On October 20th, the Paladium in Hollywood was filled with Heads enthusiasts awaiting an exhibition of this new music. The fourth album had come out only days before, and the crowd knew they were in for something extraordinary.
The eight musicians onstage were unaffected by the push and shove of the audience beneath. The swarm of people there were hot and bothered, moving in waves, and from the floor seemed an obstruction to the full enjoyment of the show.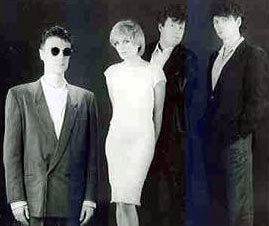 The Heads music is now more funk edged than ever, African, with reggae inter-rhythm, and also has eastern sounds swirling in its marvelous mixture. What we were witnessing amidst this flow of intertwining rifts, lines, and timeless harmonies, tasted of musical ambrosia It's that special quality which shows Talking Heads to be masters of their musical artform... brought out even further by collaborator/producer Brian Eno... it is clear they are evolving in the right direction.
The Valley Rocks!
I went to the Cafe Bla-Bla to see one particular band, but ended up only mentioning the band that preceded them - The Hollywood Girls. This is a brand new ensemble that has a lot of promise. As musicians they are all competent and play relatively well - better, for sure than the Textones, Go-Gos and Orchids. They are together to play, not to pose. These girls smile and are pretty FOR REAL onstage. There is a firm character blossoming from within their work. These San Fernando Girls are young in the game, as a group, and I wish them well.
When you least expect it...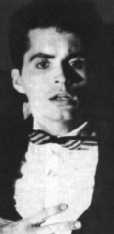 What a wild surprise it is to walk into a dark, tiny l'il club (Blackies in Santa Monica) and hear such stimulating sounds as Billy Sheets and the Elites!
The Elite percussionist has a collection of sound makers that could win awards, many of which were obviously household things that were adopted 'cause they sounded so right. This man is stunning to watch, he jumps right into the mix, and seems as highly evolved in esoteric rhythms as Sun-Ra. They click!
Billy Sheets
Dashing around town from club to club - here's a quickie summation of the short stops - I caught Manakin, playing Madame Wong's West on Friday night, doing fine as usual. They do progressive modern rock & with lead singer Brent's theatrics, they have an exceptionally entertaining act.
On the heavy metal end of things, for a meltdown of UFO, early Zep, Grand Funk, Iron Butterfly with reminders of Cream . . . check out Myth. The Dinosaurs still stalk . . . strong, but meaningless. For a more glittery noise, go see Circus Circus - pop screaming noise along the lines of "ROCK AND ROLL!!!" No doubt they will remind you of Kiss.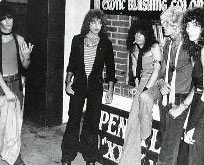 Calling London...
Although their audience is an ever growing phenomenon, my advice to London is: Henri was a smooth and capable singer, Nigel was a good screamer and fun for a while . . . THIS #3 lead vocalist (Nikki Sixx) is a disapointment regarding your search for a lead singer. Is that all you want?? Phew!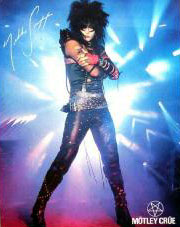 Numero tres is a very ultra-normal hard rocknroll singer - his strut is nothing new and his moves do not intrigu... it is the wholeness of the group that matters, in this case, and this dude could pull it off, but it's sort of a shame.
Deep in my heart, I hope you find someone new and creative.

---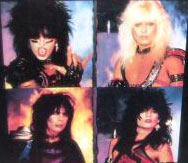 UPDATE:
London changed their name to Motley Crue soon after this article and went on to mega-million selling success - with lead singer Nikki Sixx.

The Nobodys released an LP, 'No Guarantees' on Capitol in 1984 and a single from that record ended up on Miami Vice.