In this Question, I would particularly like readership response: how close or far off are the FM airwaves to what you'd enjoy hearing most?

If what we hear is too often interrupted with Van Halen and Styx and such, shouldn't we speak up and let it be known that we are being given a sore deal?
It just seems that good music, the stuff we really want to hear, is not on the radio often enough. An optimistic view could be that this might be simply because we have not yet protested it. Maybe the disc-jockeys and programmers are unaware of how many of us are ready for total new music programming.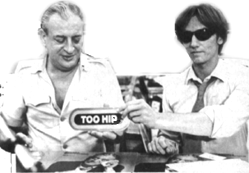 Is this what's wrong with rock radio? KLOS' Frazier Smith and Rodney Dangerfield.
KROQ, KWEST, KLOS- they're all right SOME of the time. Rock has a HISTORY now and countless subsets and styles; certainly a wonderful format could be established. Presently, we can only expect to be intruded upon by voices and musics that are obsolete. Heavy Metal is ok, but not during the programming of cleaner, newer more technologically precise music.
It irks me that there is nothing more than 88.9 KXLU to listen to. KXLU is a small college station run by students of Loyola-Marymount, nothing more. But they have the sense to play the right music, their format is right on because it is controlled by people who actually LISTEN to the music. Thanks, endless thanks to KXLU for providing what so many of us want and need to hear. I know your funding is minimal, and you don't always have the latest releases right away, but when you have it, you play it. I always hear amazing things from your station, it is a relief to know that I can always tune into the best station in LA. . . KXLU.
Goodnight folks. See you later on, Rock on!!!




EDITOR'S NOTE:
More than twenty years later, KXLU still plays the best alternative music in Los Angeles - all day long.