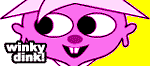 by Billy Ingram and You
-PART THREE-

Fresh from his daytime successes, in 1956 Jack Barry began hosting a wildly popular prime-time game show (that he also co-produced) called Twenty-One, and Winky-Dink ceased production the next year.
Barry lamented the loss, but said at the time, "It (Winky-Dink) strictly didn't rate that well. Winky-Dink was on for almost four and a half years, but it never got the kind of audience the straight cartoon shows started pulling."
Twenty-one, on the other hand, was riding the crest of popularity that game shows were enjoying on Fifties' prime-time schedules. Twenty-one was as popular in 1957 as 'Who Wants To Be A Millionaire' is today.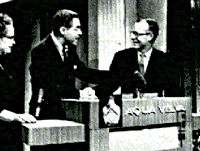 In the fall of 1958, Twenty-one (and almost every other network game show) was driven off the air when it was revealed that 'Twenty-One's big $129,000 winner Charles Van Doren was given some of the answers in advance. (The story was told in the 1991 movie 'Quiz Show'.) The stakes were high - $129,000 was worth well over a million in today's dollars.
Jack Barry (as host and producer of the show that broke the industry wide practice of prompting some contestants) took the brunt of the bad publicity, his career went into freefall.
Because of the immense scandal and moral outrage that ensued when people found out their favorite quiz shows were rigged (the end of innocence in America, it might be argued) it was another ten years before Jack Barry worked on American television again. Instead, he went to Canada and hosted a kid's game show called "The Little People".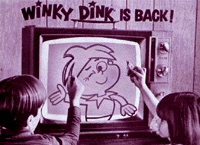 In 1969, Winky-Dink was revived (without Barry and Enright), this time as a stand alone five-minute cartoon feature, complete with a new Winky-Dink kit for kids to send off for. Consumer groups argued that kids shouldn't be playing with their eyes so close to the television sets, and the character was quickly withdrawn.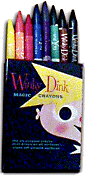 Jack Barry was the host of the long-running CBS daytime and syndicated game show The Joker's Wild, a show he hosted from 1972 until his death in 1984.
Barry also hosted a syndicated children's version of the 'The Joker's Wild'

called Joker! Joker! Joker! from 1979 until 1981, bringing his career full circle.
In a surprise development, as I was preparing this, I got word that the Winkster was about the undergo a revival.
"Kids have never needed Winky Dink more than today." That's what renowned media psychiatrist Dr. Carole Lieberman thinks and she's spent the past decade working to bring Winky back." believe that Winky Dink is the best TV show ever produced, because of its unique ability to empower children. Each time a child creates something that helps Winky and Woofer solve a problem, they get that 'I can do it!' feeling which builds self-esteem. And this generation of children, facing problems that are tougher than ever -- from divorce to terrorism -- need to feel they can find the creative solutions inside themselves!"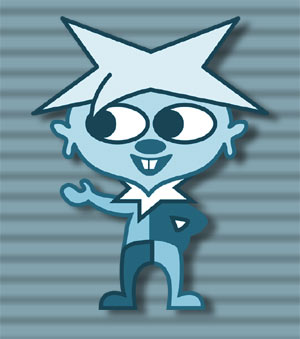 Superbly produced by Adam Snyder, of Rembrandt Films, and distributed by Vanguard Cinema, the new 'Winky Dink and You' kit comes in an adorable clear lucite suitcase and includes a magic plastic screen, magic crayons, a cloth eraser and a video with 9 Winky Dink episodes. The new character design harkens back to the 1969 version, but the packaging also has a small picture of the original Winky. Kids who like 'Blues Clues' will absolutely go crazy for this!
Makes sense, if the Ford Thunderbird can make a comeback, why not Winky Dink?