AN INTERVIEW
WITH STEPHEN COLLINS
Or, 7 Questions for the Star of 7th Heaven
by Paul M. Riordan
When the WB announced that 2005-06 would be the last year for 7th Heaven, the longest-running family drama in TV history came to an end. This interview took place in 1999.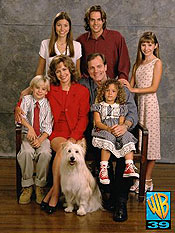 It's not an uncommon story in the acting profession portraying fictional characters helps overcome painful shyness.
Watching actor Stephen Collins in any of the television and motion picture roles he's appeared in over the years, it's difficult to imagine that this was also his experience. Since first bursting on the big screen in ALL THE PRESIDENT'S MEN (1976) and on the small screen in one of TV's earliest examples of the miniseries form, THE RHINEMANN EXCHANGE (1976), this versatile actor has capably played a variety of roles in numerous productions.
He's proven himself equally adept at both light comedy and serious drama. In addition, he's recently branched out into other areas creatively, including directing and writing. Besides his play SUPER SUNDAY, performed on stage at the Williamstown Theatre Festival in 1988, Stephen Collins recently authored two successful novels in the erotic thriller genre, EYE CONTACT (published in 1994) and DOUBLE EXPOSURE (1998).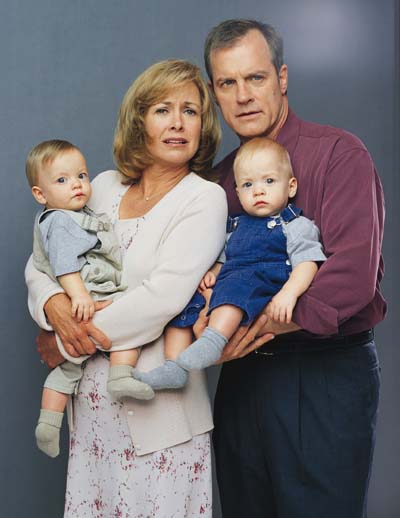 He is currently enjoying continued acting success in his role as Eric Camden on the WB TV series 7TH HEAVEN. Stephen Collins was born on October 1, 1947, in Des Moines, Iowa. He lived in Peru until the age of six (his father, Cyrus Collins, was an executive with a small American carrier, Panagra Airlines, operating out of Lima).
The Collins family later moved to Hastings-on-Hudson, New York, where Stephen attended Hastings High School. After graduating, he went on to Amherst College, where he graduated cum laude. His early acting experience, as "Stephen Collins Foster" in a grade school production, did not immediately lead to other roles or a budding acting career (due, Collins says, to his extreme shyness), until his junior year in high school, where he appeared as "Mr. Webb" in OUR TOWN (after managing to obtain a private audition).
In his senior year, Collins graduated to playing the lead in this venerable play. The actor has also dabbled in music, learning to play the bass guitar by rote, and playing in a number of bands both in high school and at Amherst College (including bands with such colorful names as Tambourine Charlie and the Four Flat Tires, The Naugahyde Revolution and The Flower and Vegetable Show.
A huge baseball fan, Collins also studies, practices and teaches Transcendental Meditation. While at Amherst, Collins appeared in T.S. Elliot's MURDER IN THE CATHEDRAL, followed by 22 more plays, including CAMINO REAL, for which his portrayal of "Kilroy" won him an acting award.
A chance meeting with producer Joseph Papp at a backstage party led to a small role in a Shakespeare in Central Park production of TWELFTH NIGHT. He was subsequently cast in the first national touring company of 40 CARATS, opposite Barbara Rush. Bit parts in various TV series and numerous Broadway and off-Broadway works soon followed.
While appearing as "Detective Michael Brick" in the Tony Award-winning comedy, THE RITZ, Collins was cast as "Hugh Sloan" in his first motion picture, ALL THE PRESIDENT'S MEN (1976). This led to several other movie roles during the next two decades, including major parts in STAR TREK: THE MOTION PICTURE (1979), THE PROMISE (1979), FEDORA (1977), Walter Hill's remake of BREWSTER'S MILLIONS (1983) and THE FIRST WIVES CLUB (1997).
He has achieved greater success, however (as have many actors before him, like James Garner and David Janssen), in television, where he's appeared in a number of made-for-TV movies and miniseries, including CHIEFS (CBS, 1982), NBC's 1992 production A WOMAN NAMED JACKIE (where he played JFK) and SCARLETT (CBS, 1994). He's also played leading roles in several TV series, some short-lived but with a certain cult following - most notably in TALES OF THE GOLD MONKEY (1981-82) and TATTINGER'S (1987-88).
Like Paul Newman and Robert Redford, Collins has not coasted by on good looks or charm, but has worked at his craft diligently and tenaciously over his 20-plus year career. Although often typed as a good guy, the actor has actually enjoyed a diversity of roles. More recently, writing has fueled his creative impulses. He originally wrote his first novel under a pseudonym, fearing that he might not be taken seriously because of his acting fame.
I recently had the chance to interview Mr. Collins briefly about both aspects of his career: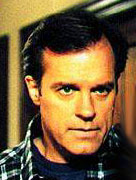 PR: What drew you to acting as a profession in the first place?
SC: I was ridiculously shy as a kid, and I think I was first attracted to acting because when I played other characters, I could behave in ways that I never had the nerve, or courage, to behave in myself. I also felt a strength and power on stage that I'd never felt anywhere else. I loved making people laugh, too.
PR: Acting is, for the most part, collaborative by nature, but writing is a solitary occupation. Which fulfills you the most?
SC: At this moment in my life, writing is the most fulfilling. I love acting, too, but writing seems like more fun right now.
PR: One of your earliest roles was in STAR TREK: THE MOTION PICTURE. What was it like to work with the film's director, Robert Wise?
SC:Bob is one of the great gentleman and pros in this business. He started as an editor (he edited CITIZEN KANE) and he edited in his head as he went along, so he never shot a foot of film that he wasn't sure - in advance - that he'd need. He's a believer in casting well and letting the actors do what they do. He doesn't interfere a lot with the acting process.
PR: You also worked with the legendary Billy Wilder, on FEDORA (based on the work of another actor/author, Tom Tryon). What was that experience like?
SC: Working with Billy was a total delight. He's one of the great minds and wits of all time. First of all, the movie was shot in Munich and Paris, with a lot of free time for me, so it was a gift just to be there. I had a small part - playing (William) Holden's character in a flashback sequence. I was impressed with Billy's ability to think on his feet and improvise, often with his longtime screenwriting partner, I.A.L. Diamond.
Diamond (who was called "Izzy") was always on the set with Billy. Most directors hate having the writer on the set, but Billy knew that he was only as good as his script, and Billy's movies tended to depend on words and cleverness much more than most of today's films. I felt honored to work with him. He was incredibly funny all day long.
He directed so that the whole crew could hear him, which sometimes drove FEDORA star Marthe Keller crazy. But the crew adored him. Every day, he made everyone laugh. You were always glad to be there.
PR: One of your films that's a personal favorite of mine, but is not especially well known, is CHOKE CANYON (1983). What are your memories of working on that production?
SC: I took the movie because I thought it would be fun to play a two-fisted tough guy. I also had to get into really great shape and learn to ride a horse well. The director, Chuck Bail, was a former stuntman, and I had a feeling that working with him would toughen me up. And I was in need of toughening up. I knew the movie was lightweight, but I enjoyed the physical challenge of it. And where else would a character I play ever be able to beat up Bo Swenson?
PR: Some actors are movie stars; some are more successful as TV stars (David Janssen, for instance, seemed to come across more effectively on the small screen). Where do you see yourself?
SC: I realized a few years ago that, as much as every actor dreams of a movie career, my bread seems to be buttered in TV. I still make an occasional feature film, but I think TV suits me in a lot of ways. I like working quickly, and I like the speed between shooting something for TV and the time it airs. I resisted TV for years, back when there was a double standard. When I began my career, you absolutely couldn't do TV if you wanted a film or Broadway career. But now I love it.

PR: I read somewhere that you had considered giving up acting and turning to writing full-time. What was it about the show 7th HEAVEN that connected with you?
SC: When I read the pilot, it just seemed like such a good fit for me. The role gives me a chance to draw on some of my deepest emotions from being a parent, as well as my faith in God. I'm grateful that I get a chance to "share" that faith with the audience. And the pilot script was funny, so I knew I'd get a chance to play light comedy, which I always felt was one of my strengths. If I'm going to act now, I want to work in things that move people, whether to laughter or tears. In 7th HEAVEN, I get to do both.
(NOTE: Stephen Collins maintains his own web page (http://www.stephencollins.com, where his filmography and theater and TV credits can be found).