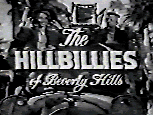 THE BEVERLY HILLBILLIES
The entire first season of 'The Beverly Hillbillies' is television at its best, with interweaving plot lines and broadly drawn characters brought to life by one of the medium's most accomplished casts and a collection of the best supporting players in Hollywood.
Almost universally panned by critics from the very beginning, the 274 episode run of the series contains some of the best written (and highest-rated) television programs of all time.
In later years, the characters became broader and sillier, with the plots revolving more around Jethro's occupational aspirations, Jed's gullibility and Granny's general drunkenness.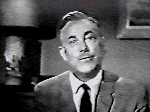 "I was wondering if you knew about the Beverly Hillbillies pilot that has different music (more bluegrass) and a totally different laugh track/sound mix than the "Clampetts Strike Oil" show?
'The Hillbillies of Beverly Hills' has a slightly different opening and titles, then goes into the exact 1st episode - except for a different opening shot of the bank (with different name) and sound mix - with a couple of scenes having slightly longer dialogue in the pilot.
At the final scene where the Clampetts run up the hill, the credits roll there - then it really gets interesting! After the credits a whole new scene opens up where Mr. Drysdale is talking about showing them the mansion for the first time. You see the beginning of what became the second episode - but the interior of the house is different. Jed and Jethro have a scene in this room that was evidently reshot.
There's another new scene where Ellie Mae goes on a date with a guy from the bank. Then the camera pulls back and Drysdale is revealed as talking to his shrink. These three scenes never wound up in the final episodes."
- Dan Wingate

"I have a copy of a 16mm episode on tape that has an additional part of the theme song. You know, after the cast credits, then Paul Henning's name comes up (it usually ends there). During the initial run there was an additional 30 seconds - ever wonder what Jed was pointing to just before the song ended? It was a billboard advertising Kelloggs Corn Flakes. (That's why the Clampetts always ate Corn Flakes for breakfast.)
"Now come along and visit with the Clampett fam-i-lee as they learn the simple pleasures in the hills of Bever-lee. The folks who bring you products are the sponsor of the week, the best to you each mornin', fresh from Battle Creek. K E double LL O double good - Kelloggs best to you!"
There were also a couple of commercials that ran during the show with Jed and Jethro enjoying a Winston cigarette (another sponsor) and yuckin' it up with hillbilly humor.
The pilot script was written by producer Paul Henning - it's almost word for word the filmed show. It's even written phonetically as they would have spoken in the show.
Exterior filming at the mansion was not done after the first season because so many people actually drove up and knocked on the front door asking to meet Granny - the owner kicked Filmways off the lot after that." - Kevin Squires