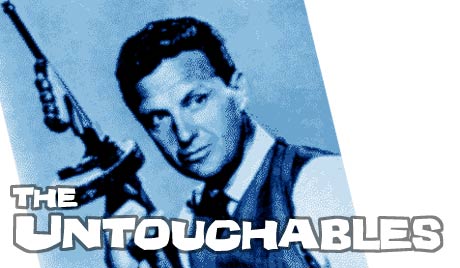 PART TWO / PART ONE HERE
"I wish you would come up with a different device than running the man down with a car, as we have done this in three different shows. I like the idea of sadism, but I hope we can come up with another approach to it."
- Producer Quinn Martin in a
memo to a writer on The Untouchables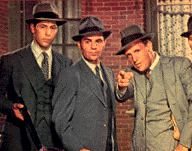 Things really heated up in 1961 when 'Tough Tony' Anastasia launched an attack on 'The Untouchables' by organizing a demonstration outside of ABC's corporate offices in New York. 'Tough Tony' announced a boycott of Liggett-Meyers, the sponsor of the series. The longshoreman leader promised that Liggett's cigarettes would sit untouched on the loading docks - a threat the powerful union boss could back up.
A few days after the demonstration, L&M announced it was ending its sponsorship of 'The Untouchables' and two other ABC shows - not because of the threatened boycott, they insisted, but because ABC was changing the show's timeslots. "It hurt most to drop 'The Untouchables'," a Liggett-Meyers spokesperson told the press in 1961, "because the sponsor is Chesterfield Kings, and sales of that cigarette rose 12 percent last year."
Desi Arnaz (Desilu produced the series), ABC and the chairman of the Italian-American League To Combat Defamation reached an agreement - in the future, no more Italian surnames would be used for fictional criminals. The role of "Nick Rossi" (one of Eliot Ness' men) would be beefed up also, to help show the "formidable influence" that Italian-Americans displayed in fighting crime, and emphasize the "great contributions" they have made to American culture.
While many Italian-American activists were offended by 'The Untouchables', most underworld types loved the show. Producers reported that real-life small-time mobsters would often call in suggesting story ideas centering around themselves - and detailing the crimes they committed.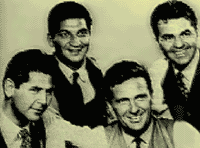 Even the actors on the show would be accosted by hoodlums on the street, suggesting that they might make a good villain for the show, recounting their days as a thug and sharing photos of themselves with infamous convicted felons.
By the fourth season, the show had become a thorn in the network's side because of the many controversies. Ratings were down as well, so the violence was toned down to try to give the show a softer edge and Eliot Ness was made to seem more human.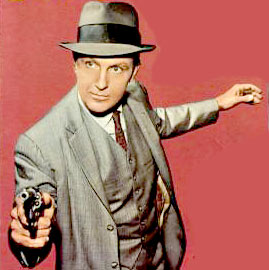 With the machine gun massacres mostly gone and the show moved to Tuesday nights, people preferred to watch Jack Benny on CBS and 'The Price is Right' on NBC.
'The Untouchables' left the air in 1963 and has proved to be mostly untouchable in syndication ever since.