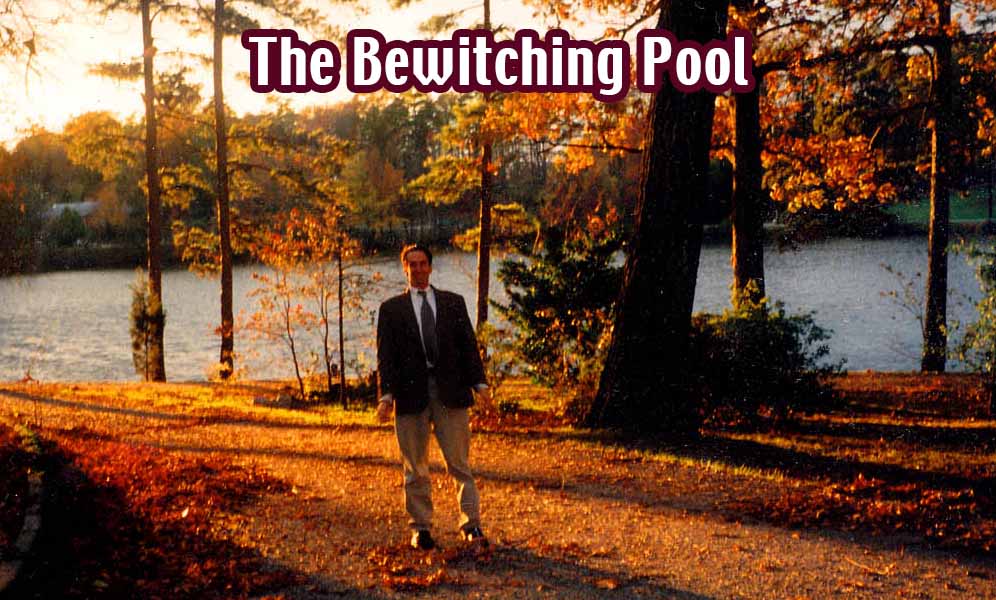 by Billy Ingram
Remember that Twilight Zone episode entitled 'The Bewitchin' Pool'? This is my own personal experience diving into the unknown and coming up on the other side of life...
In the fall of 1994 I turned off Pinecroft Road in Greensboro piloting my fully restored, 1970 Mustang with California plates up a pitted, narrow gravel driveway hugging a small body of water. Joining me on this journey was my friend since college, Susan Grant, who had soured on her prospects as a social worker for wayward girls (We're talking waaayward) in Pasadena. Idling up that rugged roadway, we both took note of a spectacular hilltop log cabin at the other end of the pond, a veritable Bavarian ski lodge. Ahead of us were old growth trees, Dogwoods and shrubs so dense we could barely make out the house we had an appointment to see at 2700 Twin Lakes Drive.
Only a few months earlier, while major movie studios were enjoying the biggest box office receipts of the century, I was in Hollywood, living large and working as a movie poster designer — thanks in large part to Elizabeth Bell's art class at Page High School. To my complete surprise, I found myself doing the illustration for The Hunt for Red October, plus layouts and typography for Pretty Woman, Goodfellas, Kindergarten Cop, Total Recall, Dances with Wolves, Rocky V, Ghost, Teenage Mutant Ninja Turtles, Days of Thunder, Awakenings and Flatliners. I posed in a Nixon mask for Point Break; in a wig as Andy Warhol for Superstar; and even sang on a Christmas jingle for the sleeper hit Dirty Rotten Scoundrels.
Except for what Ms. Bell taught us, I had no formal training. But what I took away from her classes proved invaluable: an emphasis on being proficient across all media, to get by using only the materials at hand along with a willingness to embrace new tools. Most of all, she taught us there was a right and wrong to art, that it's not all subjective.
I first began working as a concept artist for "The Godfather of Modern Movie Advertising," Tony Seiniger, in 1986. It had just become feasible to use photographs on posters, so dozens of illustrators were sidelined in an instant, replaced by a breed of artist, like myself, who hadn't existed before, manipulating images using emerging color-copying technology, typesetting on desktop computers, painting, airbrushing, cutting out pretty prints of movie stars and pasting them against stark backgrounds to create meticulously refined collages that looked like a finished, printed poster at one-quarter size. Pre-Photoshop, we'd be asked to mimic Norman Rockwell, Georgia O'Keeffe, Warhol, Botticelli, '60s Madison Avenue — whatever anyone could dream up, for hundreds of variations on every single film.
I was working in Beverly Hills, a member of a team that was later dubbed the "New York Yankees of the movie advertising world." I had a beautiful home with a postcard view jutting from the hills above Sunset Boulevard.
My 1970 Mustang droptop had been restored to showroom condition, I wore designer suits, $400 sunglasses and sported $200 haircuts. I dined on white tablecloths and partied at all the trendy places with Milburn Drysdale from the Commerce Bank. The realization hit me in 1994... I had become
a serious jerk.
My last night in Los Angeles, an hour before a goodbye party was to commence at one of those aforementioned trendy spots, everyone everywhere was drawn as if possessed to the nearest television set, transfixed by live 'copter footage of Al Cowlings behind the wheel of a white Ford Bronco, O.J. in the back holding a gun to his own head. The Bronco was the lead float in a parade of police
making their way across L.A. freeways with star-struck crowds cheering from the overpasses. City of Angels my ass.

You Can Go Home Again, Only Accidently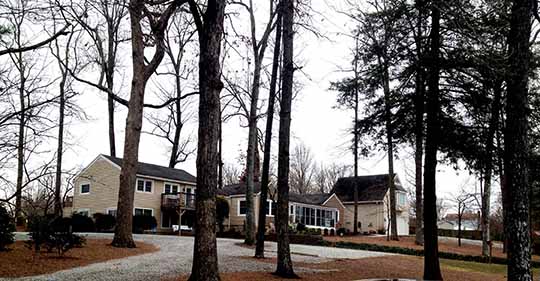 We entered the house at 2700 Twin Lakes Drive through a magnificent front porch framed in 1950s- era brushed steel with glass horizontal blinds over a dramatic blue slate-rock floor. Three enormous French doors opened into a Great Room with hardwood floors and walls, a spectacular ceiling of white pine crafted in Michigan Boat House style. The design couldn't have been more deliberate. With light rippling off the lake, flickering faintly across the whitened walls, there was a distinct feeling of having set sail.
A cavernous fireplace extended into a tremendous living area that looked to have been added in the 1970s with a 25-foot-high wood-beamed ceiling, wide and spacious with bay windows and a groovy built-in bar.
Susan immediately took to the regal master bedroom featuring wall-spanning walk-in closets and three sides of windows with an 180-degree view of nothing but greenery. I felt an instant kinship to the smaller front bedroom. The dining room was in clear sight of the lake where I'd be perfectly positioned to write the great American novel about an innocent kid from a small Southern city who becomes embroiled in LA advertising only to become disillusioned with...
I hadn't gotten that far yet.
The spacious kitchen looked to have been remodeled in 1963 with knotty pine cabinets and paneling, wall mounted double ovens, fridge and dishwasher all glazed in butter yellow and Coppertone brown with chrome accents. That was a plus: Both Susan and I loved antique appliances, a huge relief for the landlord who expected 30-year old KitchenAids might be a tough sell. A cozy step-down breakfast nook had been constructed over a smaller slate porch with sleek glass shuttered windows that matched the front.
Signing the lease that very afternoon, we were left alone. Thankfully the
electricity hadn't been turned on yet or we might have missed the sun's last rays penetrating fall foliage, lit like a thousand candles, colors prisming off the glass slats on the patio. A red-and-yellow light show painted the walls around us. It slowly faded as a full moon reflecting off still water bathed the room in aquamarine.
After Susan and I described the crazy place we'd just rented my mother stood right up, "Take me out there now!" Incredulous as we rolled up the gravel drive, she stared peculiarly at that monumental log chalet across the lake, as if unsure of something. Coming to a halt in front of our new home she remarked, "This is the place! Those books of North Carolina ghost stories I read to you when you were a young child were written by the man who lived in this house.
His name was John Harden."

Things That Go Bump In The Night (And In Your Life)
I remembered well John Harden's compendium of eerie mysteries. The Devil's Tramping Ground and Other North Carolina Mysteries (1949) and Tarheel Ghosts (1954) remain the definitive tellings of our state's most perplexing paranormalities: spirited sea captains, a headless brakeman, plundering
poltergeists, ghostly gold prospectors, that spot in Chatham County where
the Devil goes "to walk in circles as he thinks up new means of causing trouble for humanity. There, sometimes during the dark of night, the Majesty of the Underworld of Evil silently tramps around that bare circle — thinking, plotting, and planning against good, and in behalf of wrong." (Is it any
wonder Harden was hailed as a public relations genius who served three N.C. governors?) Those somewhat stilted stories were accompanied by unnecessarily crude pen-and-ink illustrations that only heightened the overall creepiness of Harden's books.
Following the death of his first wife, John and Sarah Harden were married in 1953, settling in at 2700 East Lake Drive (now Twin Lakes) where they raised three boys, along with two sons from the previous marriage, in what must have been idyllic surroundings before the city's awkward mid-'70s growth spurt led to Four Seasons Mall metastasizing two blocks away. Neighborhoods, a high school, office buildings, apartment complexes; they paved paradise for miles
and miles of parking lots but somehow this bucolic lakeside hamlet remained unmolested, obscured from view inside acres of woods, a cluster of homes
frozen in time. Like standing inside a living snapshot of the 1950s.
An odd juxtaposition when you consider it was the place where I was busy creating one of the first online sensations at a time when most folks had never heard of the Internet. Coding and writing up to eighteen hours a day, I dreamt in code, beginning with <HEAD> and ending in </BODY>. In the
process TVparty.com became the first to offer features with text, pictures and streaming audio (a year later video), the experience everyone takes for granted today. The very first clips of TV shows ever broadcast on the net emanated from the Harden House.
Exploring the grounds provided a nice distraction. It was obvious this 4-acre habitat had grown too difficult over the last decade to manage. John Harden died in 1985. Sarah had been ill for years but must have had quite a green thumb to have created such an oasis where the grounds were shaded most of the day, an avalanche of pine needles blanketing everything. A stoic line of 6-foot-high boxwoods, what was left of them, struggled for existence alongside a barely distinguishable pathway into the woods where a chimneyed grill was years ago leveled by fallen limbs.
Neglected rose bushes extended along the western edge of the property. Skinny but defiant pink-and-white dogwoods flowered along the driveway. They also bloomed in a garden contained within the circular driveway, where shapeless azaleas bloomed and small trees took root — all buzzed and dragged away in a single week by a beaver whose sudden arrival and unwelcome nocturnal efforts decimated the property of color.
At dawn every morning a gaggle of Canadian geese splashed down in
formation, honking, fluttering about before waddling ashore to munch and poop. A blue heron's spindly legs dragging across the surface of the lake as it attempted to get airborne stood in contrast to our hawk's effortless command of the sky. Entering the house one chilly evening I beheld that beady-eyed raptor perched on a branch not five feet away, loudly hissing, one talon pointed
at someone who would soon betray us. John Harden wasn't through
telling ghost stories, I guess.
The O.Henry Twist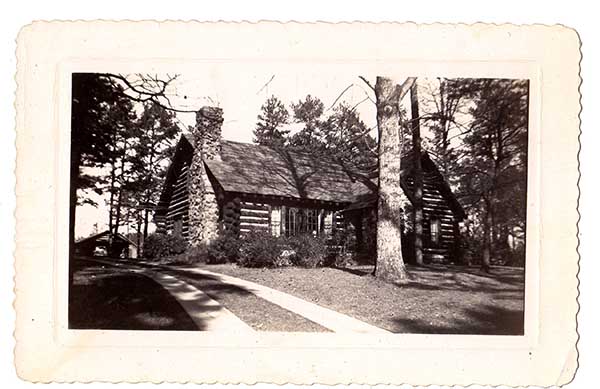 When my mother at Fountain Manor wanted to go someplace in 1995 she'd call and ask, "Are you coming into town today?" "Mom, I'm two blocks from Four Seasons Mall. I'm in town!" She'd never been to the mall. In her mind we were out in the neatly-tamed wilderness of the mid-'50s that she remembered so vividly, living with her in-laws and a new baby in that imposing log mansion on the other side of the lake.
2712 Twin Lakes Drive was built in 1926, the flagship for a sparsely populated subdivision and resort spread across some 200 acres that splintered off the one paved road named for the rustic development, Pinecroft. Houses were constructed out of the trees cleared for them. How tall the trunks were determined the size of the home. "City living in the country," miles outside of town, out in the woods but with all the amenities — electricity, water, mail delivery, bus service, tennis courts, playgrounds, horse trails, abundant fishing from private ponds, dining and dancing at the Pinecroft Inn.
A good number of those hearty log cabins exist today off Pinecroft Road but the palatial estate on Twin Lakes is the largest, most opulent. The outer entrance is an imposing stone encrusted cathedral of massive, rough-hewn rock formations that greet you again inside the vestibule and along a wall of the screen porch. Stone work galore: two towering fireplaces, firepit in the back, wide rounded lounging stairs down by the lake. The same blue slate patios found at the Harden House are here also but much more expansive both in front and back.
My grandparents Bill and Becky Ingram relocated here from Latham Park in 1946. Without having to raise the roof, they added a second floor for an additional four bedrooms and three baths, for a total of 3,380 square feet. A barn and guest cottage share the architectural style of the stately manor that my grandmother christened "Tall Timbers."
Bill Ingram Jr. spent his last decade as a bachelor here, maximizing the time when his folks were out of town by throwing parties for his buddies and their dates. As guests arrived he'd be on the pier with a couple of fishing poles hoping to hook some entrees for the grill. After marrying my mother, who quickly got pregnant, they moved into the little log cottage behind Tall Timbers.
Unknowingly, I'd rented the house next door to where I spent my first year
of life, on Twin Lakes Drive. Perhaps that's why a momentary whiff of water and wood could awaken some primordial recognition, a lingering fragrance of hidden remembrance.
Before I was born my father built the bridge over the reservoir separating the Hardens and Ingrams, made precarious over the ensuing decades by missing and splintered beams. Stepping gingerly across on October 1, 1994, I chanced to look down. Scrawled into one of the concrete supports, in Dad's handwriting, was the date it was poured — 10-1-54 — forty years earlier to the day. John Harden's book Tarheel Ghosts was published on October 1, 1954.
Was I calling out to the past, or it to me? No matter. We were destined to
collide in an odd inversion of that Twilight Zone episode where two Southern kids dive past the bottom of their pool to emerge in a wooded wonderland, cared for by a kind grandmotherly type.
Susan and I moved on in 1997. As I write this both homes at the end of
Twin Lakes Drive are for sale. Tall Timbers remains a masterpiece, the original stonework preserved. There have been substantial changes for the better to the Harden House when it was transformed into Twin Lakes Lodge, a bed and breakfast. A large garage with an upper residence was added and the two-bedroom east wing turned into suites, as was the case with the mother-in-law cottage. The backyard has been trimmed and styled to create a sunny piazza
The grounds are a great deal more refined now, open and friendly. And those boxwoods along the wooded pathway are still putting up a brave fight.
Looking back, it's the breeze and quiet I'll recall, leaves rustling overhead, sunlight winking off ripples in the water, echoes of lives well-lived whispering around the pines. Twin Lakes will continue, one hopes, to lure future generations in search of lost gentility by offering a slice of country living deep inside the city. Past the stone columns, beyond a curtain of trees, at the end of a long dusty driveway, Greensboro's Batcave awaits.