ShoutFactoryStore
'TVparty is hands down the best site on the Web for classic TV.'
- Discovery Channel
Two and a Half Men Season 12 on DVD
by Billy Ingram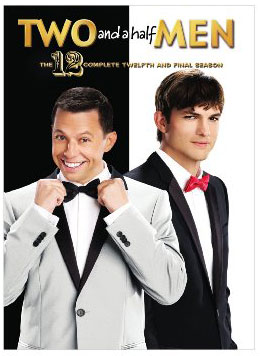 When Redd Foxx left the top rated sitcom Sanford & Son and NBC decided to drop the co-star Demond Wilson it's said that the network merely renewed the set. The result, Sanford Arms, was a massive flop. When Charlie Sheen did the same thing ("Winning!") after 8 years CBS kept everything in place, including the set, and added Ashton Kutcher. Ratings actually rose. Two and a Half Men (now minus the half man when producers dropped Angus T. Jones for publicly dissing the show) stayed on top in the ratings, if the show wasn't so expensive CBS likely would have renewed. Instead, after 12 seasons, the series came to an end and that final run of episodes is now available on DVD.
Synopsis: Season Twelve begins with an unexpected twist when single billionaire Walden Schmidt (Ashton Kutcher) suffers a mild heart attack on his way to a Halloween party. Walden's brush with death causes him to reevaluate his life and he decides to become a father. But after attempting to adopt as a single guy, Walden turns to his best friend/housemate, Alan Harper (Jon Cryer) for help, and Alan's dreams of living in the Malibu beach house forever come true when Walden proposes. Walden and Alan convince their social worker that they're a loving, albeit quirky, couple by day – while sneaking girlfriends out of the house by night. Eventually, the guys welcome six-year-old foster child Louis (new series regular Edan Alexander) into their lives and all sorts of comedic exploits unfold as newlyweds Walden and Alan adjust to their new lives as co-parents, husbands and bachelors. Everything seems perfect at the household for these two and a half men until they get a surprise visit from Charlie's widow, Rose, (recurring guest star Melanie Lynskey) and learn that Charlie Harper is alive. Or is he?
While not as consistently funny as the early years there are laughs a plenty in store as Walden Schmidt and Alan Harper get gay-married early in the season in order to adopt a kid. Adding a small child to the cast, not to mention a wedding, are acts of sheer desperation (Oliver on the Brady Bunch comes to mind) and this was no exception. But Kutcher and Cryer have such an electric chemistry they never fail to score even if the plots don't.
It's an uneven season, 16 episodes of convoluted storylines leading up to a bizarre 2-part finale where it's revealed that Sheen's character, killed off in season 9, was actually alive, being held prisoner by Rose, but he gets killed before he can reconnect with his family.
Also included on DVD is a gag reel.