by Jim Longworth
These days all it takes to be famous is a sex tape or a great publicist. Bill Daniels has neither, and he's been famous for eight decades without them. Instead, Bill's fame has come from applying his multiple talents across every medium, including singing on stage and local TV as a youth, then graduating to Broadway, film, and prime time television as an adult.
Daniels' fame has also been enduring because he's managed to remain relevant to each succeeding generation. Some fans know him as John Adams in the stage musical "1776", others as Dustin Hoffman's father in "The Graduate", or Dr. Craig in "St. Elsewhere", Mr. Feeny in "Boy Meets World", or the voice of KITT in "Knight Rider". In real life, William Daniels is a quiet, private individual who is baffled by his own success.

Bill: I've never had a publicity agent. I've never pushed at this business, and I've seldom wanted to audition.

But Bill's wife of 65 years, Emmy winner Bonnie Bartlett (who he affectionately calls "Alice Actress") says her husband's longevity and appeal comes from within.

Bonnie: He has good instincts and he doesn't even know where they come from.
Bill learned from Lee Strasberg to put elements of himself into whatever he was cast for. The luck came in that the roles were there, that's the lucky part. But more than half of everything he does, is Bill.

Perhaps, but now Bill Daniels is putting all of himself into a new role, as author of "There I Go Again: How I came to be Mr. Feeny, John Adams, Dr. Craig, KITT, and Many Others". The autobiography from Potomac Books will be released in March, on the occasion of Bill's 90th birthday.

I first met Bill and Bonnie 20 years ago while publishing a magazine about "St. Elsewhere". They took me under their wing, nurtured what writing talent I had, and made sure I had a good meal after a long flight. Recently I re-connected with Hollywood's most respected married thespians, and began by asking Bill about his new book.

Jim: I know you don't like to talk about yourself, much less brag about yourself. So what finally made Bill Daniels write a book about Bill Daniels?

Bill: First of all I wasn't doing anything and had some time on my hands. But secondly, and this is suspect, I told myself, "just write about the journey you've taken, and maybe your grandchildren who are totally uninterested now, and don't know what the hell I do, might one day pick it up and read it, and find out what Poppy did with his life." Anyway, that's what I told myself. Or maybe I just felt I needed to write it.

Jim: In your book, you wrote, "I went ass backwards into everything." What did you mean?

Bill: I mean that I had a stage mother who put me into the business at a very early age, which I would have never done myself. And I didn't have the ambition that most young actors had when they came to New York to conquer the town. I don't have any of that push. I have always been ambivalent about the business. I've never relished the applause. It just doesn't mean much to me. I don't have a great deal of self awareness.

Self awareness or not, Bill was in demand as a stage actor, and could have remained a successful fixture in New York theatre forever.

Jim: So what lured you away from your home turf to do films and television?

Bill: It was a time when Hollywood would hire New York actors, fly you out to do a show, and fly you back. And I kind of liked California.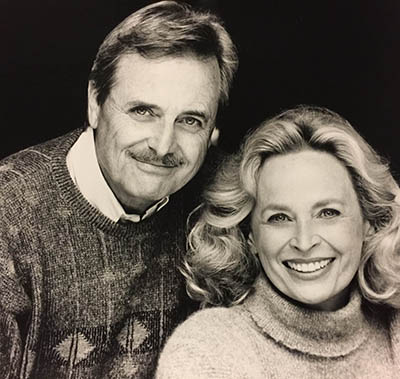 Bonnie: That was mainly it, you wanted to work in California.

Bill: And I stayed in the play "1776" much too long. It got to the point after two years and two months, I didn't want to see a back stage, I didn't want to see a dressing room. I'm a native New Yorker, but I wanted to get out of New York.

The move to Hollywood was fortuitous for Bill, who never wanted for work. Early on he co-starred in highly acclaimed dramatic films like The Graduate with Hoffman, and The Parallax View with Warren Beatty. But he was also attracted to comedic roles, starring in the short-lived cult classic "Captain Nice" for NBC, in which he portrayed a mild mannered super hero who could fly, sort of.

In the 1970's, Bill pulled off a New England hat trick by portraying all three members of Boston's most famous pre-Kennedy era family. In 1972 he took his John Adams role in "1776" to film, then played John Quincy Adams in the 1976 mini series "The Adams Chronicles", and Sam Adams in the TV movie "The Bastard". Bill was also a frequent guest star on a number of popular television series before landing the lead role of Dr. Mark Craig in NBC's groundbreaking medical drama, "St. Elsewhere". The ensemble cast featured veteran actors like Ed Flanders, Norman Lloyd, and Ed Begley Jr., as well as several newcomers like Denzel Washington, Howie Mandel, and Mark Harmon. Bonnie Bartlett was cast as Dr. Craig's wife Ellen, and together, she and Bill made TV history by becoming the first real life married couple to win EMMYs on the same night for portraying on- screen spouses in the same drama series.

Bill: I'm glad she got the recognition she deserved, and she has two EMMYs to prove it. We have this relationship which works very well. We each take pleasure in the other's success. There has never been one ounce of jealousy.

Bonnie: Except that night when someone called you Mr. Bartlett.
Bill: Yes.
Bonnie: You didn't like that Bill.
Bill: No, I really didn't like that.

And that, folks, is the kind of banter the two lovers have engaged in since meeting at Northwestern University. But I digress.

Running concurrent with his on-screen role for "St. Elsewhere", Bill also became the off-screen voice of David Hasselhoff's high tech car, KITT, in the pop favorite, "Knight Rider".

Jim: Glen Larson, the producer of "Knight Rider", once said he wanted you to be the voice of KITT because you had a way of speaking that sounded aloof. Do you think of yourself as aloof?

Bill: Oh God no. No, I think the problem with the voice and the accent comes from the fact that when I was 15 years old, I got into the production of "Life With Father", and I just naturally picked it up from being around, and I don't think I've gotten rid of it.

In the 1990's, Bill was embraced by a whole new generation of fans with his portrayal as George Feeny, the school principal in "Boy Meets World" (on which Bonnie also played his love interest), then revived that role in the 2014 sequel, "Girl Meets World". Between those two assignments he made cameo appearances on TV and film, and served as president of the Screen Actors Guild.

Jim: You've done it all, singing, dancing, acting, directing, now an author. Of all those things, which do you like the best?
Bill: It's always been the acting.
Jim: On stage or in film and TV?
Bill: Definitely on stage. There's that immediate satisfaction if you're doing well, and if you're not doing well, there's that immediate silence.

Jim: Earlier this year you were the subject of an internet hoax in which rumors circulated that you had died.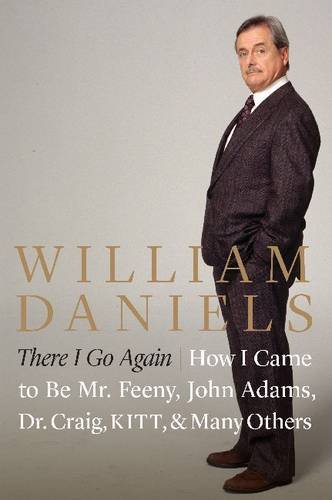 Bill: The reports of my passing were greatly exaggerated. I stole that line (laughs).

Jim: But the question is, have you ever died on stage. Have you ever bombed anywhere?
Bonnie: Only in summer stock when we were in school, not on Broadway.
Bill: Yes, I did a couple of things back then that, thank God, are not on film (laughs).

Fortunately for the rest of us, most of Bill's work IS on film, and much of it on DVD, so we can all enjoy his extraordinary talent. You can also enjoy his book, which is now available for pre-order on Amazon.com.

Jim: Hey the review copy you sent me has no photos.
Bill: There will be photos.
Jim: It will sell better if you have some dirty pictures in there.
Bill: You know that's a very good idea (laughs).

Amazon Prime - unlimited streaming
of your fave TV shows and movies!
Get your FREE 30 Day Trial!
PR4 & PR5 Pages for Advertising