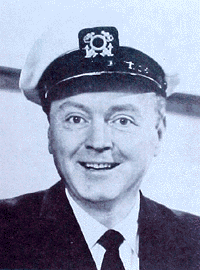 Capt. Jack McCarthy
Centennial Celebration!
by Kevin S. Butler

On Monday evening September 26, 1960 a new skipper took the helm of WPIX TV's "Popeye Show"and maintained it's course for the next 12 years with his warm, soft spoken charm and gentle wit.
"Capt. Jack" McCarthy succeeded Captains Allen Swift and Ray Heatherton as the third and last mc following Swift's abrupt departure from the program after a long series of creative disputes with station management.
Unlike Swift and Heatherton (formerly WOR TV's "Merry Mailman") McCarthy was not an entertainer... he utilized his storytelling talent and personality to engage his viewers (His Mateys) in craft making, hobbies, games, informational segments and interviews with guest performers and personalities in-between the rerunning of the films.
"We all had our own personalities. I did the show that I would want to approach young people," McCarthy recalled in an interview in December of 1983."I started talking to the children (who were watching at home) the way that I would talk to my own kids".
"Capt. Jack" would do discussions on the history of the telephone, origami, glass blowing and he even had the guard from the bank in the lobby of The New York Daily News Building talk about the history of money.
He had circus ringmaster Austin Miles, a rock collector and tin whistle player on the program. Capt. Jack would also talk about traffic safety, fire prevention, bike safety and the importance of not talking to strangers. kids would listen to Capt. Jack because he presented these segments with a genuine sense of fun and sincerity.
A veteran radio broadcaster, McCarthy began his career as a page and then as an announcer for NBC Radio in NYC. It was during a boxing match at NYC's Madison Square Garden that McCarthy was invited to serve as a collaborating ringside announcer with sportscaster Clem McCarthy ("No relation" he told me jokingly). His moderating was so successful that the network's director of sporting events Abe Schecter promoted him to sports announcer.
McCarthy worked on numerous sporting events, including horse racing for NBC and later for ABC Radio. He would leave ABC Radio and move to Hollywood,Cal to try and
obtain acting work on the many dramas that were being broadcast from California.
But the acting jobs were few and far between so he returned to NYC where he served as announcer on two musical/variety shows: "The Vass Family" (which starred a talented group of singing teens) and "The Chamber Music Society Of Lower Basin Sreet" hosted by one of the most respected music historians of the day Dr.Gino Hamilton. Along with being the program's announcer McCarthy served as the comedy relief portraying "Dr.Giacimo".
In the summer of 1948 Jack McCarthy made his TV debut on WJZ (WABC) 7 working on a few shows until he met with fellow radio broadcasters John Tillman, Kevin Kennedy, Rex Marshall, Joe Bolton and the publishers of The New York Daily News to help found the very first local independent TV station WPIX.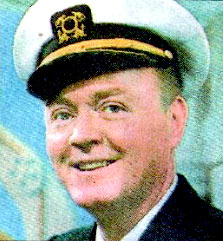 The station went on the air June 15, 1949, McCarthy broadcast sporting events, news. He would also serve as the announcer for a musical/variety show hosted by singing bandleader/musician and DJ Ted Steele. He even hosted a game show, "The Tele Vizz Quiz".
In March of 1949 McCarthy became associated with a special broadcast that would become one of NYC's most popular and enduring events.
"In 1949, they (the station execs) were about to begin televising the (New York) Yankees and Giants games and they had the cameras in storage." McCarthy explained, "Somebody said 'We want to see how the cameras operate outdoors' so it was decided that they would do one hour of The St. Patrick's Day Parade. I went to the American-Irish Historical Society and I prepared material for about an hour. We were on the air for about three quarters of an hour and I got a call from the then director Jack Murphy who said to me, 'Could I hold it for another half hour.' Because the telephone response was incredible."
Although he had used up his script McCarthy was able to successfully ad lib for four more hours and from that telecast on he would host the parade broadcasts for the next 42 years. For a time in the early 1950's Joe Bolton co-hosted the St. Patrick's Day Parade telecasts with Jack McCarthy. (McCarthy was unable to host the 1990 St. Patrick's Day Parade telecast the hosting duties for that broadcast were handled by actor/singer and announcer Ed Herlihy and by entertainer Andrea McArdle)
In the fall of 1960 McCarthy went on to MC "The Popeye Show" weekday evenings beginning on Monday, September 26, 1960, he would host the series until Friday, March 15, 1963.
"The Popeye/Three Stooges Show" debuted on Monday evening March 18, 1963 featuring a new series of "Popeye" cartoons produced for TV by Hallas/Bachelore, Paramount/Famous, Format Films and by Larry Harmon Pictures Inc along with reruns of the post 1947 "Three Stooges" films starring Moe, Larry, and Shemp. Capt. Jack would entertain and inform his viewers between the films until the show was dropped on Friday June 23,1963.
McCarthy then became the third host/performer of "The Mighty Hercules Show" following the departure of the series' first two mc's: John Zacherley and "Officer Joe" Bolton. He would entertain and inform his viewers between reruns of "The Mighty Hercules" TV cartoons and the Universal and Republic movie serials - first as himself and later in the series run as his sea captain character. The show was cancelled following the Friday September 1, 1964 broadcast.
Capt. Jack also served as the second mc of Ch.11's Sunday morning kid's variety show "Let's Have Fun" following Chuck McCann and Paul Ashley's abrupt departure. McCarthy had that role from Sunday morning August 22,1965 until August 28,1965.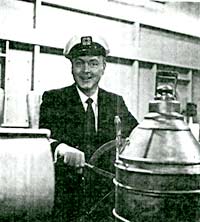 For a time he hosted "The Popeye" movie and TV cartoons and UPA "Dick Tracy" cartoons on "The Popeye/Dick Tracy Show" weekday afternoons at lunchtime from Monday, September 14, 1964 to Friday, October 16, 1964. His popularity with the kids was so big that he was invited to do personal appearances at many venues in the NYC/NJ and Ct. areas. As he recalled, "We would be called upon to make personal appearances and the first time that I made a personal appearance I said (on my show) "Mateys, If you're in and around Sheepshed Bay on such and such a day I want to you to know that Captain Jack will be down there, autograph some pictures and say hello to you and meet your parents. I was awestruck, hundreds of these kids came to see me."
"We made personal appearances at supermarkets and at kiddie parks
and at church bazars and it was very rewarding experience."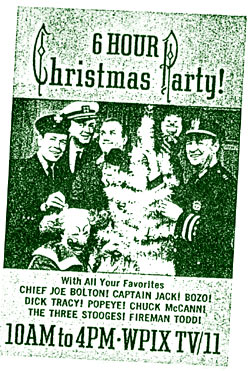 Capt. Jack also co-hosted some holiday kid's specials with his fellow kiddie stars at Ch.11 during the 1960's. "The Thanksgiving Day Jamborees", "The WPIX TV Christmas Parties", "The Fun And Games Day Specials" he even taped a "Visit To Freedomland USA" (then one of NYC's most ambitious theme parks) with "Officer Joe", "Bozo" (Bill Britten), Chuck McCann, The Laurel & Hardy Puppets and with two kid actors and singers Paul and Mary Ellen O'Keith.
Unfortunately some of the films on the show would fall prey to criticisms for violent and racist content. Just as his predecessors "Capt. Allen" and "Capt. Ray" and the mc of "The Three Sooges Funhouse" Officer Joe would present disclaimers to their viewers. "Capt. Jack" would also warn the kids not to try and emulate "Popeye's" strong man stunts.
McCarthy explained that, "Popeye in those cartoons was in fights all the time with Bluto. We got mail saying that children shouldn't be exposed to such violence.The antics (between the characters), the punching and slapping, you had to make that sort of statement that this is a cartoon and real people don't do things like that".
Despite efforts to prevent their audiences from emulating the violence the shows continued to receive complaints from parental pressure groups, also the station execs at Ch.11 were cutting back on their live kids shows. By the beginning of the 1970's, only Bolton and McCarthy remained on the air.
"Capt. Jack" would host "The Little Rascals Show" weekday afternoons from on WPIX TV from Monday, April 3, 1967 to Friday, January 1, 1970. He would host "The Popeye Show" one more time at Ch.11 weekday afternoons from Monday January 5, 1970 until the station execs dropped the show in September of 1972.
McCarthy retired from regular TV broadcasts at WPIX he would briefly serve as the commercial spokesman for The Irish Tourist Board and served as the excutive broadcasting director for the NYC Off-Track Betting Office.
He continued to host TV 11's annual St. Patrick's Day Parade broadcasts until Tuesday March 17, 1992 when, at the end of the telecast, he officially announced his retirement from the event.
He would make a cameo appearance in the NBC movie drama "The Rage Of Angels" and appeared on "WPIX At 40!" which aired on Thursday night September 29, 1988.
McCarthy made his last public appearance at The Museum Of TV & Radio's seminar "The First Kids On The Block" on Wednesday night November 7, 1994. Chuck McCann, Sonny Fox, Soupy Sales, John Zacherle(y),"Uncle Fred" Scott, Bill Britten, Frank Nastasi, and Bob McAllister were also at that tribute to NYC kids' TV.
"Capt. Jack" McCarthy died on Thursday May 23, 1996 but his efforts as one of NYC's most popular and beloved kids' TV wraparound hosts/performers is still remembered by the young people who grew up with him.