Death of Alfalfa - Murder?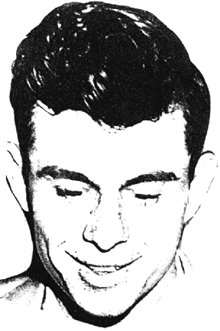 "They used to say to him, 'Hey, Alfalfa, sing off key for us.' It used to drive him crazy!"
- Former Our Gang star Darla Hood on producer's reactions when Carl Switzer would audition for a part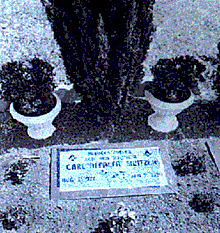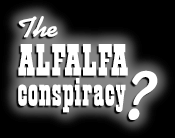 Death of Alfalfa - Murder? PART THREE
Children's TV historian Kevin S. Butler tells adds this to the story, "Maybe there was a reason why the truth about Afalfa's untimely death on was never told.
"Alfalfa abused a lot of people during the filming of the Our Gang / Little Rascals comedies at the Hal Roach Studios and later at the MGM Studios. Before they died, Spanky McFarland and Darla Hood told me of the cruel pranks that Alfalfa played on them.
"For instance, Alfie put sharp fish hooks in Spanky's back pant's pockets and the poor guy had to have stitches on his tush.
"Alfie also placed an open switchblade knife in his pocket and tricked Darl into putting her hand into his pocket on the pretense that he had a ring for her from a Crackerjack box. She almost lost her fingers.
"According to a story on E Entertainment TV series Mysteries and Scandals, some of the surviving LR kids - Rev. Waldo Kaye, Jerry Tucker, Tommy (Butch) Bond and Sidney (Woim) Kibrick - stated that Alfie would not pay attention to his school lessons in Mrs. Fern Carter's class. He'd be held after school often and kept everyone waiting for him on the set of the films.
"Spanky told me of Alfie's worst and most stupidly dangerous stunt. When the gang was filming a scene for the short film comedy 'The Big Premiere' at MGM, the scene was to be the kids showing their own movie on a process screen. The rear projection system and the lights (a thousand watts per bulb) were taking a long time to set up. Alfie sneaked behind the screen and peed on the bulbs. This was highly dangerous, for even spitting on those bulbs is tantamount to setting off series of bombs. The lights exploded and filled the studio with a hideous stench. Everyone was taken off the set, as the crew and the director had to fixed the bulbs and clean up the expensive mess that Alfalfa had created that day.
"Could it be that, because of his obnoxious behavior, the authorities and the press decided not to tell the truth about Alfalfa's death as a form of revenge for this former movie kid actor's cruel and stupid pranks that he played on everyone? Even if he may have died tragically?
"In a sense, I don't feel too sorry for Alfalfa because of the way he abused people. Who could have become his friend during his lifetime?"
Teresa Bain writes: "My mother, who now lives in Brandon, FL., was Alfalfa's cousin. She told me how Alfalfa died. This is the story, according to the family... Someone OWED money to Alfalfa and he went to get it. Alfalfa was drunk at the time. Alfalfa confronted the guy and the guy pulled out a gun. Alfalfa only had a knife. According to the family, Alfalfa was shot over a debt of only $50.00. My mother told me she hated Alfalfa because he was so mean to her."
WHO REALLY SAW WHAT
HAPPENED THAT NIGHT?
Tom Corrigan, son of cowboy star Ray "Crash" Corrigan, was only 14 years old on January 21, 1959 when the deadly confrontation between his step-father and Carl Switzer broke out. Tom was friends with Carl Switzer, they had known each other for years. He spoke to the press about the case in 2000.
Corrigan's story differs greatly from Stiltz' self-serving alibi. In his story to the press, Corrigan says it looked like murder to him, "He didn't have to kill him."
True, Alfalfa was drunk when his mother Rita Corrigan opened the door, but Stiltz was waving a .38-caliber revolver when entered the living room - during a struggle, the gun went off and Tom was grazed by a plaster fragment or bullet. The fighting stopped when everyone realized the kid was hurt.
Young Tom Corrigan stepped outside as things got quiet. He didn't see the exact moment of impact but heard the unexpected shot, turning in time to witness Alfie with a shocked look, his face sliding down the wall. It was then that Corrigan saw the small penknife, which apparently fell closed from Switzer's pocket.
Only by begging for his life was Alfie's companion, 37 year old bit player Jack Piott not killed also (he had cracked a glass dome over Stiltz's head in the initial struggle).
A statement detailing these events was taken from the teenager, though fearful of his abusive stepfather, the youngster agreed to testify but he was never called. Stiltz was exonerated.
The kicker to Tom's story: every Christmas (until his 1984 death) Bud Stiltz received a holiday card signed "Alfie".
LAscandals gets the last word:

There are a few reason's why I believe that Carl Switzer was into the drug scene.
First, the drive by shooting the year before. Second, his physical deterioration is evident between 1957-1958. Carl actually looks like a strung out junkie in some scenes from his final movie "The Defiant Ones". Third, I'm clairvoyant and I've had psychic contact with Carl Switzer's spirit (I'm not bullshitting you).
Did you know that Alfie's father swore at the coroner's inquest that Stiltz had threatened Alfie with death before he went over to collect the money?
This is from another article that I came across:
"Police said Switzer went to the home of a friend, M.S. Stiltz, 38, Wednesday night in an effort to collect a $50 LOAN.
Dets. Louis Bell and Ernest Johnson said Stiltz told them an argument DEVELOPED and Switzer hit him on the head with a clock: Stiltz got a gun and it fired harmlessly while they struggled: Switzer drew a knife and Stiltz shot him in the abdomen."
- COURIER POST, Camden, N.J. / Thursday, Jan. 22, 1959
Notice how I capped on LOAN and DEVELOPED. This article also has a valuable contradiction in it - this would mean that money may have been loaned out to Bud from Carl and Carl wanted it back. No mention about a lost hunting dog either.
The real question may be, how much methamphetimines could $50 buy someone back in 1959?
Have a happy dappy yabba doo didley didley hubba hubba kinda day
- LAscandals
Mysteries and Scandals
Carol Wayne's Mysterious Death / The Ironic Death of Redd Foxx / Where Are The Classic Sitcom Houses Now? / What Happened to the Kid Star Curse? / Whatever Happened to the First Darin on Bewitched? / Joe DiMaggio's FIRST Wife / Harry Mudd's Ugly Drug Overdose / The Death of Paul Lynde / Desi on TV After Lucy / Della Reese' Tough Career / Cher Saves the Tabloids / The Alfalfa Conspiracy? / Alias Smith and Jones / Death of a Superman / TV's First Star-Broken, Discarded! /