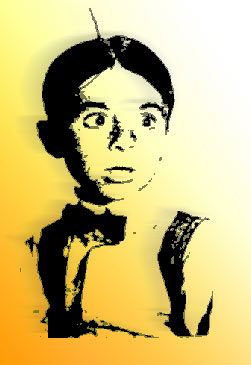 "A year ago, Switzer suffered a flesh wound in a shooting by an unknown assailant in front of ('The Wolf's Den' in Studio City) a bar in the San Fernando Valley. Later, in 1958, he attempted suicide."
- UPI news story
Was this evidence that someone wanted Carl Switzer dead?
---
DID YOU KNOW:
Carl Switzer (Alfalfa) had a brush with the law a few months before his death - he was convicted of stealing trees from the Sequoia National Forest and selling them for Christmas trees.

He was given a suspended thirty day sentence, fined $225 and put on probation for a year.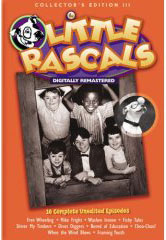 Little Rascals on DVD!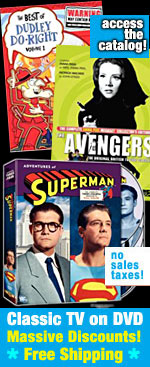 Access our
Classic TV
Catalog Now!
This is the story (from the killer
Stiltz' point of view) as told to the UPI,
January 22, 1959: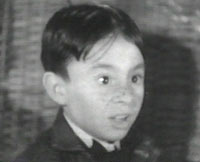 Carl "Alfalfa" Switzer, 31, the freckled faced child actor in the old "Our Gang" movies was shot and killed last night in a battle over a $50 debt.
Stiltz, badly beaten, said Switzer and a friend, Jack Piott came to the home where he was staying and began banging on the door.
"Let me in," Stiltz said Switzer demanded, "or I'll kick in the door."
Stiltz opened the door to Switzer and Piott.
"I want the fifty bucks you owe me, and I mean now." Switzer said to Stiltz, his former partner in a bear hunting scheme in which Switzer worked as a guide - one of the varied jobs at which he worked during recent years.
The two men got into a violent argument over the debt involving a reward for finding Stiltz's missing dog, then began fighting.
During the fight, Switzer grabbed a glass-domed clock from a dresser in a bedroom and smashed it on Stiltz's head, Stiltz said.
Stiltz, who was bloodied and had a blackened left eye and a bandage over his right eye, grabbed a gun from a dresser drawer and Switzer made a lunge for it.
They wrestled in the living room and the gun went of, the bullet smacking into the ceiling without hitting anyone.
Mrs. Corrigan and her three children, a boy 14, and two girls aged 12 and 13, who had been in the house during the fight, fled to a neighbor's home to call police.
Switzer, according to Shiltz, got possesion of the gun briefly, but Shiltz got it back.
Switzer drew a knife and screamed, "I'm going to kill you, you -- (*insert expletive here)", Stiltz said.
"I took the gun away from Alfalfa and he threw the knife at me," Shiltz said. "That's when I shot him."
A knife was found beside the body on the living room floor of the ranch-style home.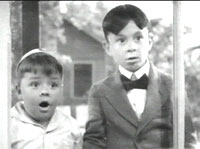 That's what the killer had to say, but what did the other witnesses to the altercation say that night?
Remember, Switzer arrived at the home with a friend, (studio still photographer) Jack Piott. Piott stated in the papers on January 23rd that the two went over to Shiltz' home to collect a debt, but that Carl Switzer was unarmed at the time. Carl had no knife with him, according to Piott.
Odd, because Stiltz told a strange story about that knife - one that stretches credibility (but covered his ass more completely) when he testified before the Coroner's Jury on January 26.
Stiltz stated that: "Alfie charged me with a jacknife. I was forced to shoot, and he closed the knife as he fell to the floor." A convenient explanation as to why the knife was found under Switzer's body - with no blade exposed. Was it placed there to support a self-defense plea? (A closed knife is no threat to a man with a gun.)
Regardless, the coroner's jury ruled the death was 'justifiable homocide'.
Was Carl's death really the result of that struggle or just cold blooded murder? Did the police do a thorough investigation?
LAscandals brings up these points:
A reference in Kenneth Anger's epic 'Hollywood Babylon' says that Carl "Alfalfa" Switzer was killed in a dope burn - did Anger know something that police (or the press) didn't know? Very likely, when you consider that the book was written in 1959, and Anger was a Hollywood insider. But there are several stories in the book that aren't entirely historically accurate.
The true story about anything concerning almost any star would be difficult to ascertain in those days. The LAPD was notoriously corrupt in the Fifties - more than willing to bow to pressure from the city's biggest employer, the entertainment industry.
LAScandals also points out that Interstate television Distribution was making millions on the syndication rights to the 'Little Rascals' - a 'Dope Burn' headline would have seriously degraded that property's value in those early days of television. No question that's true - but is there any other evidence that this was a drug burn?
Then, in 2000, a new witness came forth to clear up the facts in the case - Tom Corrigan, Bud Switzer's stepson, was there in the living room and decided to open up about what he saw that night.
PART THREE:
A WITNESS' SHOCKING MEMORIES
- MURDER AND COVER-UP IN THE
DEATH OF CARL 'ALFALFA' SWITZER!

Death of Alfalfa - Murder?
page: 1 / 2 / 3