by Billy Ingram


Despite what you may have heard in song, the best things in life are definitely not free. In fact, many of the things that used to be free or almost free we now routinely get charged for. Tap water comes packaged in bottles, air at the service station costs 50 cents, checking accounts, directory assistance are no longer gratis - but most egregiously is what it costs to watch television. If you told someone in 1970 that they would be paying $100 a month to watch TV I can't even imagine what the reaction would be. One of horror no doubt.

Myself, I cut the cable a decade ago, there just wasn't anything to watch most hours of the day. The whole idea of paying out the nose for television and STILL having to watch commercials? Absurd. I swear if everyone dropped cable TV Time Warner and DirecTV would pay us $100 a month just to let them back in our homes.
For a couple of years I've been getting press releases from Me-TV and I pass most of them along to you because the content is so compelling but, sadly, we didn't have the service where I live. But Me-TV is expanding rapidly and it just popped up in my market, the Triad in North Carolina. So I took an opportunity to talk with Neal Sabin, President of Content & Networks Me-TV/Weigel Broadcasting, to find out what it's all about.
"Me-TV stands for memorable entertainment television, it's meant to be the definitive destination for classic television, classic being one of the most overused words in the U.S. language. Some of the shows we have are truly the best shows ever produced in their genres for television; things like I Love Lucy, Perry Mason, M*A*SH, Cheers.
"We have other shows that are kinda classic in that they are fun shows that had an iconic role in pop culture - Happy Days, LaVerne & Shirley, or, in its day, The Mod Squad which was a cultural trendsetter in some ways."
Indeed, the line-up is impressive, even to this jaded classic TV lover. The Naked City (which I've never seen but really want to), Route 66, The Rouges, Sgt. Bilko, The Fugitive, Columbo. The list goes on and on, see for yourself.

"We have a library of about 100 shows and we have about 60 of the on the air at any one time." Neal told me. "Our goal is to be a comfortable place for families and boomers to watch some of the programs that they enjoyed the first time around or are seeing them for the first time in a creative nicely presented environment."
You know what I like to watch on Saturday afternoons while I'm writing? Westerns. And Me-TV delivers big time with Gunsmoke (an under appreciated program), Branded, The Rifleman, The Rebel, Guns of Will Sonnett, and Wild Wild West.
If cartoons on Saturday morning are your thing Me-TV offers a retro 1980s lineup including She-Ra and He Man right after Gumby and Mr. Magoo.

Looking for comedy? How about an hour and a half of Laurel & Hardy weekend mornings? Saturday nights with Svengoolie and his cheesy horror films. Oh joy!
Every day is a classic TV buffet and the schedule isn't static, it varies from day to day. For instance this Monday night you'll get a block of shows like M*AS*H, The Mary Tyler Moore Show, Bob Newhart and Dick Van Dyke. On Tuesday in primetime look for Brady Bunch, Mothers-in-Laws, That Girl, and Love American Style. Talk about classic!
While I'll be once again enjoying free TV (what a concept!) in some larger markets you will need cable or satellite to watch Me-TV. Now there's something to watch besides World War II documentaries and Real Housewives.
Neal Sabin: "We are sort of a hybrid, some people would call us a digital sub-channel designed for the .2s or .3s of television stations but in many markets we're on the primary signal. In markets like New York, Los Angeles, Salt Lake City, Seattle, Albuquerque and many others we're on the primary portion of the signal which gives us that "must carry" and gives us wider distribution. We also have some cable only affiliates where we couldn't get a broadcast partner. We are on Time Warner in Manahattan now, Channel 144. LA starts 10/31. That is the date we've been given by Time Warner. We are on Dish and DirecTV in LA on channel 20 right now."

Will an audience accept shows that aren't in color? "We're really not trying to compete with all those reality shows so we don't have to be colorizing our things. If they're in black and white, they're in black and white. Some people will not watch something because it is black and white and it's their loss. We're not going to cater to the lowest common denominator or age down our programming. There are plenty of networks for teens and kids that are well programmed. We're all about classic television and presenting as close to the original form as we can."
Here are some Me-TV offerings that really stand out for me:
Honey West - sleek stylish detective drama. Considered one of the greatest shows of the 1960s despite lasting only one season.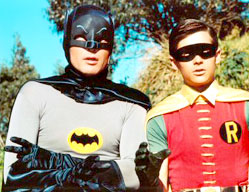 Batman - two episodes air Thursday nights at 8:00 the original timeslot for the show back in 1966. Also airs on Saturday nights.
The Mothers-in-Law - Desi Arnaz' loud, brash sitcom after Lucy.
Lost in Space - the first season is cool, the second and third are so bad they're good.
That Girl - loved it then, love it now. I honestly didn't think That Girl would be as entertaining today but it is, more so maybe.
The Honeymooners - airs every morning early, it never gets old.
Peter Gunn - hip jazzy drama from the early days of TV.
12 O'Clock High - genuinely exciting war action.
Combat - more top drawer drama from the sixties. The show lasted longer than the war!
Beverly Hillbillies - the first seasons are hilarious. Trust me.
Green Acres - one of the funniest sitcoms of the sixties.
Perry Mason - so much more enjoyable than Law & Order.
The Untouchables - violent, gritty crime drama from Desilu.
Twilight Zone - nuff said.
Rockford Files - awesome fast paced, light-hearted drama from the guy who gave us The Sopranos, David Chase.
Are you salivating yet? Honestly, if they added Fernwood 2night I'd probably never leave my home!
You can find your local Me-TV affiliate here. You'll also find clips and random episodes on the Me-TV site. Now if you'll excuse me I'm going to count up all the money I'll be saving by not having cable. I think I'll do it while watching I Love Lucy!