Osbournes Reloaded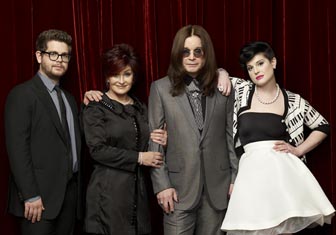 Just when people are relying more and more on public transportation, here comes the 'Crazy Train' wreck of the year.
I've just watched a short preview of the new FOX show Osbournes Reloaded, a title that perfectly reflects the drunken debaucherous nature of the show.
Entering from the Time Tunnel to the screams of a hyped up live audience, the preposterous Osbourne family returns to the small screen to host a variety show for the new age.
Of course, it's Sharon who has to do the heavy lighting seeing as how her husband is fucked up beyond all belief and her kids have no dicernable talent on display. In that sense, this is the perfect show for a real life Addams Family.
Setups include the family working at a fast food window that descends into the Osbournes throwing food into the customers cars; a fiancee that threatens her boyfriend with a breakup if he doesn't marry her right then and there; a vulgar takeoff of What's My Line; squirting the audience and stage down with crazy foam; getting the parents of an audience member to simulate a sex act on stage; and a musical duet between father and daughter that promises many Brady Bunch Hour moments to come.
Sharon promises that this is entertainment the entire family can enjoy together. As they all gather around the TV at the bar, presumably.
I suspect what I watched was a highlight reel for maybe three episodes - if that's the case this is going to make that Fox game show about the people falling off those walls seem like Shakespeare. On the other hand, if the few minutes I saw was all culled from the first episode alone this show could be a blast.
I swear I think I've seen some of these bits done first on Jerry Springer but whatever; this is Candid Camera meets Maury, The Carol Burnett Show on Ketamine, television entertainment live from skid row.
Judge for yourself:
---