Prom Night in Mississippi

Can you even conceive in this day and age that a high school would have separate proms for white and black kids? I grew up in the South but that sort of thing wouldn't have taken place in my time despite the fresh wounds of busing. We all just got along, no big deal.

And that appears to be the case at Charleston High in Mississippi, but down deep in Dixie things are slow to change. Seriously slow. The kids are alright, it's mostly the parents that are out of sync with the times.

That's when none other than Oscar winner Morgan Freeman steps in. He spent a few years growing up in the town as a toddler and, when he heard about the continuing separate dances tradition in Charleston, Mississippi, he offered to pay for an integrated prom.
Of course, the senior class has to agree to it, as do school administrators who do an artful of dance around the hot tempers and cool egos - not to mention the ever-present cameras.
Filmmakers did a great job of staying out of the way of this story, letting the participants shine. It's a journey of discovery for everyone involved, especially for the viewer - riveting, shocking, life affirming are words that come to mind to describe this telefilm.

Ironically, I didn't go to my prom because I thought it was stupid - but if we'd had segregated proms I'd have gone for sure. To the black prom. So maybe it's not such a bad idea after all.
Watch Prom Night in Mississippi on HBO beginning Monday, July 20th and ask yourself could this happen here? Oh, yeah, it did. Click for more info on HBO's summer documentary series.

---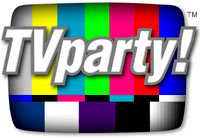 2 TV Show Reviews
Reviewed by Billy Ingram,
as seen on VH1, Trio and Bravo.

Author - TVparty: Television's Untold Tales
Prom Night in Mississippi

Directed by Paul Saltzman, PROM NIGHT IN MISSISSIPPI deftly weaves together student-made videos, interviews and fly-on-the-wall moments with students, school officials, parents and Freeman himself. "I live here," Freeman tells an assembly of seniors. "I think it is the stupidest thing I've ever heard of that in this time...you children are being brought up this way. It hurts me deeply."
The documentary is an eye-opening reminder that racism is alive and well in America, 54 years after the U.S. Supreme Court ordered an end to segregated public schools. Resistance to integrating the prom comes primarily from parents, while the students, for the most part, sound a hopeful note, articulating their own feelings in the face of the prejudices of their parents and grandparents.
Even after the integrated prom is announced and backed by the school administration, some white parents, who forbid their children to attend the integrated prom, organize a separate "whites only" prom for their children. The filmmakers tell the story of this "whites only" dance, where cameras are not allowed, through graphic novel- style illustrations based on the first-hand accounts of students who attend it.
Of Charleston High's 415 students, 70% are African-American and 30% are white. In interviews and video diaries, they talk about race at their school and the impact of an integrated prom.
Excitement builds as students black and white prepare for the big night, shopping for tuxedos and formal gowns, getting hairdos and manicures, and scrubbing their cars. Seemingly inconsequential rites of passage take on a profound dimension as the weight of history falls on their teenage shoulders. When prom night arrives, the event is a huge success, with live soul and rap music, a packed dance floor and a pre-recorded appearance on a big screen by Freeman, who cannot attend in person due to a prior acting commitment. There is a sense that history is being made, and that the students have somehow grown from being a part of the process.
"The town of Charleston has dragged its feet in shaking off the shackles of racism," says Saltzman. "It took 16 years for it to allow black students to attend the white high school after the U.S. Supreme Court banned segregation in schools, and until now it has held on to a tradition of parent-organized white proms and black proms. By holding its first integrated prom, Charleston High - with a push from Morgan Freeman - has struck a major blow for unity and equality."
The prom appears to mark a turning point for the school. One student speculates that the "whites only" prom will probably be the last of its kind, while others note that after the prom, black and white students are interacting more than in the past. As "Billy Joe" explains, "This new generation coming up now, it's going to really change Charleston...It's going to be one community eventually, and if not, it's going to be a lonely community."
A separate HBO On Demand feature entitled "Prom Night in Mississippi: One Year Later" revisits Charleston High to provide updates on the featured students, some of whom are attending college or working locally, along with two who are preparing to go to Iraq. The segment also chronicles the second integrated prom, which is a success despite another "whites only" graduation dance.
PROM NIGHT IN MISSISSIPPI marks the feature directing debut of Paul Saltzman, a two-time Emmy®-winning TV and film producer-director with 300 productions to his credit. Also a published author and photographer, his most recent book is "The Beatles in India." One of Saltzman's formative experiences was volunteering as a civil rights worker in 1965 with the Student Non-Violent Coordinating Committee in Mississippi.
HBO Documentary Films presents a Return to Mississippi Productions production; directed and produced by Paul Saltzman; producer, Patricia Aquino; editors, Kevin Schjerning, Stephen Phillipson and David Ransley; cinematographers, Bongo, Don Warren and Paul Saltzman; original music, Jack Lenz and Asher Lenz. For HBO: senior producer, Nancy Abraham; executive producer, Sheila Nevins.
Auto huren makes it possible to compare all car rental companies all over the world!
Compare the top sellers of Instagram followers on Buy instagram followers reviews!
An overwiew of guides and gutscheincode with the best tips and tricks to save money! on Ebookers.
Shop Amazon's New Kindle Fire