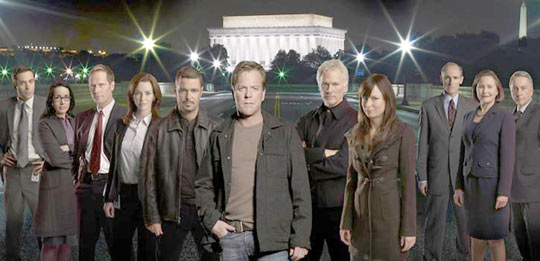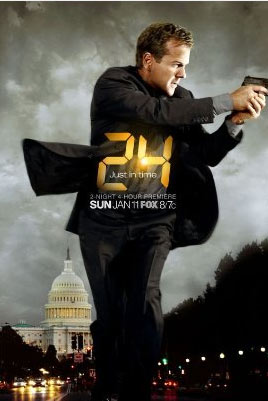 Good news for 24 fans. After a lackluster season 6, 24 is on track to have it's best year yet!
I grew up on comic books and Dark Shadows so I'm not bent out of shape when a character that was dead dead dead comes back to life. It's not particularly original and a bit of a cop out but I love the classic 24 cast and rejoice to see them re-united. The producers have even admitted to taking "creative license" in bringing Tony Almeida back but they do it in a way that keeps you guessing so what the hey, I'll buy in.
After an explosive first scene, our story opens with Jack Bauer being hauled before a Senate subcommittee to investigate his alleged indiscretions (oh, alleged hell, we all saw what he did). Unfolding events require Jack to be reluctantly pressed back into action but he soon finds that distinguishing between friends and foes will be as difficult as ever (you guessed it, there's another mole).
This time a terrorist group seeks to cripple the nation's technological infrastructure in an attack designed to force the president to back down on taking military action against a genocidal African general.
Janeane Garofalo is a terrific addition to the cast, a Cloe-type character that pits her considerable tech skills against Jack's rouge operation. Cherry Jones as the newly elected President is right in tune as are FBI agents played by Annie Wersching and Jeffrey Nordling that hound Jack at every turn. There's also a creepy subplot involving the president's brother and a possible murder coverup that promises to boil over and get real messy real quick.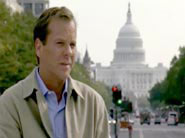 The first 15 minutes of episode three reveals a shocker as two more of Jack's former coworkers come in from the cold in a jarring plot twist. Before long, Jack and his deconstructed 'CTU' team are back in action for a seat-of-your-pants thrill ride that will remind you just what made 24 TV's most compelling drama in the first place.
As always a healthy suspension of disbelief is necessary to accept some of the tight escapes (the FBI can't lock down their own parking lot?!?) but these are minor bumps in the road that are easy to dismiss because of the fast paced nature of the scripts and the intense commitment of the characters.
With the new Washington, DC location, a new presidential administration, a plotline that sizzles, and excitement to spare, FOX is banking heavily on 24 getting it's mojo back. They're launching the season with a 4 hour event, two episodes on Sunday night, January 11th and two more the next night.
24 fans can stand up and cheer - Jack is back for real this time!
---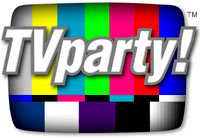 New TV Show Reviews
24 - Season 7 review
Reviewed by Billy Ingram,
as seen on VH1, Trio and Bravo.

Author - TVparty: Television's Untold Tales
Auto huren makes it possible to compare all car rental companies all over the world!
Compare the top sellers of Instagram followers on Buy instagram followers reviews!
An overwiew of guides and gutscheincode with the best tips and tricks to save money! on Ebookers.

CLOCK IS SET FOR THE HIGHLY
ANTICIPATED RETURN OF "24"

SEASON SEVEN PREMIERES WITH TWO-NIGHT, FOUR-HOUR EVENT
SUNDAY, JANUARY 11, AND MONDAY, JANUARY 12, ON FOXSeries Celebrates Milestone 150th Episode

24, the Emmy Award-winning series starring Kiefer Sutherland, will premiere with a special two-night, four-hour event Sunday, Jan. 11 and Monday, Jan. 12 (8:00-10:00 PM ET/PT) on FOX. The series, returning for its seventh season, celebrates its milestone 150th episode during the fourth hour of the not-to-be-missed two-night premiere.

Making its time period premiere Monday, Jan. 19 (9:00-10:00 PM ET/PT), 24 will unfold without interruption through the season finale in May. Set in Washington, D.C., "Day Seven" opens with CTU dismantled and JACK BAUER (Kiefer Sutherland) on trial. Bauer's day takes an unexpected turn when former colleague TONY ALMEIDA (Carlos Bernard) returns after being presumed dead. Meanwhile, President ALLISON TAYLOR (Cherry Jones) leads the country alongside White House Chief of Staff ETHAN KANIN (Bob Gunton) and First Gentleman HENRY TAYLOR (Colm Feore). An unthinkable national security crisis prompts an investigation by a team of FBI agents including Agent JANIS GOLD (Janeane Garofalo), Agent RENEE WALKER (Annie Wersching), Agent LARRY MOSS (Jeffrey Nordling), Agent SEAN HILLINGER (Rhys Coiro) and security specialist MICHAEL LATHAM (John Billingsley). Although CTU no longer exists, CHLOE O'BRIAN (Mary Lynn Rajskub) and BILL BUCHANAN (James Morrison) are back for another momentous day of shocking events.

Setting the stage for these events is 24: REDEMPTION, the two-hour television event shot on location in South Africa and Los Angeles that bridges the gap between Seasons Six and Seven. Airing Sunday, Nov. 23 (8:00-10:00 PM ET/PT), 24: REDEMPTION finds Bauer working at a school in Africa where he is called upon to stop a ruthless warlord from drafting innocent children into his murderous militia. At home, it's inauguration day for the President-elect, but a malevolent mastermind JONAS HODGES (Jon Voight) works behind the scenes to fan the flames of the growing international crisis. Visit the official 24: REDEMPTION website at fox.com/24/redemption for behind-the-scenes footage, news and photos.

Created by Joel Surnow and Robert Cochran, 24 is a production of Real Time Productions and Imagine Television in association with 20th Century Fox Television. Howard Gordon, Evan Katz, Jon Cassar, Manny Coto, David Fury, Kiefer Sutherland and Brian Grazer are the executive producers.
Shop Amazon's New Kindle Fire