TEDDY: IN HIS OWN WORDS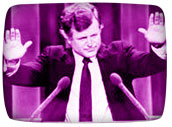 In the history of the United States there have been few politicians more tragically tainted and thoroughly shamed as Ted Kennedy.
Can one unforgivable event destroy the remainder of someone's life? Should it? While others would - perhaps should - have been drummed from public life somehow Ted Kennedy held on to the bitter end, no doubt at first on a wave of sympathy over what happened to his older brothers.
In the HBO documentary Teddy in His Own Words documentarians and subject set about to burnish the ailing Senator's image so this is no expose in any sense. Whether you agree or disagree with Kennedy's politics will have everything to do with whether you'll enjoy this program.
Everyone reading this undoubtedly knows about Ted Kennedy's greatest moment of shame, how many jokes and disparaging remarks about his recklessness behind the wheel have been told over the years in the mainstream media? And will be told again. But somehow the fact that Laura Bush killed an ex-boyfriend in a car accident where she was found negligent never rated a mention.
But you won't get the more salacious details of Chappaquiddick here, the filmmakers barely dip a toe into those murky waters, nor delve too deeply into the sex scandal at his compound in the 1990s.
Ted Kennedy survives largely because he truly is an advocate for the people and, of course, he has that political legacy forged by assassinations both real and political. Maybe that's the secret to his longevity, to justify his existence after the disgrace of Chappaquiddick he had no choice but to be a substantive politician where other pols could simply go along to get along.

This documentary shines its warm glow on a long gone era in politics, as far away from today's reality as seems possible. It's not one of the better HBO docs but then I don't see how it could have been and still have the involvement of the subject. After all, here's a guy who started on top and finishes on top; not exactly Horatio Alger time.
Maybe it's the residual bitterness over what happened in the 1960s and the unfulfilled promise the Kennedys offered that makes this difficult to watch - or maybe Teddy's scandals are a lot more interesting than his comparatively meager accomplishments.

The Kennedys will always fascinate - that combination of tragedy, sacrifice, avarice, sex, and violence are the stuff of legends. And Ted Kennedy is a microcosm of everything right and wrong about that legacy, the best and worst wrapped into one, a perfect illustration of where we all went wrong as a country.


Don't miss this iconic documentary and the kick off to the HBO Documentary Films Summer Series when Teddy: In His Own Words premieres Monday, July 13 at 9:00 pm ET/PT—only on HBO!

---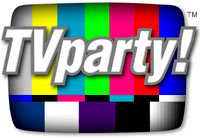 2009 TV Show Reviews
Reviewed by Billy Ingram,
as seen on VH1, Trio and Bravo.

Author - TVparty: Television's Untold Tales
TEDDY: IN HIS OWN WORDS
DEBUTS JULY 13, EXCLUSIVELY ON HBO
Produced by Peter Kunhardt and Sheila Nevins

-- Kicking off the HBO Documentary Films Summer Series --

Following its 2008 summer series, HBO Documentary Films kicks off another weekly series this summer, presenting a provocative new special every Monday night at 9:00 p.m. (ET/PT) through Sept. 7. Launching the HBO Documentary Films Summer Series, Teddy: In His Own Words debuts MONDAY, JULY 13 at 9:00 p.m. ET/PT, exclusively on HBO.
Edward Moore "Teddy" Kennedy has been in the public eye all his life. A child of privilege, Ted Kennedy and his siblings were brought up to believe that the highest calling was to serve the public. Serving 46 years, the nine-time senior Mass. Senator has also shouldered the patriarchal mantle of America's most famous family for almost four decades. TEDDY: IN HIS OWN WORDS tells the story of Camelot's last male survivor through his own words, from his childhood through his speech at the 2008 Democratic National Convention. Teddy: In His Own Words deftly combines the Senator's own voice – culled from past commentary, speeches and public and private sources – with archival newsreel and television footage, iconic photographs and rarely seen archival footage, to tell the sweeping saga of Teddy Kennedy. What emerges is a portrait of a crusader who has kept his eye on the most important public goals, from civil rights and desegregation to minimum wage and health reform, despite a series of personal tragedies and crises.
See clips and the trailer for Teddy: In His Own Words on: http://www.dailymotion.com/HBOclips

Auto huren makes it possible to compare all car rental companies all over the world!
Compare the top sellers of Instagram followers on Buy instagram followers reviews!
An overwiew of guides and gutscheincode with the best tips and tricks to save money! on Ebookers.
Shop Amazon's New Kindle Fire