NEW SHOW REVIEW

Shouting Fire: Stories from the Edge of Free Speech

Shouting Fire: Stories From the Edge of Free Speech debuts on Monday June 29th, another brilliant but ultimately disturbing HBO documentary that may have you rethinking what being an American means today.
The documentary takes a balanced approach. It's not just left-wingers that are being marginalized in this nationwide assault on our freedoms, this revealing film looks at several examples across the spectrum - like the egregious crackdown on protesters at the 2004 Republican convention and a conservative high schooler's battle with teachers and administrators over a controversial T-shirt he felt he had a right to wear.
All along the way these individuals run smack up against enforcers determined to protect ourselves from ourselves and media scolds who take to the airwaves to inflame otherwise benign situations merely because of what someone said. Remember all that BS over Ward Churchill after 9/11? It's examined here in detail.
You can see these ad hominem attacks happening all the time now - just yesterday Michael Savage threatened to publish "full pictures and other pertinent information about" Media Matters employees in a veiled threat of violence, calling the organization a "Stalinist group." Have you ever been to Media Matters? All they do is point out inaccuracies in the media in a very straight forward way and for this they've been demonized by the right wing media. The folks yelling the loudest about fascism are the ones that brought it on over the last few years, the ones that smelt it dealt it so to speak, and this documentary is a stark reminder of how fragile our freedoms really are.
From the press release: Most Americans believe the First Amendment is sacred and inviolate, but not since the 1950s has it been under such attack - from both the right and the left. In a unique collaboration with her father, noted First Amendment attorney Martin Garbus, Oscar® nominee Liz Garbus explores the social and political trends that have shaped America's attitudes about free speech and how they can threaten the very tenets upon which the country was built. Premieres Monday, June 29 at 9pm (ET/PT). Read more.

---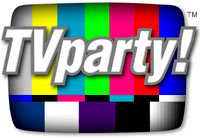 New TV Show Reviews
Reviewed by Billy Ingram,
as seen on VH1, Trio and Bravo.

Author - TVparty: Television's Untold Tales
Auto huren makes it possible to compare all car rental companies all over the world!
Compare the top sellers of Instagram followers on Buy instagram followers reviews!
An overwiew of guides and gutscheincode with the best tips and tricks to save money! on Ebookers.
TAXICAB CONFESSIONS:
NEW YORK, NEW YORK PART 3
Rated TVMA: ADULT LANGUAGE, ADULT CONTENT
Running Time: 58 minutes
Genre: Documentary
Shocking. Outrageous. Heartbreaking. Anonymous. In the safety of a taxicab, under the cover of a New York City night, people are capable of saying and doing almost anything. This 13th edition of the Emmy®-winning documentary series heads back to the familiar streets of the Big Apple to secretly record more intimate nocturnal conversations with actual cab riders. Videotaped by hidden cameras, the passengers include a drug-addicted call girl with a dark past; a broken-hearted cop who has been out drinking; a newlywed couple and the dog they have to have put to sleep; and a 43-year-old prostitute who has been on the job for more than 20 years. (TVMA) (AC,AL)
Shop Amazon's New Kindle Fire