NEW SHOW REVIEW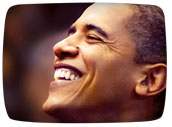 Are you as sick of politics as I am now? Does the last election still leave a bad taste in your mind? Then you probably aren't planning on watching By the People: The Election of Barack Obama on HBO starting Tuesday night.

This documentary takes you behind the scenes at the last Presidential election cinema verite style, gazing not just at the candidate but at the folks who helped him get elected. It's a superb, intimate glimpse at a remarkable man and a seminal event in American history - no matter what you may think of how well he's doing on the job.

It's a revealing portrait, as you'd expect Obama comes across as likeable and engaging, his family charming and unaffected. Michele especially reveals herself to be tough-minded and an equal partner in the endeavor, this campaign was truly a family undertaking.
It's also a reminder of how close we came, for better or worse, to having Hillary Clinton in office; after all Obama's election was the ultimate come from behind win, the plucky underdog who snatched victory from the jaws of defeat.
What you take away from this program is the idea that indeed anyone can grow up to be President one day and that might be the lasting legacy of the last election. It's also a good counterweight to the cartoonish image of the President as portrayed by the TV news gasbags.

By the People: The Election of Barack Obama airs on HBO starting Tuesday at 9:00pm.
---