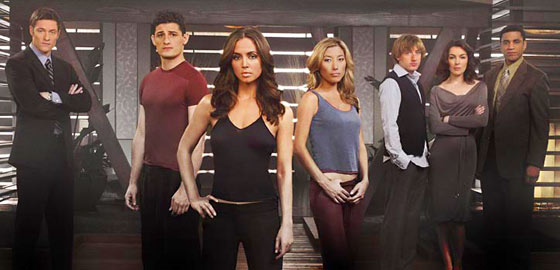 DOLLHOUSE
Joss Whedon (Buffy the Vampire Slayer, Firefly) returns to network television with another science fictiony drama that is one of the worst written, poorly acted series premiers I've seen in a long time.
This Dollhouse is a buzzing hive of wickedly attractive young ladies like Eliza Dushku who have their minds wiped clean and reprogrammed by violent shock treatments in order to be whoever their masters decide they need to be that day.
These perky puppet chicks can be instantly imprinted with abilities it takes a person a lifetime to learn, all the while everything they experience is monitored by the stereotypically snarky nerds back at the office. (Fran Kranz as the dolls' tech support guy doesn't just play an annoying character type he is annoying.)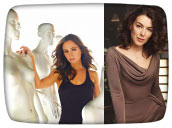 It's the Bionic Woman with a juiced up mind and fewer parts. Need an expert hostage negotiator or crack crossbow marksman and you need it overnight? Put in your purchase order and a no nonsense superdoll is on the way.
This all too convenient contrivance may hold a rank appeal to henpecked husbands at home watching FOX on Friday nights or dateless dorks who can't get within striking distance of a beautiful, capable woman but there's nothing much to get excited about otherwise.
Every plot point is hammered home with blunt repetitions, as if the potential audience too thick to get what little is going on here. This is cookie cutter not cutting edge, good thing the entire enterprise is presided over by a woman (Olivia Williams as Adelle DeWitt) or we might get the idea that this is some misguided, misogynistic wet dream.
Put a stake in this one.
Dollhouse debuts Friday night, Feb. 13 at 9:00pm ET/PT on FOX.
---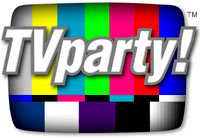 TV Show Reviews
Reviewed by Billy Ingram,
as seen on VH1, Trio and Bravo.

Author - TVparty: Television's Untold Tales
DOLLHOUSE
(Fridays, 9:00-10:00 PM ET/PT)

Joss Whedon, creator of groundbreaking cult favorites "Buffy the Vampire Slayer" and "Firefly," returns to television and reunites with fellow "Buffy" alumna Eliza Dushku for a thrilling new drama, DOLLHOUSE.
ECHO (Dushku) is an "Active," a member of a highly illegal and underground group of individuals who have had their personalities wiped clean so they can be imprinted with any number of new personas. Hired by the wealthy, powerful and connected, the Actives don't just perform their hired roles, they wholly become – with mind, personality and physiology – whomever the client wants or needs them to be. Whether imprinted to be a lover, an assassin, a corporate negotiator or a best friend, the Actives know no other life than the specific engagements they are in at that time.
Confined between missions to a secret facility known as the "Dollhouse," Echo and the other Actives, including SIERRA (Dichen Lachman), are assigned engagements by ADELLE DEWITT (Olivia Williams), one of the Dollhouse's leaders. After each scenario, Echo, always under the watchful eye of her handler BOYD LANGTON (Harry Lennix), returns to the mysterious Dollhouse where her thoughts, feelings, experiences and knowledge are erased by TOPHER BRINK (Fran Kranz), the Dollhouse's genius programmer.
Echo enters the next scenario with no memory of before. Or does she?

As the series progresses, FBI Agent PAUL BALLARD (Tahmoh Penikett) pieces together clues with the help of Russian informant LUBOV (Enver Gjokaj) that lead him closer to the Dollhouse, while Echo stops forgetting, her memories begin to return and she slowly pieces together her mysterious past.
Produced by 20th Century Fox Television and Mutant Enemy, Inc., DOLLHOUSE revolves around Echo's blossoming self-awareness and her desire to discover her true identity. But with each new engagement, comes a new memory and increased danger inside and outside the Dollhouse. Joss Whedon directed the pilot and serves as executive producer and writer. Liz Craft, Sarah Fain and David Solomon are co-executive producers, and Eliza Dushku serves as a producer.
Auto huren makes it possible to compare all car rental companies all over the world!
Compare the top sellers of Instagram followers on Buy instagram followers reviews!
An overwiew of guides and gutscheincode with the best tips and tricks to save money! on Ebookers.
Shop Amazon's New Kindle Fire