Important Things with Demetri Martin
Comedy Central has had limited success lately with their original series with more misfires than hits in their arsenal. That dry spell may be over for now.
Demetri Martin, that impossibly charismatic moppet with the auburn wig, is back with a new series that mashes standup, animation and sketch comedy into a very pleasing brew. It's an exceptional half hour of wise and witty humor that is destined to be a hit.
Martin strikes just the right chord with his wry observations and pointed nonsense, each episode loosely focuses on "one important thing" - the first topic is "timing", the second "power". In that way it's like Lewis Black's Root Of All Evil but far more funny and infinitely more appealing.
You might be familiar with Demetri Martin's stand up routines, he's a brilliantly clever wordsmith, a one man musical comedy machine, wholly original with his charts, graphs and silly tuneful stories. "I don't have a super power," he tells us, "the closest I have is that I'm invisible to bartenders."
In most cases sketch comedy ends up being horrifically lame but his manic bits actually work. In one skit, Demetri invents a time machine to use his rudimentary knowledge of history to get laid, in another choice bit he's a superhero losing his desire for revenge after finding out his origin story has a major hole in it.
This is one show I'll look forward to seeing again. Important Things with Demetri Martin airs on Comedy Central starting Wednesday night, February 11th at 10:30pm ET/PT.
---
Important Things with Demetri Martin
Stand-up comedian, Emmy®-losing writer and all-around person, Demetri Martin is the creator, executive producer and star of "Important Things with Demetri Martin." In this sketch comedy series, Martin mixes stand-up comedy, sketches, animation, studio bits and music to explore one "important thing" per episode - like Power, Safety or Chairs. Martin's jokes, drawings and hair will play major roles in the series. There are also some celebrity cameos by David Cross, Amanda Peet and Martin's "Daily Show" colleague John Oliver.
In the premiere episode, Martin will explore the subject of "Timing." The episode includes a sketch about a man who uses time travel to meet women, a sketch about an actor with terrible timing, plus cartoons, jokes and a performance piece that all relate to "Timing."
---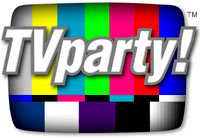 New TV Show Reviews
Reviewed by Billy Ingram,
as seen on VH1, Trio and Bravo.

Author - TVparty: Television's Untold Tales
Important Things with Demetri Martin
Voted one of the "25 Funniest People in America" by Entertainment Weekly, Martin left NYU Law School to pursue his career as a writer/ comedian/artist/musician. He's toured across the U.S. and abroad, most recently in support of his first stand-up CD/DVD "These Are Jokes," which was released via Comedy Central Records in 2006.
His "Trendspotting with Demetri Martin" has been a featured segment on "The Daily Show with Jon Stewart" since December 2005. He has also performed and written for "Late Night with Conan O'Brien."
Demetri's first one-hour stand-up special "Demetri Martin. Person." premiered in January 2007. He appears in the upcoming feature films, "The Rocker" for Fox Atomic and Universal's "Kids In America." He's also writing "Will" for Dreamworks and working with James Bobin on the script for "Moon People.
Auto huren makes it possible to compare all car rental companies all over the world!
Compare the top sellers of Instagram followers on Buy instagram followers reviews!
An overwiew of guides and gutscheincode with the best tips and tricks to save money! on Ebookers.
Shop Amazon's New Kindle Fire