Boy Interrupted

They say there are few experiences in life worse than losing a child, this is especially true when that child commits suicide. With wounds still raw, director Dana Perry and her husband cinematographer Hart Perry invite us into their personal horror to relate the story of their 15 year old son Evan who killed himself in 2005.
This is undoubtedly one of the most devastating 60 minutes you'll ever spend in front of the tube.

Meet Evan Perry, a bright kid obsessed since pre-school with a matter of fact attitude toward suicide and the parents who valiantly try to get his life on track. It's a story you might say is filled with hope if you didn't already know the devastating conclusion.

Here's an adolescent who really had everything a child needs - affluent, loving parents, a solid home, good schools, and true friends. If only every young person could have such a nurturing environment and be blessed with such cool friends. And yet, inexplicably, Evan's mental illness didn't allow him to appreciate any of this.
Throughout the film we see the potential this prodigy possessed, future rock star, Pulitzer winning playwright, Academy Award winning actor, any of these could have been his future. Seriously, I'm not just saying that. Watch the sequence where Evan, at 12 years old, composes some original tunes on the guitar. The lyrics are deeply mature and hauntingly poetic.
Boy Interrupted is sure to have the more sensitive of us sobbing more than once, it has an emotional impact that sticks with you. And it's an important film.
Many people aren't aware that suicide is contagious and this documentary drives that point home in a stark and startling way. As the filmmakers lay their son to rest at the foot of a monument sculpted to honor Evan's uncle who killed himself in 1971 you may detect a disturbing, unintended pattern developing that could continue to echo down the generations.
Although I was hesitant because of the subject matter, I'm so glad I watched Boy Interrupted and you will be too. You would think a film this emotionally raw would be difficult to watch, and it is at times, but it's a cathartic experience for those who've been touched by the suicide of a loved one and wondered why. The answer is here in this film. There is no why.

Boy Interrupted debuts Monday August 3rd at 9:00pm EST
only on HBO. The official site.

---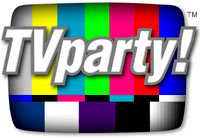 Boy Interrupted
Reviewed by Billy Ingram,
as seen on VH1, Trio and Bravo.

Author - TVparty: Television's Untold Tales
BOY INTERRUPTED is a wrenching profile of a family torn apart. Dana and Hart Perry share the intensely personal story of every parent's worst nightmare: the death of a child by suicide. As professional filmmakers, they were accustomed to making extensive personal films and videos of the family, but never suspected that their footage of son Evan - taken from the moment of his birth throughout childhood and adolescence - would end up becoming the primary source material for this moving account. Casual and innocuous before his death, the home movies provide a visual record of Evan's life, and help create an intimate portrait of this vibrant, troubled young man, supplemented by interviews with family, friends, doctors and teachers.
Evan Perry's life was marked by intense mood swings that alarmed both his parents, who were determined not to allow him to follow in the footsteps of his uncle Scott, who had committed suicide in 1971. Despite his family's vigilance, along with a new school, new friends and numerous therapy sessions and medication, Evan's obsession with ending his life proved overwhelming. His 2005 suicide sent his reeling parents looking for answers from experts, friends and family members, as well as from the reams of video they'd taken of Evan through the years. BOY INTERRUPTED is a touching documentary showing that even the best defenses - love, vigilance and treatment - cannot always protect those most vulnerable from themselves.
Dana Perry is a noted documentary filmmaker who most recently executive produced the four-part documentary series "Sex: The Revolution." With husband and partner Hart Perry, she previously produced and directed "The Drug Years" (2006), a four-hour documentary exploration of illicit drugs and popular culture. Nominated for two IDA Awards and a Prism Award, "The Drug Years" received a Cine Golden Eagle, Telly Award and High Times "Stony" Award, and was exhibited at the Full Frame Documentary Film Festival and the Big Sky Documentary Film Festival.
BOY INTERRUPTED was produced and directed by Dana Perry; director of photography, Hart Perry; edited by Geof Bartz, A.C.E.; music composed by Michael Bacon. For HBO: senior producer, Nancy Abraham; executive producer, Sheila Nevins.
Auto huren makes it possible to compare all car rental companies all over the world!
Compare the top sellers of Instagram followers on Buy instagram followers reviews!
An overwiew of guides and gutscheincode with the best tips and tricks to save money! on Ebookers.
Shop Amazon's New Kindle Fire