Sit Down, Shut Up
"Pilot" / "Miracles Are Real"
Review by Dan McIntosh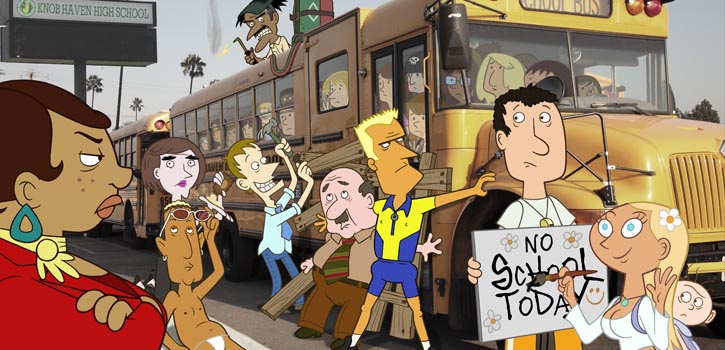 It's with good reason much of The Simpsons' episodes revolve around Bart and Lisa at school, along with their always harried Principal Skinner. School, at nearly every level, from grade school to college, is filled with numerous humorous possibilities. And the situational combination of animation in a high school setting is nearly a surefire match made in comedic heaven.
Fox, which brought us King of the Hill, Family Guy, and American Dad, as well as The Simpsons, has nearly cornered the market on adult-oriented animated comedy. Now comes Sit Down, Shut Up, created by Mitchell Hurwitz (Arrested Development) and Eric and Kim Tannenbaum (Two and a Half Men). Sure, it's a little early to tell. But this program looks like a winner.
Many animated comedies are attempted, yet few are successful. That's not an ancient Chinese proverb, but it oughta be. Therefore, I was all ready to be sorely disappointed by Sit Down, Shut Up. After all, everything new in this limited TV category is compared to The Simpsons, and nine times out of ten, upstart shows pale in comparison to that iconic, long running program. This ensemble comedy, however, has great potential for success because of its strong cast of characters.
The "Pilot" episode opens by introducing these cast members, and in so doing, also has a little fun with sitcom stereotypes. For instance, popular show characters oftentimes become lovingly associated with character-specific catchphrases. And to beat this tube trend to the punch, this untested show immediately links characters with their personalized catchphrases from the get-go. Naturally, Helen Kench, the school librarian, overuses "quiet down!" and acting Principal Sue Sezno is known for saying "no" (which is even spelled out with her last name). Then there's Assistant Principal Stuart Proszakian, who is often heard repeating, "I need a catchphrase!" Who knows, maybe "I need a catchphrase!" will become this program's unlikely catchphrase. Stranger things have happened in TV land.
Sit Down, Shut Up, much like Family Guy and South Park, is not at all for the faint of heart. These teachers include Andrew LesGustambos, the openly bisexual drama teacher, Miracle Grohe, an evolution disbelieving science teacher, and Ennis Hofftard, are way-too-tough-guy English teacher. LesGustambos is more of an effeminate character than any we've ever seen on The Simpsons, and Miracle Grohe will likely offend folks with strong Christian beliefs. In other words, only watch it after putting the little kids to bed.
Also, unlike many other upstart animated comedies, this new show has a relatively big name cast. For instance, Will Arnett, Jason Bateman, and Henry Winkler (with the silly character name of Willard Deutschebog) all have recurring roles. Furthermore, one of this show's more striking visual devices is how it places animated scenes against real life backgrounds. It looks a little odd at first, but you'll get used to it.
Storylines for these two initial episodes have much more to do with interrelationships between the various faculty members, than with what's ultimately best for the students. For instance, one of the subplots in "Miracles Are Real" involves P.E. teacher, Larry Littlejunk, making a romantic play for Miracle Grohe. Littlejunk's biggest obstacle, however, is Grohe's overt spirituality, which he simply cannot accept.
Time will tell if any of these force fed catchphrases actually catch on with the general public. But at a time where most new sitcoms are far too predictable, Sit Down, Shut Up features a wide variety of fresh faces and plot surprises, which may well turn it into the next prime time animated breakthrough. Thus, we should really stand up and take notice of it.

---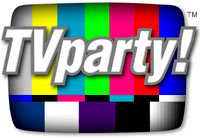 New TV Show Reviews
Sit Down, Shut Up
TV Shows on DVD
Holiday Specials on DVD
TV Commercials on DVD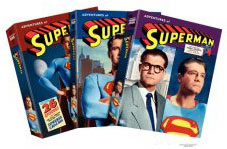 Everything you're looking for is here:
Shop Amazon's New Kindle Fire