Heidi Fleiss: The Would-Be Madam of Crystal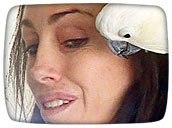 This is another of HBO's sizzling summer documentary series and another must-see program, a riveting behind the scenes look at one of America's most notorious personalities and a fascinating peek inside the mind of a freaked out nut case wandering the desert picking up rocks in her vain attempt to open a stud farm for over sexed women in a small community in Nevada where prostitute is legal and folks live a simple life with little use for a haggard LA castoff.
A few of my married acquaintances in LA were more than a bit shocked and concerned when Heidi Fleiss was arrested for running a prostitution ring some years back, I suspected they were johns and fearful of being busted. For some reason she decided not to rat out her former clients and instead took the advice of Roseanne Barr to open a legal brothel in Nevada. Her high tech bordello would be a stud ranch for horny women, which sorta kinda makes sense except it seems to me that she would have an inventory problem - men can't have sex as many times a day as the ladies can, for obvious reasons.
This drug crazed maniac is still making news having been busted recently in her new hometown for unlawful use of methamphetamine and possession of the painkiller hydrocodone without a prescription, which comes as no surprise when you see how glassy eyed and tweaked she is in this film, talking constantly about meth in numerous 'I don't do crystal anymore' rants. Apparently it was lost on the once and future madam how hideously ironic it was that she moved to a town called Crystal.
This gem is produced and directed by Fenton Bailey and Randy Barbato for World of Wonder, creators of such acclaimed documentaries as Eyes of Tammy Faye, Showdog Moms & Dads, and a show I participated in The Christmas Special Christmas Special, all highly recommended.
Heidi Fleiss has stated publicly that she won't watch this show, she's convinced she'll come across as a maniac. And she does. It sure makes for great TV viewing, no question.
Heidi Fleiss: The Would-Be Madam of Crystal airs Monday, July 21 @ 9pm on HBO.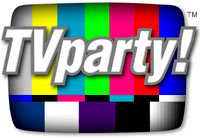 TVparty! for TV on DVD!
Reviews by Billy Ingram, as seen on VH1, Trio and Bravo.

Watch for Billy Ingram on BRAVO this month!
FROM THE PRESS RELEASE:
Heidi Fleiss is kind of synonymous with sex and money and that's the big deal, but really, I'm just your average convicted felon," says Fleiss of herself.
Directed and produced by the award-winning team of Fenton Bailey and Randy Barbato, HEIDI FLEISS: THE WOULD-BE MADAM OF CRYSTAL paints an unflinching portrait of the erstwhile "Hollywood Madame" as she embarks on an ill-fated attempt to open the first legal brothel for female clients in the tiny desert town of Crystal, Nev. As a convicted felon, Fleiss encounters opposition from local authorities and a consortium of all-male brothel owners, as well as the uncloaked ire of Miss Kathy, a bar owner who envies her purchase of a choice tract of land.
Then, in an unexpected twist, Fleiss finds herself drawn into the eccentric world of a former madam who lives next door with a valuable collection of exotic birds. As Fleiss's architects show off an elaborate model for her "stud farm," she becomes consumed by local politics, the psychological impact of her years in prison, the demands of enduring celebrity and an unexpected bequest from her neighbor, who leaves Heidi her exotic bird collection upon her death.
Along the way, Fleiss offers some revelations about herself. She was a child chess champion in Los Angeles; she got her entrepreneurial start running a babysitting service in high school; she has a weakness for that "white trash drug, crystal meth," she's had breast enhancement surgery; and she's never been in love with another person.
The film ends with Heidi Fleiss still striving for her dream. Ultimately, she opens a business that she has no trouble starting: a laundromat in Pahrump, Nev., called "Dirty Laundry."
Fenton Bailey and Randy Barbato are the founders of World of Wonder Productions. Based in Los Angeles and London, World of Wonder is best known for award-winning films and documentaries such HBO's "Inside Deep Throat," CINEMAX's "The Eyes of Tammy Faye," and CINEMAX's "Party Monster," (all Sundance Film Festival favorites), as well as HBO's "Monica in Black." World of Wonder also produced the acclaimed nonfiction series "Transgeneration," which won the GLAAD Award for Outstanding Documentary, "Showbiz Moms and Dads" and the upcoming Pamela Anderson observational documentary series. They also produced the CINEMAX Reel Life documentary "When I Knew."
HEIDI FLEISS: THE WOULD-BE MADAM OF CRYSTAL is an HBO Documentary Films presentation; directed and produced by Fenton Baily & Randy Barbato; co-producer, Mona Card; editor, Landon Page; music composer, David Benjamin Steinberg; directors of photography, David Kempner and Goro Toshima; associate producer, Sham Ibrahim; co-executive producer for McCommera Filmworks, Michael McNamara; co-executive producer for New World Entertainment, Barry Katz. For HBO: senior producer, Nancy Abraham; executive producer, Sheila Nevins
Everything you're looking for is here:
Shop Amazon's New Kindle Fire
Shop Amazon's New Kindle Fire