Hell's Kitchen - Season 5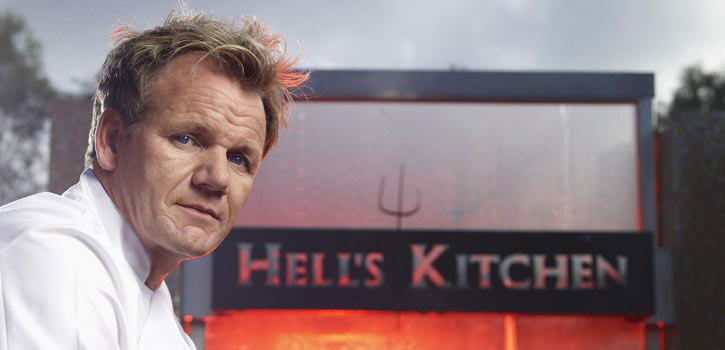 Devastatingly harsh, unflinchingly heated, Hell's Kitchen delivers a savory season five opener full of gut wrenching meltdowns and crackling flame outs with the promise of a sizzling year to come.
I'm a big fan of Kitchen Nightmares and Hell's Kitchen, watching Chef Ramsay's unchecked ego explode across the screen is a source of unbridled joy, his expletive filled excoriations of the pretentious prats and incompetent hacks he's confronted with brings gails of laughter from this jaded viewer. He reminds me of guys I used to work with in LA.
This fresh season of Hell's Kitchen brings together 12 hopefuls competing to become head chef at the prestigious Borgata restaurant in Atlantic City. As fine as the previous years were, this fifth season opener is a tighter, more exciting program from the start with a lightning fast montage of previous low and high moments to whet your appetite before the new participants are introduced in a less than flattering light. Why do people go on these shows?!?
Some of the best moments in the opening episodes of Hell's Kitchen come with the tasting of the contestant's signature dishes. Things go well at first after several promising meals but along come the barely edible abominations, watch with amazement as Chef Ramsay chokes and spits his way through dishes created by supposed professionals who actually make their living feeding people.
As usual, there are a couple of ringers, individuals who have no business whatsoever being there, contestants who are in way over their heads. There's one whiner in particular that comes completely unglued more than once and quickly attracts the ire of everyone around her. "I'm just sooo tired of stupid bitches," she croaks as she attempts to cook with a cold oven. "Every time I work in a kitchen with women!" Delicious.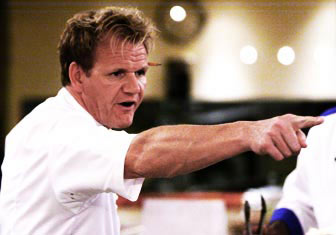 Ever notice these ringers never get voted off immediately? It's just too much fun to watch Chef Ramsay totally humiliate them week after week.
Another tasty feature of the debut episodes is the first seating in the Hell's Kitchen restaurant where the men and women teams attempt to put food on the table in a farcical race against time and temperament that will determine who is going home at the end of the show.
The unfortunate hungry folks who have reservations for the first night never seem to get much more than a complimentary glass of wine and the chance to watch Chef Ramsay detonate over and over again for a couple of hours. It must be harder than it looks but for the life of me I can't understand how supposed food pros can't manage to prepare somewhat common dishes for a couple of dozen people.
The $300 a session culinary teacher that couldn't tell sugar from salt, the bitter sad sack waiter, the hot tempered young guy who dares to talk back to Chef - this season 5 opener will leave you hungry for more, a sweet and sour mash with a jolting surprise ending that comes when one of the more likeable characters is vanquished right away.
Hell's Kitchen returns Thursday nights at 9:00pm on FOX starting January 29th.
---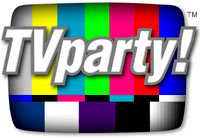 New TV Show Reviews
Reviewed by Billy Ingram,
as seen on VH1, Trio and Bravo.

Author - TVparty: Television's Untold Tales
Auto huren makes it possible to compare all car rental companies all over the world!
Compare the top sellers of Instagram followers on Buy instagram followers reviews!
An overwiew of guides and gutscheincode with the best tips and tricks to save money! on Ebookers.
HELL'S KITCHEN
(Midseason: Thursdays, 9:00-10:00 PM ET/PT)
World-renowned chef Gordon Ramsay is back for a fifth course of the sizzling unscripted series HELL'S KITCHEN. The show follows wannabe chefs as they slice and dice their way through each episode, vying for Ramsay's attention in hopes of winning a life-changing culinary prize.
The intensity heats up each week as the ambitious hopefuls try to prove they have what it takes. Ramsay weeds out the bad apples, keeping only those who possess the right combination of ingredients to achieve success. Both his sharp tongue and the contestants' inexperience are often a recipe for disaster in this pressure-cooker environment. Only one thing is certain: If the contestants can't stand the heat, they'll have to get out of HELL'S KITCHEN.
Season Four of HELL'S KITCHEN, in which Christina Machamer won the coveted title a senior chef position at Gordon Ramsay at The London West Hollywood, finished as the highest-rated season in the show's history.
HELL'S KITCHEN is a Granada America production in association with A. Smith & Co. Arthur Smith and Kent Weed serve as executive producers.
Shop Amazon's New Kindle Fire