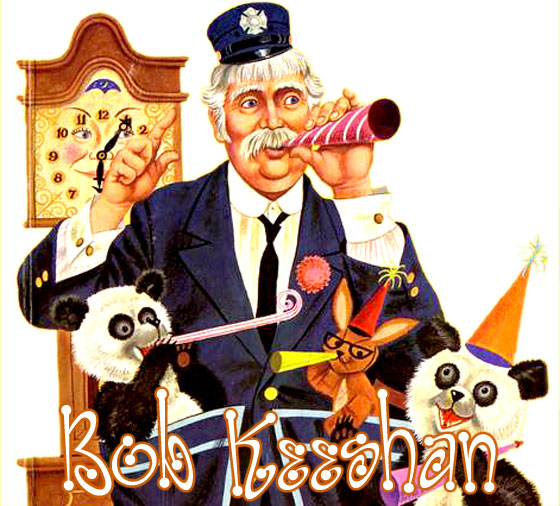 Bob Keeshan Interview - part two
by L. WAYNE HICKS
Q: When you started the show, a lot of the children's entertainment was local. So was a national show fairly rare at that time?
A: Well, not really rare. There were quite a few others. "Howdy Doody," of course, had started in 1947. This was 1955, so "Howdy Doody" was very well established. I was on "Howdy Doody." I lived through that experience. Then there were other programs. Miss Frances, who just passed away recently: "Ding Dong School." A number of network programs.
But yes, most of it was local programming that took advantage of the commercial aspects of it: get Charlie who's the staff announcer. He may not know anything about children, but so what? Let's not spend any money on writers. That's ridiculous. We'll put him in a clown suit or a fireman's outfit, make him a police officer, whatever, and he'll basically wend his way through cartoons. Don't worry about what's in the cartoons. We really shouldn't be too much concerned about that sort of thing. They worked in theaters all through the '30s and '40s and I'm sure they showed all kinds of what we would now think of as anti-social messages. But they sold. And that's what was important in those days.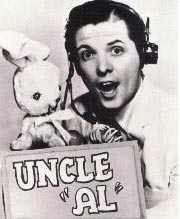 Q: Did those bad local children's shows give children's entertainment a bad name?
A: I don't think they did. I think it depended on the personality; the personality was very often enormously popular. The original great local show was Uncle Al in Cincinnati. He was on long before the Captain. When CBS was thinking about doing children's programming at 8 o'clock in the morning, it was a really off the wall idea, who would program for kids at 8 o'clock in the morning. Oscar Katz, who was in the research department at CBS at the time, said take a look at Cincinnati, look at this fellow Uncle Al who's been on for five or six years now. It was a frenetic show. Noisy and moved like a jet plane. It just was so fast, but it was enormously popular. Uncle Al was the greatest figure in Cincinnati. Children were born and their parents wrote to Uncle Al and made reservations for five years from now so that kids could come in and be on the show. It was enormously successful and it was one of the reasons that CBS took a chance on putting the Captain in that time slot. Uncle Al and I became good friends. He was an unusual guy. We had enormously different program philosophies, but he was a nice fellow.
Q: As your show was being broadcast around the country, did you have to contend with competition from local and other national shows?
A: Not really. The only other competition nationally was "Today," and that was counterprogramming. We never felt competitive with anything. We just simply said, "We're not going to play at this game. We're going to do what we think is right and what is proper quality programming and hey, if it works, it works. If it doesn't, well, we gave it a try." You've got to be true to your own principles. In those days it seemed like the right thing to do. Today you'd be crazy to take that approach and ignore the ratings numbers but we did it and it worked because it was a different world. There was no cable. There was no satellite available. It was simply broadcast television. Public television didn't exist. People say, "Why didn't you go to public television? Why did you go to commercial television?" Well, I went to commercial television because there was no public television. There wasn't a network. They had about four stations. But Fred Rogers came along. He started locally in Pittsburgh and only in the early '70s were there enough stations to tie together to make a network. And of course that all came about when "Sesame Street" and its tremendous foundation, financial backing, came along and really made public broadcasting what it is today. Established it as a network. But in my day there was no public broadcasting, so I had no choice.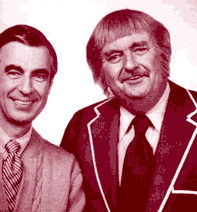 Q: You and Fred Rogers are probably the two most recognized figures in children's television history. What was your impression of "Mr. Rogers' Neighborhood?"
A: Well, I love Fred. Fred and I are very dear friends. We talk quite a bit. Every New Year's morning, the telephone rings around 10:30 or so. It's Fred, calling me from Florida where he's resting on vacation. We spend a half-hour, 45 minutes. Quite honestly, we spend most of the time talking about our families and our children and once in a while we'll talk a little bit about our concerns about the world, the world in which our children are growing up. We're good friends.
Q: What do you think of his show?
A: Oh, I think it's wonderful. I think it's perfect. There are a lot of adults who don't particularly care for him because he is very pedantic and very slow. "Captain," on the other hand was a show that did have appeal to adults as well as children because there was a little more universality. Fred is not that. Fred is not even a show. Fred is a vision. Fred builds everything on personal relationships and the development of the child and the security of the child. I think he's absolutely wonderful.
Q: Was there ever any rivalry between the two shows?
A: Never. Fred has exactly the same attitudes I have. You do what is right. There was never any rivalry. Never. I had no rivalry with anybody. People will say, "'Sesame Street,' you must been rivals with them." Not at all. Why? Most of the people who created "Sesame Street" came from my organization. David Connell and Sam Gibon. Jon Stone. All of those people who were writers and directors, the executive producer, David Connell, all were trained with "Captain Kangaroo" and spent anywhere from five to 10 years with the Captain before they went to that organization.
Q: Were you sad to see them go?
A: Oh, no. No, it was time for everybody to move on. People have got to do their thing. David Connell was kind of in a crunch because there were other people he would report to for a long time on my show. He wanted to be on his own, and rightfully so. When Joan Ganz Cooney gave him an opportunity to be the executive producer there, that was fine. Jon Stone, who was a writer for us, wanted to direct. So David said why don't you try directing "Sesame Street"? And he did. Sam Gibbon wanted to write different material than he was writing on the "Captain." He was also our studio producer, which was a tough job, so David gave him the opportunity to create new properties, and he did, the names of which I can't even remember. There was a show that came along about the same time as Sesame that was produced by Television Workshop.
Q: "Electric Company"?
A: "Electric Company," right. That was Sam's creation, basically. They all had their opportunity to broaden, to spread their wings a little bit.
Q: Well, what was your impression of "Sesame Street"?
A: I think it's a lot better today that it was in the beginning. In the beginning there was such a concentration on mathematics and reading. I just don't think works with its basic audience, four and five year olds. Some kids are ready for that at that age. Most are not. Of course, the intention of "Sesame Street" was to reach kids who are not getting that kind of preparation at home. They completely failed to reach that audience. What they were reaching were the kids whose parents were very much concerned and were using "Sesame Street: as a tool to teach literary skills and math and so on. So they were reaching the wrong audience.
Fred Rogers and I both have a philosophy. At this age you're not dealing so much with the cognitive needs of the child, which are important. Don't downgrade them in any way. But the emotional development of the child is critical at this age.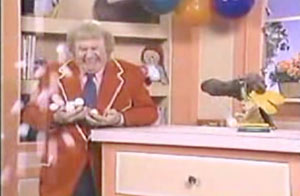 This emotional development to both of us is far more important. That's what the Captain was. The relationship between Mr. Green Jeans and the Captain and the Dancing Bear and Bunny Rabbit and Mr. Moose were all demonstrations of how we get along and how we develop in the world.
READ PART THREE OF THIS
INTERVIEW WITH BOB KEESHAN
---
See Also:
Captain Kangaroo History
More on Captain Kangaroo
Captain Kangaroo Books & Toys
Rare Interview with Captain Kangaroo - Bob Keeshan
Bob Keeshan Interview 2 - Sesame Street & Mr. Rogers
Bob Keeshan interview - part three