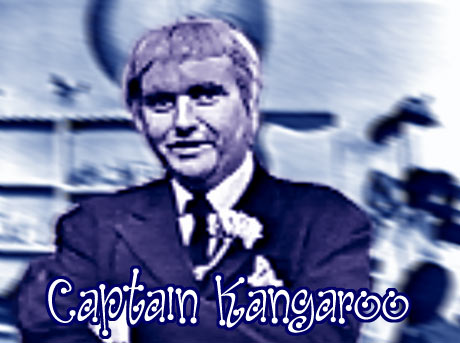 PART TWO
[Bob Keeshan's other shows]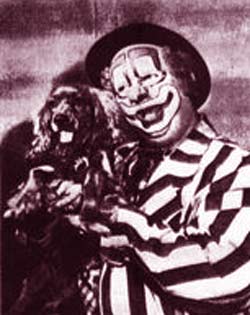 It has been well documented that Bob Keeshan was Clarabelle the Clown on the 'Howdy Doody Show' before he was Captain Kangaroo - but how many remember him as Corney the Clown, Tinker the Toymaker or Mister Mayor?
I'd love a section on Mister Mayor. That was a Bob Keeshan-starring show on Saturday morning during the 1964-65 season. - Richard Ranke
"Tinker's Workshop" first went on the air on WJZ (WABC TV) Ch. 7 in NYC on Monday morning, November 15, 1954. Bob Keeshan and his director Jack Miller developed the format over the weekend, when on the previous Friday, the programing director at Ch.7 Adrian Rodian told them "You've been asking the station for a year to try and do a weekday morning kids TV show. You've got your chance.. have the pilot ready by Monday Morning."
Keeshan and Miller worked hard to get the show ready. The costume was made, the set was built, scripts and other needs were created. Keeshan was unable to get a grey wig made, but that didn't stop him. He simply used grey hair spray and the makeup wizardry of one of the Westmore's (the same make-up people who worked on many films and TV series.. one of them was hosting a lady's beauty tips show at Ch.7).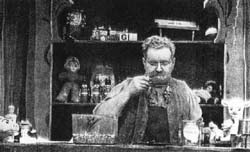 By Monday "Tinker 's Workshop" was open for business. And kids learned and were entertained by the kindly little Toymaker who used his playthings and his knowledge of a child's love of life and simple play to get them started in life.
Keeshan would continue to 'tinker' on "Tinker's Workshop" until Friday September 9, 1955 when he left to prepare for his decades long stint as the tour guide of CBS TV's "Captain Kangaroo".
- Kevin S. Butler
---
I remember MISTER MAYOR and especially liked the Homan family. They were the highlight of the show. They did bizarre things that, at the age of 9, I thought were cool. I recall all three of the Homans doing something and then suddenly stopping, in a frozen position as a toy train came out of nowhere, chugging along the floor. Then, after it left, they resumed their activity as if nothing happened. Kooky.
- Joe Kuceluk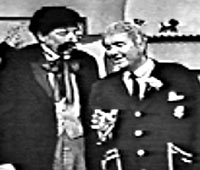 Thanks, Joe, for remembering the Homans. They were one of the best things about Mister Mayor. Their regular routines, screwball dialogue, puns, dances and illogical logic were my favorites. I believe they were only on Mister Mayor.
Another series which began on Mister Mayor was the Town Clown (a silent routine with Bob Keeshan doing a clown as a salute to his earlier days on earlier shows). The Town Clown went on to Captain Kangaroo. The Homans stayed with Mr. Mayor . . and probably no films of them exist. I am happy to keep memories of the Homans alive.
Remember this typical Homans exchange?
"The table is set, with three chairs."
"Three Chairs? That reminds me of my old college fight song;
"Three Cheers for Grovely High!
"Our mascot is a butterfly!"
"Dear, butter doesn't fly. Butter melts."
"That's what our mascot did - melted!"
- Richard Ranke
---
Mr. Mayor also featured Jane Connell as Aunt Maude with her friend, the brightly grey Rollo the Hippopotamus. I thought it was just another Saturday morning version of weekday 'The Captain Kangaroo Show' (which had been running on Saturday mornings since 1956, and continued on Saturdays for three more years after 'Mister Mayor' left the air).
---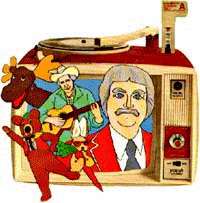 The real story of Captain Kangaroo and Mr. Mayor is interesting. Apparently CBS, Keeshan and another group held rights to Captain Kangaroo. CBS and Keeshan started Mr. Mayor to force out the third party.
You'll note that both programs were sort of first cousins in terms of types of characters and format. If the third party did not go peacefully, the Captain would have bit the dust and the Mayor take his place all week. The dispute was settled, and it was Mr. Mayor who went gentle into that good night. I was told this many years ago by my Dad, who was the set decorator on Kangaroo from '62 until the early 70's, and again at the very end of his run in the 80's, and during the whole brief run of Mr. Mayor.
As a young child my two brothers and I were probably the only children ever to see (and get to play in) what I consider to be the REAL treasure house, by which I mean the Kangaroo prop room at the CBS Broadcast Center, where aisles and aisles of "teeeerriffic" toys and props were kept.
- Todd Kelson
---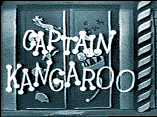 "I used to watch Captain Kangaroo all the time when I was little. I really enjoyed the show and was one of my favorites. But there is one thing driving me crazy, there was one character on a drawing board that Captain Kangaroo always talked to. He had a very round head with ears that stuck out. He was one of my favorite characters that reminded me of a friend. I can still see him on the drawing board and when he talks he kinda moves up and down. For the life of me I can't remember his name and everyone I ask doesn't remember him. What was his name? This is driving me crazy and I need to know. Thanks a bunch,
"A Fan of Captain Kangaroo"
- Gregory G. Skala
---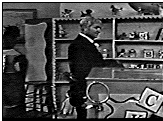 "I have many, MANY fond memories of Captain Kangaroo, and I feel that he and his series, low-key though it may have been, had a profound influence on my life, especially in the world of reading books.
"But I wanted to concentrate primarily on a response to Gregory G. Skala's query about a funny little drawing that could be seen semi-regularly on Captain Kangaroo. Mr. Drenton was right in his response to the query; Fred was the name of the character, and he could only be see on Channel One on the Treasure House TV set.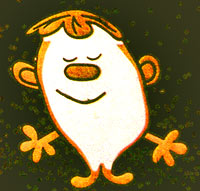 "The set was located behind the chalkboard (behind the main desk) which would slide up out of the way to reveal the TV Fred was actually a sort of puppet made from a special flat-looking case that contained strips of rubber in the shape of the character, colored black and operated by levers on the outside of the case.
The movable strips could be manipulated by the levers operated by a stage hand offscreen, and the entire sequence shot on one camera, then superimposed on the screen using a chroma-key, giving the illusion of a single-line cartoon character on TV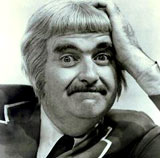 "The beauty of the system was that Fred could talk to the Captain, Mr. Greenjeans or anyone else live, without having to wait for an artist to draw him. Of course, he could only be seen in a single pose (from the front), but his hands, feet and mouth could all move, and his body could even squeeze and stretch into outlandish contortions.
"I've often wondered why this technology hasn't been used since; as a child watching the Captain every morning at 8:00, I eagerly looked forward to the day when Fred would make a special appearance on Channel One (which I couldn't get on any TV I had ever seen), and I would be totally mesmerized by the technology used to bring Fred to life.
"Ah, Fred...where are you now?"
- Sincerely Mark D. Little
---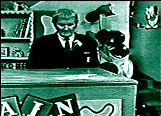 "Hank Stohl (a cartoonist, puppeteer and radio/TV broadcaster) created the "Aniforms" concept, manipulated by head puppeteer/puppet maker Morey Bunin (the brilliant puppeteer / puppet-maker who worked on such popular Kids TV puppet shows as: CBS TV's "Lucky Pup", "Foodini The Great" and did puppetry for a local kids TV show "Terry Tell Time" on WCBS TV Ch. 2 and later for WABC TV Ch.7 in the late 1950's
"The first appearance of Mr. Bunin's "Aniforms" concept was on the l965-66 Saturday morning edition of CBS TV's "Captain Kangaroo" where he created and manipulated a character named: "Fred" who appeared on Ch. 1 on the TV set behind the blackboard on the wall of the "Captain's "Treasure House."
"Fred" was voiced by Mr. Keeshan's head puppeteer/puppet-maker and comedy assistant Gus ("Cosmo") Alligretti. "Fred" made only a few appearances on "Captain Kangaroo" but Mr. Bunin's concept of living cartoons made an impression to some of the station execs at WPIX TV and they created "The Surprise Show" format as a means to showcase this unique idea.
"Aniforms made one last appearance on a kids TV special in the mid 1970's: "Bill Daily & His Hocus Pocus Gang", where the Aniforms and the viewers watched magicians perform. Actor/singer Bill Daily ('I Dream Of Jeannie' and 'The Bob Newhart Show') was the series host/performer and narrator."
- Kevin S. Butler
---
Rare Interview with Captain Kangaroo - Bob Keeshan