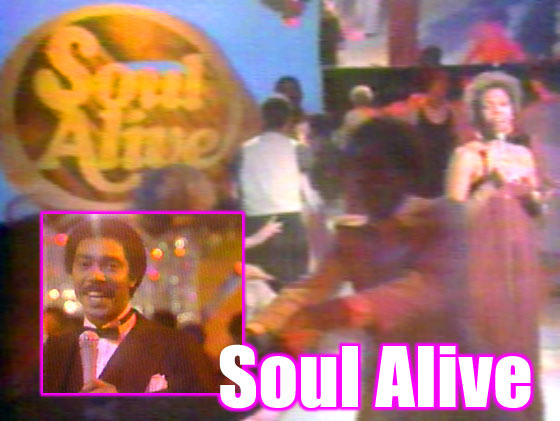 SOUL ALIVE - Part Two - Part One here
by Billy Ingram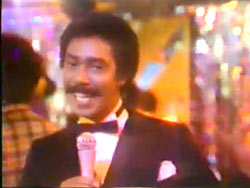 Elliot V writes, "I remember my school (John F. Kennedy H.S. in the Bronx) holding internal dance tryouts for our upcoming appearance." Unfortunately, the show was cancelled before Elliot's school made it on the air.
There was no place in the world where you would find better dancers than in the Big Apple in the 1970s, hence there was no shortage of experienced hoofers with the smooth moves eager to strut their stuff for TV exposure. They even boogied down on roller skates which were also hot again in 1978. The on set DJ worked the hyperkinetic crowd by playing extended remix versions of the hits rather than the singles you'd typically hear on American Bandstand and Soul Train.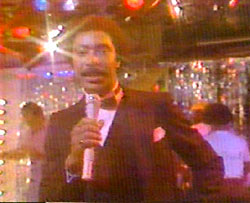 Silver-tongued host Gerry Bledsoe was a legendary voice in New York. With a cool on-air demeanor, he was known to break out into effervescent raps about peace, love and soul between the high-energy tunes and he ended every program with, "Keep your minds together, you're hearts full of love, and keep that thing that we call soul alive."
Little has been written about Gerald Bledsoe but he was a big influence on a number of present day broadcasters. He died of a heart attack at age 51 on September 27, 1994.
---
VIDEOS CLIPS FROM SOUL ALIVE:
The opening to the show and Cissy Houston is introduced - Quicktime
Dancers are shown on the disco floor and at their glamorous jobs - Quicktime
More examples of "Golden Voice" Gerry Bledsoe's soulful raps and the close of the show - Quicktime
---
I too remember Soul Alive. It showed off the latest dance trends and positive facts about what was happening in the NYC High Schools like Kennedy, Boys and Girls, Richmond, Seward Park, Franklin, etc. A dance called The Hustle was very popular during this time. High school students use to show off the latest trends, to include Calvin Klein, Jordache and Sassoon Jeans. What's also important to remember is that hair styles were neat and the pants didn't hang off the butt. The show aired for about 1 hour with commercial breaks. The introduction was always the same- "SOUL ALIVE" - then intro music like Salsoul Orchestra (Salsoul Rainbow) - then the voice, "'m Gerry Bledsoe today's school is from...", then a close up of dancers like they do on Soul Train.
The dance atmosphere was less attractive than Soul Train or American Bandstand. There weren't a lot of graphic displays. It didn't matter because when the music was playing each High School danced to the funky beats like Kool and the Gang, Earth Wind and Fire, Rock Creek Park (Blackbyrds), Fatback band (Bus Stop) and other significant chart busters.
This show was also airing during the era of the newly born RAP era. Any person who went to High School in New York loved to watch the show. The show was pretty much Black and Puerto Ricans from the 5 Boroughs. It has been a great memory for me.

- Frederick A. Clark
Where do I begin?, now only is that the opening line from "Love Story," it is the only way I can describe my relationship with the late Gerry Bledsoe. Gerry took me into the world of black radio and its organizations. I was a part of NATRA (National Association Of Television and Radio Artists) New York/New Jersey chapter in the 70's.

I was doing a show (R&B Collector's Showcase) on the now defunct WHBI-FM 105.9 back then. Gerry had heard about this Latin brother laying down the grooves to the obscure, not too well known R&B of the 50's & 60's. He contacted me, asked me to get involved, and that's how it all began.

I met Eddie O'Jay, Barbara Harris (the first Black woman to head a promotions dept at a major record label, Atlantic) Herbie Harris (record producer for First Choice, who recorded "Armed and Extremely Dangerous"), and many other folks.

Gerry treated me as an equal. It didn't matter to him that I was only on 2X a month. I was doing a show and that's all that mattered to him. Incidentally, I would be remiss if I didn't mention that my dear friend Kenny Chance was on with me as a co-host and producer as well.

The last time I spoke to Gerry was back in 93, this was a little bit after he did the Budweiser commercial. He was in Detroit at the time, and we reminisced about the days at "RL," amongst other things.

I miss Gerry a great deal. I guess you could say this is my eulogy to him fifteen years after he made his transition, as my friend Roland "The Good" Bynum says.

Peace,
Pedro Baez
SOUL ALIVE - Part Three!
More stories about Soul Alive and Gerry Bledsoe!
---
::NYC Local TV Section::
NYC Kid's Show Roundup / Overview / Remembering Favorites
NY Local Hosts Outtakes / Two Views from the 50s / Tex Antoine
Wonderama /Return of The Magic Garden / Sandy Becker / Soul Alive
---