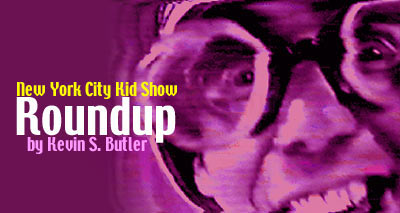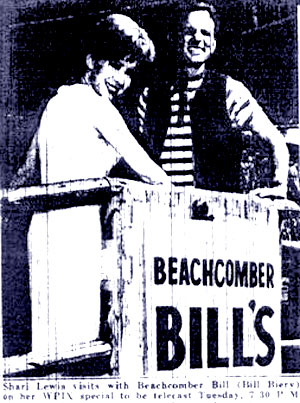 Beachcomber Bill
On Monday, September 7, 1964 former Los Angeles based kids TV host/ performer Beachcomber Bill Biery brought his zany brand of humor to NYC kids as 'The Beachcomber Bill Show' debuted on WPIX Ch. 11.
Seen weekday afternoons, Beachcomber Bill would engage his visitors to his south sea hut in record pantomimes, songs, character comedy and puppet skits, informational segments, visits from rare animals from Murray Zaret's Animal Nursery and interviews with performers and personalities.
Beachcomber Bill would wrap these entertainment and informational segments around reruns of Wally Gator, Touche Turtle and Lippy The Lion TV cartoons.
Herb Bass would serve as Beachcomber Bill's first puppeteer, clowning with his Melvin The Giraffe Puppet from Monday, September 7, 1964 until 1966, when Mr. Bass left the WPIX version of Beachcomber Bill to concentrate on the kids TV shows that he was creating and directing for TV stations in Philadelphia, Pa.
Terry Bennett succeeded Mr. Bass as the show's second puppeteer. Mr. Bennett's Uncle Ant puppet would engage Mr. Biery's Beachcomber Bill in some witty banter until the series was dropped on Friday, September 2, 1966.
The show returned on Monday, October 3, 1967 under the new title of 'The Bill Biery Show'. Beachomber Bill worked alone on this version of his series ultilizing voice overs for his off screen characters: Thumbsey Clumbsey, Outo Phocus and the Genie In The Box.
Beachcomber Bill continued to entertain and inform his viewers between the reruns of The Wally Gator, Touche Turtle, Lippy The Lion cartoons along with Flash Gordon & Buck Rogers movie serials until WPIX-TV stranded 'The Bill Biery Show' on Friday, March 17, 1967.
Bill Biery's last regular stint as a NYC based kids TV host/ performer was on WPIX's 'Let's Have Fun' which Mr. Biery co-hosted with child actor Robert Broderick, The Tom Tichenor Puppets and Doakey, The Clown (played by the late Ed Alberian) Sunday mornings from November 27. 1966 to September 3, 1967.