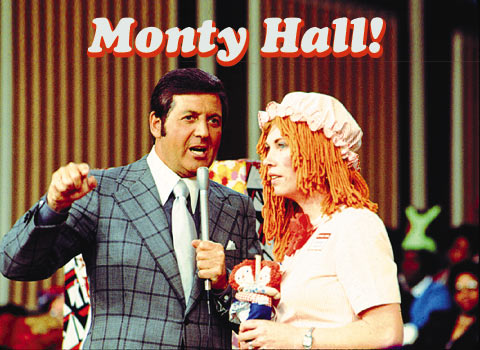 PART THREE: by L. WAYNE HICKS
MONTY HALL INTERVIEW: PART ONE / PART THREE

LWH: What makes it so tough to be the emcee of Let's Make a Deal?
Monty Hall: You have a bare-bones script. All you have is what will this deal be? This deal will be pass the money along and go for this. The next deal will be three curtains. The next deal will be do you want this or that? It's up to you to find the contestants, stand them up, have a few moments with them and then create three minutes or four minutes of excitement. And you make that with your own dialogue. There's no script for that. You have to a very good technician, very fast on your feet and have a little warmth for the contestants.
LWH: Did most people want to keep going?
Monty Hall: Most of them would like to keep going. There was a lady I remember. I started off: I'll give you $200 for this. She said yes. I said you have $200. Do you want to? No. That's it. We found out later she had commuted from about 150 miles north of Los Angeles, desperate to do something. She had hitchhiked, came all the way down, got selected to sit in the trading floor. This guy comes over to her and offers her $200. That's what she came for. That $200 meant so much to her. She went right back to the bus depot and took a bus back to her town. That's all she wanted. So you can never tell.
LWH: Did it make better television if people kept going?
Monty Hall: No. It didn't really make a difference. It's what I could make out of it. With that woman I had a great moment of drama. The crowd is yelling and screaming at her, go, go for the next thing. You focus on her, you get a closeup of this woman and you say to yourself, that's interesting. Why did she stop? So there's drama in that, just as much as there's drama as someone who's won $4,000 and wants to go for the curtain. You think why is he going for the curtain? He's got $4,000. The drama is either way.
LWH: Did you run into things that embarassed you?
Monty Hall: Oh, I think I embarassed myself mostly when I was doing a quickie. I ran out of the quickies. We had three or four minutes to fill. Now I'm looking for things to ask for. I see a man in a Navy outfit. I say, "I'll give $200 if you have a boutswain's whistle." He didn't have it. Another lady was wearing a beautiful Chinese dress. I said, "I'll give you $200 if you have any Chinese money." She didn't have it.
And talking a mile a minute, I turn around. There's a woman holding a doll in her arms like a baby. She's feeding the doll with a bottle. Because I'm such a great ad-libber I took the bottle away from her and I said, "Show me another nipple and I'll give you $200." I never heard the end of that one. The crowd started to scream. They screamed for 30 seconds. I turned as red as a beet. Then I confound and compound the issue by saying, "I didn't mean that." They started screaming all over again.
The show goes off the air. I didn't even have time to sign off. Jay Stewart's in the control room and he's signing of and he's breaking up. He couldn't finish a sentence. That's the way the show went off the air. That's one of those cases where your ad-libbing gets you into trouble. Somebody said to me after the show, "What you have done if she did?"
LWH: What would you have done?
Monty Hall: I said, "I'd give her half the farm."
LWH: Was the show done live to tape?
Monty Hall: Yes. Live to tape. You don't edit. We never edited. You know when we'd edit. You've seen other shows that show bloopers, where a woman faints? We had people faint on our show but I would never, never show that. I'd stop the show immediately, stop the taping immediately, revive the woman, talk to her for a while, make sure she's OK. It was just tension. Then we'd go back to her where I went to her with a question. But you never saw any fainting on Let's Make a Deal.
LWH: But there was plenty actually happening.
Monty Hall: I think one of the funniest ones was a woman came in wearing a see-through, flimsy harem dress. We did the first part of the deal and went into commercial. The guys in the control room said, "When the lights are on her, you can see Pittsburgh. What are you going to do?" I said, "When we come out, shoot her from the neck up," because you really could see everything.
LWH: The lovely Carroll Merrill. What is she doing these days?
Monty Hall: Caroll Merrill lives in Australia. She was living in Hawaii the last seven or eight years and her husband, who's a great surfer, decided that they had better waves in Australia and that's where they live now. Lovely girl.
LWH: Was she there from the beginning?
Monty Hall: From the very beginning. What did she add to the show? Hall: She was certainly one of the most charming ladies who ever modeled on a show. Pretty and innocent and modest and charming.
LWH: And your announcer, Jay Stewart, I believe he's dead now.
Monty Hall: Yes, he died about five or six years ago.
LWH: What was his role in making the show a success?
Monty Hall: Jay Stewart was the best second banana you ever found in your life. He was always there, like the jolly guy at my side. We would rib each other. If I made a mistake he would get me on it. If he made a mistake I would get him on it. It was a very, very good feeling between us. It was a nice family affair.
LWH: Were you surprised that he took his own life?
Monty Hall: That's another story. Let's not discuss that at this time.
LWH: You'll always be known for Let's Make a Deal, but how would you like to be remembered?
Monty Hall: As Marilyn's husband. And my three kids' father. And the grandfather of five outstanding little tots. I don't care about Let's Make a Deal. First of all, you have to be a person, a concerned person, and then we'll worry about the television later.
MONTY HALL INTERVIEW: PART ONE / PART TWO
---
Let's Make A Deal
America's Top Trader, TV's Big Dealer, Monty Hall and an audience of contestants in zany costumes just begging for attention (she Tarzan, he Jane, etc.) wheeled and dealed their way towards a new car. Or, literally, a barrel of monkeys.
Let's Make A Deal ran weekdays on ABC and also in weekly nighttime syndication, coming over from NBC towards the end of 1968 where it aired for five years beginning in late 1963. Joining Hall in the daily shenanigans were ever-present announcer Jay Stewart and the ever-lovely Carol Merrill modeling the gifts.
Hall and Stefan Hatos created and produced it as well. This unconventional but very popular show made Monty Hall a household name for all time. Hall used the element of surprise to perfection and tested the limits of just how far a guy in a bear suit will go for that coveted pool table.
"Do you want to keep the pool table, or go for what's behind curtain #3?" What was behind curtain #3? "You traded the pool table and you got instead..." and then the curtain opens to reveal a stuffed dog too big for the living room or any one of the "zonks" that made the show so funny.
There was no joking about the "Big Deal" that ended each show. Some lucky contestant who traded away some decent stuff earlier in the show sometimes ended up with a grand prize/cash package worth at or close to $10,000 --- big money by 1974 standards!
And, unlike TPIR's Bob Barker, Hall had no qualms about giving away mink coats, from Dicker & Dicker of Beverly Hills. (On the other hand, LMAD's grocery price guessing games may have inspired TPIR to come up with their own.)
Following its cancellation on ABC in 1976, the show moved on to Las Vegas for one final year in syndication before closing up shop. It returned in 1980, again in 1984 as The All-New Let's Make A Deal, back on NBC daytime in 1990, and very briefly on NBC's prime-time schedule in 2003.
LMAD was parodied on an episode of Sanford And Son that aired sometime in the fall of '74. It was called Wheel And Deal and was hosted by Harry Monte (played by John Barbour, who almost got to emcee The Gong Show but ended up on Real People instead). ...and that's my new look back on an old favorite.
Here's hoping you don't get "Zonked",
- DAVID C.
---
IT'S ALL RELATIVE:
Monty Hall's daughter is actress Joanna Gleason, one of Hollywood's hottest actresses.

Carroll Merrill's niece is Carla Gugino who plays Ingrid Cortez in Spy Kids and Spy Kids 2.
---
Jay Stewart commited suicide on September 17, 1989. He was 71. His son commited suicide in 1981.