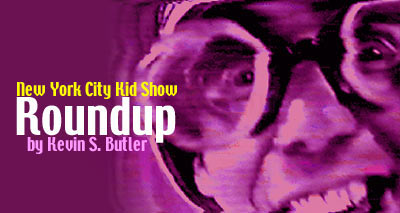 Aniforms
"The Surprise Show" first aired on Channel 11 on Tuesday afternoon, September 7, 1965.
Hank Stohl (cartoonist, puppeteer and radio/TV broadcaster) hosted his other kids TV shows: "The Girl Next Door" (not to be confused with the ABC TV game show of the late 1960's) on WHIO TV 5 in Dayton, Ohio, "Mitzi's Cartoon Castle" where Stohl did the puppetry for the series host/performer Ms. Mitzi Steiner McCall (yes, the same comic/character actress who is married to comic actor and scriptwriter Marty Brill), "The Big Adventure," "KD Cartoons," and "Popeye & Knish!" for Pittsburgh, Pa. TV stations KDKA TV, and WTAE TV Ch.4.
Stohl brought his gentle, tongue in check with to a kids TV show where he tried to get thru the day in the living room of his private house and introduce cartoon reruns. Mr. Stohl's efforts to get thru the day were hampered by the antics of a group of "Aniform" characters that appeared on his TV set.
The "Aniforms" concept was created and manipulated by head puppeteer/puppet maker Morey Bunin (the brilliant puppeteer/puppet-maker who worked on such popular Kids TV puppet shows as CBS TV's "Lucky Pup", "Foodinni The Great" and did puppetry for a local kid's TV show "Terry Tell Time" on WCBS TV Ch.2 and later for WABC TV Ch. 7 in the late 1950's.
The first appearance of Mr. Bunin's "Aniforms" concept was on the 1965-66 Saturday morning edition of CBS TV's "Captain Kangaroo" where he created and manipulated a character named "Fred" who appeared on Ch. 1 on the TV set behind the blackboard on the wall of the Captain's "Treasure House."
"Fred" was voiced by Mr. Keeshan's head puppeteer/puppet-maker and comedy assistant Gus ("Cosmo") Alligretti. "Fred" made only a few appearances on "Captain Kangaroo" but Mr. Bunin's concept of living cartoons made an impression to some of the station execs at WPIX TV and they created "The Surprise Show" format as a means to showcase this unique idea.
The Aniforms characters that appeared on Mr. Stohl's TV set were: "Dangerous Dwain" (a bragging Cowpoke), "The Inspector" (a con man), a lion (who was very gentle and only occasional roared), "Loreli J.Loverly" (a Chicken who never got Mr.Stohl's name right), "Peaches La Creame" (a hip, partying old lady), and "Bullwinkle J. Moose", believe it or not!
The Aniforms were also operated by Jimmy Boyd (not the kid's singer who at one time recorded the Yuletide novelty tune: I Saw Mommy Kissing Santa Claus) the comic/character actor and mimic who would appear on PBS TV's "The Electric Co.", (God help us all) Wayland Flowers before he created a more hip and vitriolic old lady named 'Madame' and Cleavon Little.
Mr. Boyd also did the voices for all the aniform characters. "The Surprise Show" did very well during it's first season on the air, but by the start of the following season the station execs at Ch. 11 decided not to pay for the use of the Aniforms (due to it's rising costs) and when one of the station execs found out that Mr. Stohl had done his own puppetry for his kids TV shows in Dayton and Pittsburgh they decided to have his puppets do the comedy on the show.
The series was retitled for the second season at WPIX as "Hank Stohl Presents".
Unfortunately, Mr.Stohl's puppetry was not as popular and "Hank Stohl Presents" went off the air on Friday September 7, 1967. Mr.Stohl went on to host one more kids TV show in NYC For a time in the fall of 1966. He hosted "Let's Have Fun!" Sunday mornings on Ch. 11, again the set was set against the backdrop of the living room of his private house.
This time the puppetry was handled by Tom Tichenor (who was finishing up his efforts as head puppeteer/puppet maker and as "Strawtop The Scarecrow Doll" on WNBC TV Ch.4 NYC's and Paul Tripp's "Birthday House").
Mr. Stohl and kid actor Robert Broderick performed comedy skits and tried to suppress the antics of "The Tom Tichenor Puppets" in between the reruns of cartoons. The show seemed to work, but somehow, Mr.Stohl sensed that WPIX was phasing out the kids show hosts/performers in favoring of just rerunning the cartoons and adventure puppet films without the hosts/performers.
He also must have sensed that TV censor groups like Peggy Charren's ACT and Forum, Inc. were also going to force TV stations to drop fun kids shows and have the station execs put on ACT and Forum's idea of bland, boring and poorly planed educational TV programs. Hence, Mr. Stohl left "Let's Have Fun!" and WPIX abruptly in mid fall of 1966.
Bill Biery succeeded him as the host/performer of "LHF!" for the rest of the 1966-67 season. Hank Stohl left for Hollywood, California for a chance as an actor in the movies and on TV.
He made very few appearances on TV, his most notable was playing a cop on an episode of NBC's "The Rockford Files" where Jim Rockford is trying to help an obnoxious TV and night comic actor Kenny Bell (Chuck McCann) recover his joke files (which McCann's character called his "Funny Box"). Rockford tries to do so, but he soon finds out that both he and Mr. Bell are being marked for death by the mob. The only other TV work that Mr. Stohl did was serving as the announcer for the last TV series that featured magician and mentalist Joe Dunninger.
Following the cancellation of "The Syndicated Dunngier Show" (which was seen on WPIX TV here in NYC during the l970's), Mr. Stohl dropped out of sight. Mr. Morey Bunin retired from TV puppetry after he was dropped from WPIX Ch. 11's "Surprise Show".
Aniforms made one more appearance on a kids special in the mid l970's "Bill Daily & His Hocus Poccus Gang", where the aniforms and the viewers watched magicians perform. Actor/singer Bill Daily ('I Dream Of Jeannie' and 'The Bob Newhart Show') was the series host/performer and narrator.